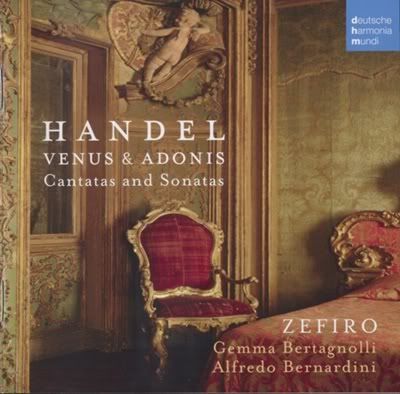 Handel - Venus & Adonis-Cantatas and Sonatas - Gemma Bertagnolli (APE) (2010)
EAC Rip | Ape(image) - cue - log | 354 MB | 1 CD | Full Scans
Genre: Classical
Gemma Bertagnolli, soprano
Ensemble Zefiro on period instruments:
Alfredo Bernardini, oboe
Paolo Grazzi, oboe
Alberto Grazzi, bassoon
Paolo Zuccheri, violone
Evangelina Mascardi, theorbo
Luca Guglielmi, harpsichord and organ
Composers: George Frideric Handel
Track List:
Trio Sonata in B flat major Op.2 No.3 HWV 388:
1. I. Andante
2.II. Allegro
3.III. Larghetto
4.IV. Allegro
Cantata "Mi palpita il cor" HWV 132B:
5.Arioso e recitative
6.Aria: Ho tanti affanni in petto...
7.Recitativo: Clori, di te mi lagno...
8.Aria (Allegro): Se un di m'adora la mia crudele
Trio Sonata in G minor Op.2 No.5 HWV 390A:
9.I. Larghetto
10.II. Allegro
11.III. Adajio
12.IV. Allegro
13.Aria "Meine Seele hört im Sehen" HWV 207
Trio Sonata in G minor HWV 393:
14.I. Andante
15.II. Allegro
16.III. Largo
17.IV. Allegro
Cantata "Venus and Adonis" HWV 85:
18.Recitativo: Guardate Venere...
19.Aria: Caro Adone, tesoro di Bellezza
20.Recitativo: Cosi, Regina di bellezza...
21.Aria: Trasporti di gioia, Tormento di affanni
Trio Sonata in F major HWV 392/401:
22.I. Largo
23.II. Allegro
24.III. Adagio
25.IV. Allegro
Download links:

Download(FileSonic):
http://www.filesonic.com/file/2139250954/0923a_Handel_VenusAdonis.part1.rar
http://www.filesonic.com/file/2140239384/0923a_Handel_VenusAdonis.part2.rar

Download(Wupload):
http://www.wupload.com/file/204423280/0923a_Handel_VenusAdonis.part1.rar
http://www.wupload.com/file/204422879/0923a_Handel_VenusAdonis.part2.rar

Download(Filejungle):
http://www.filejungle.com/f/2v2Qmb/0923a_Handel_VenusAdonis.part1.rar
http://www.filejungle.com/f/6CsmFJ/0923a_Handel_VenusAdonis.part2.rar

Download(FileServe):
http://www.fileserve.com/file/E9bruyN/0923a_Handel_VenusAdonis.part1.rar
http://www.fileserve.com/file/q5f4tez/0923a_Handel_VenusAdonis.part2.rar