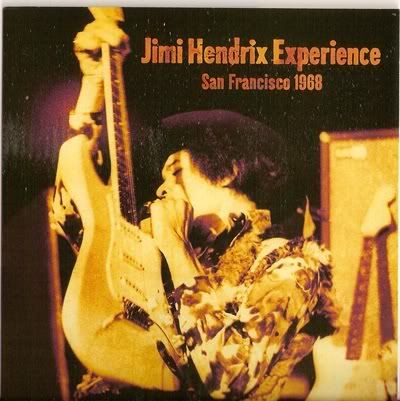 The Jimi Hendrix Experience - San Francisco 1968 (FLAC) (2011)
EAC Rip | Flac(tracks) - cue - log | 215 MB | 1 CD | Covers
Genre: Rock
This bonus disc (sold as an amazon exclusive together with the Winterland deluxe
box set) features an amateur stereo recording made of Jimi's sold out
February 4, 1968 Winterland performance.
This official bootleg recording showcases Jimi's love for the blues and includes
versions of Howlin' Wolf's "Killing Floor," the Muddy Waters influenced "Catfish Blues"
as well a majestic rendition of "Red House". The recording also features an impromptu,
extended rendition of Traffic's "Dear Mr. Fantasy" with Buddy Miles sitting in for Mitch Mitchell.
"Dear Mr. Fantasy" is presented here in two separate parts. When the recording was
originally made, the first side of the tape ended abruptly and came off the spool.
The tape operator then hurriedly flipped the reel over, rethreaded the tape and
snapped on the record button.
Fortunately, this rough hewn, soundboard recording survived and provides another
compelling chapter in Jimi's rich legacy.
This is a available for a limited time only.
Track List:
01. Killing Floor
02. Red house
03. Catfish Blues
04. Dear Mr Fantasy (Part One)
05. Dear Mr Fantasy (Part Two)
Download links:

Download(FileSonic):
http://www.filesonic.com/file/2008499194/bem1_Jimisan1968.rar

Download(Wupload):
http://www.wupload.com/file/177772601/bem1_Jimisan1968.rar

Download(UploadStation):
http://www.uploadstation.com/file/89aKDV7/bem1_Jimisan1968.rar

Download(FileServe):
http://www.fileserve.com/file/pgnfE6T/bem1_Jimisan1968.rar