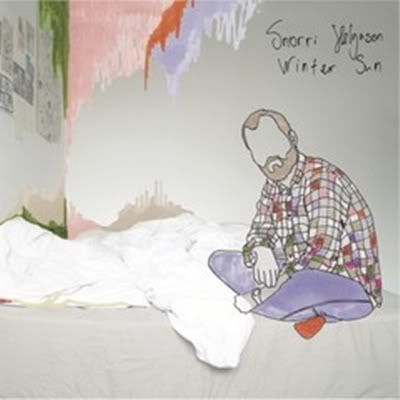 Snorri Helgason - Winter Sun (FLAC) (2011)
EAC Rip | Flac(tracks) - no cue - log | 213 MB | 1 CD | No Scans
Genre: Folk - Acoustic
Snorri Helgason is a singer-songwriter from Reykjavik, Iceland.
With his home grown and self-taught approach to songwriting, Snorri has been favorably compared to singer-songwriter greats like Paul Simon, Harry Nilsson and Neil Young. While his music resonates with past greats, his mixing of diverse influences of everything from soul to Britpop to glam-rock into his primarily folk-based songs-not to mention his Icelandic background-leaves us with something entirely unique.
At age 19 years, Snorri decided to devote his life to the only thing that ever truly interested him - music. He taught himself to play guitar, sing and write songs. Two years later, he formed a band called Sprengjuhöllin with a few of his childhood friends.
In the band's short lifespan, Sprengjuhöllin managed to release two best-selling albums, perform at countless sold out shows and becoming one of the most popular bands in Iceland.
When Sprengjuhöllin went on hiatus in 2009, Snorri recorded a solo album focusing on the folk and Americana influences at the centre of his musical tastes. The album, 'I'm Gonna Put My Name On Your Door' was released in Iceland in November of 2009 and in Europe and the US in December 2010 through Kimi Records-to the usual critical acclaim.
Since 2009, Snorri has toured excessively, building a diverse and spread-out fan base while honing his craft as a performer and songwriter. He's played shows in some far corners of the world like Corner Brook, Newfoundland and Faenza,
Winter Sun is Snorri Helgason's sophomore solo album and his most daring work yet. It is produced by indie pop wunderkind Sindri Már Sigfússon (of Sin Fang and Seabear) and presents Snorri not only as a sincere songwriter but also as a musician willing to experiment with his soundscape. A few notable Icelandic musicians lend their talent on Winter Sun, Mr. Silla sings backing vocals, Sóley plays piano and Guđmundur Óskar of Hjaltalín plays bass.
Track List:
01 River.flac 18.52 MB
02 Mockingbird.flac 26.24 MB
03 The Wild Blue Yonder.flac 23.47 MB
04 Julie.flac 17.05 MB
05 Boredom.flac 28.35 MB
06 Winter Sun #2.flac 17.57 MB
07 Caroline Knows.flac 19.87 MB
08 Winter's Day.flac 20.76 MB
09 99 Songs.flac 11.36 MB
10 The Butcher's Boy.flac 18.18 MB
11 Winter Sun #1.flac 11.76 MB
Download links:

Download(FileSonic):
http://www.filesonic.com/file/1823688644/0831b_WinterSun.part1.rar
http://www.filesonic.com/file/1823696814/0831b_WinterSun.part2.rar
http://www.filesonic.com/file/1823689294/0831b_WinterSun.part3.rar

Download(FileSonic):
http://www.uploadstation.com/file/TpXJRkW/0831b_WinterSun.part1.rar
http://www.uploadstation.com/file/FFyg7Ww/0831b_WinterSun.part2.rar
http://www.uploadstation.com/file/Arcc9P8/0831b_WinterSun.part3.rar

Download(FileServe):
http://www.fileserve.com/file/Uf8fPdA/0831b_WinterSun.part1.rar
http://www.fileserve.com/file/xvabF3a/0831b_WinterSun.part2.rar
http://www.fileserve.com/file/FEngjJA/0831b_WinterSun.part3.rar