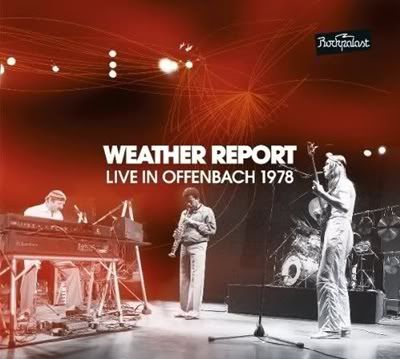 Weather Report - Live in Offenbach 1978 (FLAC) (2011)
EAC Rip | Flac(tracks) - cue - log | 754 MB | 1 CD | No Scans
Genre: Jazz
To commemorate the 40th anniversary of Weather Report the Zawinul estate is proud to release this live document of the band's performance in Offenbach, Germany, on September 29th, 1978. This is the first time that this wonderful live concert has been available on CD.
The recording features arguably the most individual group ever to mix elements of jazz, rock and electronics and they're captured here at their absolute best. Led by two musical visionaries, pianist and keyboard player Joe Zawinul and tenor and soprano saxophonist Wayne Shorter, the group was also unique in that it eschewed the then fashionable guitar.
Also on board were flamboyant electric bassist Jaco Pastorius, a genuine innovator, and newly arrived drummer Peter Erskine a master technician brought into the group to add more of a jazz feel. Prior to this line up an additional percussionist had always been present but this auxiliary role was dropped to allow greater space in the music.
Track List:
CD1
01. Black Market 11:13
02. Scarlet Woman 9:24
03. Young And Fine 6:46
04. Pursuit Of The Woman With The Feathered Hat 6:49
05. A Remark You Made 7:04
06. River People 7:52
07. Thanks For The Memories 3:47
08. Dolores/Portrait Of Tracy/Third Stone From The Sun 9:46
09. Mr. Gone 8:32
CD2
01. In a Silent Way 2:20
02. Waterfall 1:50
03. Teen Town 8:08
04. I Got it Bad and That Ain't Good/The Midnight Sun Will Never Set On You 8:50
05. Birdland 6:49
06. Introductions 1:47
07. Fred & Jack 6:16
08. Elegant People 8:09
09. Badia 13:29
Download links:

Download(Wupload):
http://www.wupload.com/file/125493478/0826b_WeatherReport.part1.rar
http://www.wupload.com/file/125493200/0826b_WeatherReport.part2.rar
http://www.wupload.com/file/125493472/0826b_WeatherReport.part3.rar
http://www.wupload.com/file/125491749/0826b_WeatherReport.part4.rar

Download(FileSonic):
http://www.filesonic.com/file/1772691344/0826b_WeatherReport.part1.rar
http://www.filesonic.com/file/1772691454/0826b_WeatherReport.part2.rar
http://www.filesonic.com/file/1772694804/0826b_WeatherReport.part3.rar
http://www.filesonic.com/file/1772685004/0826b_WeatherReport.part4.rar

Download(FileServe):
http://www.fileserve.com/file/BFuCJCt/0826b_WeatherReport.part1.rar
http://www.fileserve.com/file/vxShyn4/0826b_WeatherReport.part2.rar
http://www.fileserve.com/file/dqbjcnq/0826b_WeatherReport.part3.rar
http://www.fileserve.com/file/8RvXmcy/0826b_WeatherReport.part4.rar