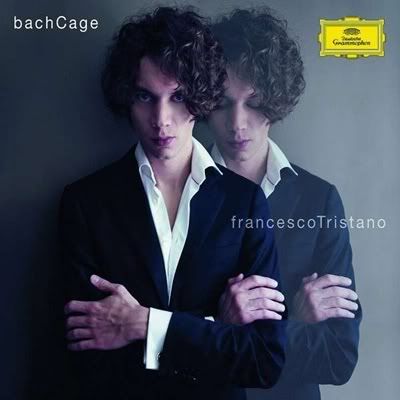 BachCage - Francesco Tristano (FLAC) (2011)
EAC Rip | Flac(tracks) - cue - log | 205 MB | 1 CD | No Scans
Genre: Classical
On bachCage, Luxembourg-born pianist Francesco Tristano delivers a highly personal intertwining of piano solos by J.S. Bach and John Cage. While the two composers clearly demarcate the extremes of so-called "classical" music, Tristano highlights the meditative and philosophical qualities of each musician's work, making for a varied but surprisingly seamless listen. Adding to the intrigue of bachCage is that the pianist is paired with the influential techno producer Moritz von Oswald. Oswald's subtle contributions-his tool palette largely consists here of reverb and filters-infuse Bach's pieces with a modern touch, spreading the music fully across the stereo field, and enhance Cage's penchant for unusual keyboard timbres.
The piano music of J.S. Bach often lends itself to mechanical performances. The music by nature is very evenly rhythmic, anchored by incessant streams of eighth and sixteenth note. Tristano brings an element of improvisation to the late 18th century Partita n. 1 in Bb major, BWV 825, allowing the slower movements, such as "Minuet II, da capo" and "Sarabande," to breath with thoughtfully placed hesitations and fermatas. During the piece's faster moments-the blistering runs of "Gigue"-Tristano attacks the keyboard with emotional rigor while accenting the playful buoyancy in Bach's music, effectively sidestepping the stuffiness that this music tends to inspire in performance.
From there, the pianist moves to a quietly emotional performance of John Cage's stunning Impressionist composition "In A Landscape." Aided by Oswald's delicate use of reverb, Tristano indeed creates a dream-like landscape of sound. This use of subtle production, while certainly offensive to certain purists, does add an intriguing element to the pianist's already sonic palette, infusing the staccato stabs of "Prelude II" and "Spring" of Cage's The Seasons with a tinny, startling metallic sonic hue.
bachCage also includes two Tristano originals: "Tristano Introit," which opens the album, and "Tristano Interludes," which falls before the record's final piece. Musically, the two compositions are closer to Cage's minimalism, though in keeping with both Cage and Bach, the music is constructed with an economy of material. The most striking aspect of the Tristano pieces, however, is Oswald's otherworldly touch. Here, the producer steps closer to the forefront of the music, manipulating the resonances of held notes. Touches of delay lend certain staccato touches a floating effect; low-end frequencies are run through oscillators.
bachCage's closer, Bach's pensive Minuet II from French Suite n. 1, BWV 812, brings the album full circle. Run through a filter/phaser, the keyboard sounds as if it's transmitted through a transistor radio underwater. The piece's production makes for an apt closer of an album that merges the modernism of Cage's approach, electronic production, and the baroque foundation of Western instrumental music in a seamless postmodern blend.
Track List:
1. Introit
by Tristano, Francesco
Performer: Tristano, Francesco
2. Partita for Keyboard no 1 in B flat major, BWV 825
by Bach, Johann Sebastian
Performer: Tristano, Francesco
Period: Baroque
Written: 1726-1731
Date of recording:
3. In a Landscape
by Cage, John
Performer: Tristano, Francesco
Period: 20th Century
Written: 1948
Date of recording:
4. The Seasons
by Cage, John
Performer: Tristano, Francesco
Period: 20th Century
Written: 1947
Date of recording:
5. Duet for Organ in E minor, BWV 802
by Bach, Johann Sebastian
Performer: Tristano, Francesco
Period: Baroque
Written: by 1739
Date of recording:
6. Duet for Organ in F major, BWV 803
by Bach, Johann Sebastian
Performer: Tristano, Francesco
Period: Baroque
Written: by 1739
Date of recording:
7. Duet for Organ in G major, BWV 804
by Bach, Johann Sebastian
Performer: Tristano, Francesco
Period: Baroque
Written: by 1739
Date of recording:
8. Duet for Organ in A minor, BWV 805
by Bach, Johann Sebastian
Performer: Tristano, Francesco
Period: Baroque
Written: by 1739
Date of recording:
9. Etudes australes: Book 1 - no 8
by Cage, John
Performer: Tristano, Francesco
10. Interludes
by Tristano, Francesco
Performer: Tristano, Francesco
11. French Suite no 1 in D minor, BWV 812: Minuet II
by Bach, Johann Sebastian
Performer: Tristano, Francesco
Period: Baroque
Written: circa 1724
Date of recording:
Download links:

Download(Wupload):
http://www.wupload.com/file/66335534/0722a_FrancescoTristano.rar

Download(FileSonic):
http://www.filesonic.com/file/1517360654/0722a_FrancescoTristano.rar

Download(UploadStation):
http://www.uploadstation.com/file/eTdn4qt/0722a_FrancescoTristano.rar

Download(FileServe):
http://www.fileserve.com/file/RKF2exJ/0722a_FrancescoTristano.rar