Dylan Dog: Dead of Night (2010) DVDRip XviD-DMZ
AVI | 1396.4 MB | 640x272 | XviD @ 1 242 Kbps |English | AC3 @ 448 Kbps - 6 channels | 1h 47minutes 47s
Genre: Comedy | Horror | Mystery
In New Orleans, Dylan Dog (Brandon Routh) is an ace detective whose specialty is paranormal cases. Now, he must deal with vampires, werewolves, zombies and a guardian of Hell, all due to a clients (Anita Briem) case. With the help of Marcus Adams (Sam Huntington), his undead assistant, he will have to persevere for the sake of the Earth. Brandon Routh stars as Dylan Dog, world famous private investigator specializing in affairs of the undead. His PI business card reads No Pulse? No Problem. Armed with an edgy wit and carrying an arsenal of silver and wood-tipped bullets, Dylan must track down a dangerous artifact before a war ensues between his werewolf, vampire and zombie clients living undercover in the monster infested backstreets of New Orleans.
Screenshot: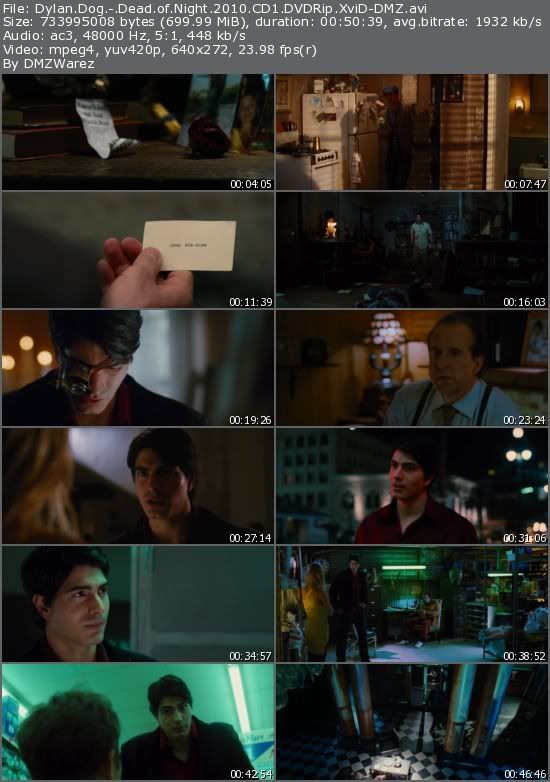 Download Links
Wupload
http://www.wupload.com/file/56101399/Dylan.Dog.-.Dead.of.Night.2010.DVDRip.XviD-DMZ.part1.rar
http://www.wupload.com/file/56101115/Dylan.Dog.-.Dead.of.Night.2010.DVDRip.XviD-DMZ.part2.rar
http://www.wupload.com/file/56101349/Dylan.Dog.-.Dead.of.Night.2010.DVDRip.XviD-DMZ.part3.rar
http://www.wupload.com/file/56101146/Dylan.Dog.-.Dead.of.Night.2010.DVDRip.XviD-DMZ.part4.rar
http://www.wupload.com/file/56101137/Dylan.Dog.-.Dead.of.Night.2010.DVDRip.XviD-DMZ.part5.rar
http://www.wupload.com/file/56099913/Dylan.Dog.-.Dead.of.Night.2010.DVDRip.XviD-DMZ.part6.rar

Filesonic
http://www.filesonic.com/file/1438749924/Dylan.Dog.-.Dead.of.Night.2010.DVDRip.XviD-DMZ.part1.rar
http://www.filesonic.com/file/1438750694/Dylan.Dog.-.Dead.of.Night.2010.DVDRip.XviD-DMZ.part2.rar
http://www.filesonic.com/file/1438750504/Dylan.Dog.-.Dead.of.Night.2010.DVDRip.XviD-DMZ.part3.rar
http://www.filesonic.com/file/1438792241/Dylan.Dog.-.Dead.of.Night.2010.DVDRip.XviD-DMZ.part4.rar
http://www.filesonic.com/file/1438749784/Dylan.Dog.-.Dead.of.Night.2010.DVDRip.XviD-DMZ.part5.rar
http://www.filesonic.com/file/1438744864/Dylan.Dog.-.Dead.of.Night.2010.DVDRip.XviD-DMZ.part6.rar

Fileserve
http://www.fileserve.com/file/uwbXkJn/Dylan.Dog.-.Dead.of.Night.2010.DVDRip.XviD-DMZ.part1.rar
http://www.fileserve.com/file/CdCNv8v/Dylan.Dog.-.Dead.of.Night.2010.DVDRip.XviD-DMZ.part2.rar
http://www.fileserve.com/file/z42r5bq/Dylan.Dog.-.Dead.of.Night.2010.DVDRip.XviD-DMZ.part3.rar
http://www.fileserve.com/file/fH8F5bh/Dylan.Dog.-.Dead.of.Night.2010.DVDRip.XviD-DMZ.part4.rar
http://www.fileserve.com/file/GjNRpjw/Dylan.Dog.-.Dead.of.Night.2010.DVDRip.XviD-DMZ.part5.rar
http://www.fileserve.com/file/jG5UMye/Dylan.Dog.-.Dead.of.Night.2010.DVDRip.XviD-DMZ.part6.rar