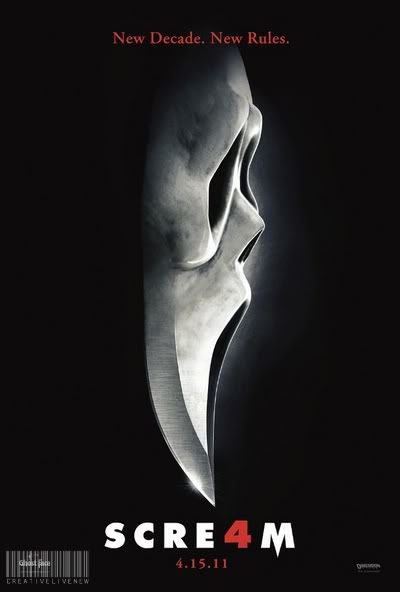 Scream 4 (2011) PPVRip XviD-DMZ
AVI | 1.709 GB | 720x480 | XviD @ 2 064 Kbps | English | MP3 @ 128 Kbps - 2 channels | 1h 50minutes
Genre: Horror | Mystery | Thriller
Sidney Prescott, now the author of a self-help book, returns home to Woodsboro on the last stop of her book tour. There she reconnects with Sheriff Dewey and Gale, who are now married, as well as her cousin Jill and her Aunt Kate. Unfortunately, Sidneys appearance also brings about the return of Ghostface, putting Sidney, Gale, and Dewey, along with Jill, her friends, and the whole town of Woodsboro in danger.
Screenshot:
Download Links
Wupload
http://www.wupload.com/file/54827123/Scream.4.2011.PPVRip.XviD-DMZ.part1.rar
http://www.wupload.com/file/54856414/Scream.4.2011.PPVRip.XviD-DMZ.part2.rar
http://www.wupload.com/file/54832539/Scream.4.2011.PPVRip.XviD-DMZ.part3.rar
http://www.wupload.com/file/54850210/Scream.4.2011.PPVRip.XviD-DMZ.part4.rar
http://www.wupload.com/file/54855228/Scream.4.2011.PPVRip.XviD-DMZ.part5.rar
http://www.wupload.com/file/54852863/Scream.4.2011.PPVRip.XviD-DMZ.part6.rar
http://www.wupload.com/file/54833108/Scream.4.2011.PPVRip.XviD-DMZ.part7.rar

Filesonic
http://www.filesonic.com/file/1433669701/Scream.4.2011.PPVRip.XviD-DMZ.part1.rar
http://www.filesonic.com/file/1433617354/Scream.4.2011.PPVRip.XviD-DMZ.part2.rar
http://www.filesonic.com/file/1433617494/Scream.4.2011.PPVRip.XviD-DMZ.part3.rar
http://www.filesonic.com/file/1433617474/Scream.4.2011.PPVRip.XviD-DMZ.part4.rar
http://www.filesonic.com/file/1433668691/Scream.4.2011.PPVRip.XviD-DMZ.part5.rar
http://www.filesonic.com/file/1433631054/Scream.4.2011.PPVRip.XviD-DMZ.part6.rar
http://www.filesonic.com/file/1433638624/Scream.4.2011.PPVRip.XviD-DMZ.part7.rar

Fileserve
http://www.fileserve.com/file/svZ6KUu/Scream.4.2011.PPVRip.XviD-DMZ.part1.rar
http://www.fileserve.com/file/GzavtSX/Scream.4.2011.PPVRip.XviD-DMZ.part2.rar
http://www.fileserve.com/file/vkKyrga/Scream.4.2011.PPVRip.XviD-DMZ.part3.rar
http://www.fileserve.com/file/NwRz566/Scream.4.2011.PPVRip.XviD-DMZ.part4.rar
http://www.fileserve.com/file/XJWdnzC/Scream.4.2011.PPVRip.XviD-DMZ.part5.rar
http://www.fileserve.com/file/snu9uSp/Scream.4.2011.PPVRip.XviD-DMZ.part6.rar
http://www.fileserve.com/file/hkjJGzc/Scream.4.2011.PPVRip.XviD-DMZ.part7.rar