Soul Surfer (2011) 480p BluRay XviD AC3-DMZ
AVI | 1.730 GB | 720x304 | XviD @ 1 869 Kbps | English | AC3 @ 448 Kbps - 6 channels | 1h 46minutes
Genre: Action | Drama | Sport
Bethany (AnnaSophia Robb) was born to surf. A natural talent who took to the waves at a young age, she was leading an idyllic life on Kauai, participating in national surf competitions with her best friend Alana (Lorraine Nicholson), when everything changed. On Halloween morning, a 14-foot tiger shark came out of nowhere and seemed to shatter all her dreams. Soul Surfer reveals Bethanys fight to recover from her ordeal and how she grappled with the question of her future.
Screenshot: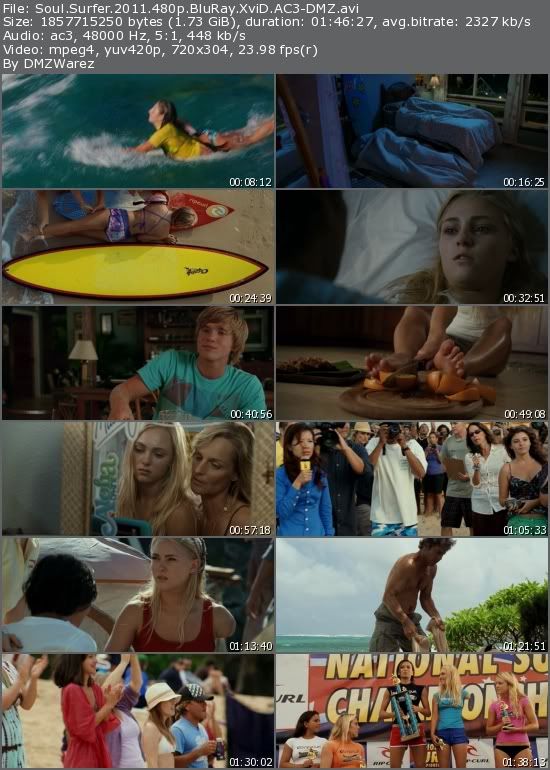 Download Links
Wupload
http://www.wupload.com/file/54832518/Soul.Surfer.2011.480p.BluRay.XviD.AC3-DMZ.part1.rar
http://www.wupload.com/file/54869345/Soul.Surfer.2011.480p.BluRay.XviD.AC3-DMZ.part2.rar
http://www.wupload.com/file/54833509/Soul.Surfer.2011.480p.BluRay.XviD.AC3-DMZ.part3.rar
http://www.wupload.com/file/54863005/Soul.Surfer.2011.480p.BluRay.XviD.AC3-DMZ.part4.rar
http://www.wupload.com/file/54872233/Soul.Surfer.2011.480p.BluRay.XviD.AC3-DMZ.part5.rar
http://www.wupload.com/file/54832828/Soul.Surfer.2011.480p.BluRay.XviD.AC3-DMZ.part6.rar
http://www.wupload.com/file/54834343/Soul.Surfer.2011.480p.BluRay.XviD.AC3-DMZ.part7.rar
http://www.wupload.com/file/54826176/Soul.Surfer.2011.480p.BluRay.XviD.AC3-DMZ.part8.rar

Filesonic
http://www.filesonic.com/file/1433643384/Soul.Surfer.2011.480p.BluRay.XviD.AC3-DMZ.part1.rar
http://www.filesonic.com/file/1433647374/Soul.Surfer.2011.480p.BluRay.XviD.AC3-DMZ.part2.rar
http://www.filesonic.com/file/1433649194/Soul.Surfer.2011.480p.BluRay.XviD.AC3-DMZ.part3.rar
http://www.filesonic.com/file/1433652984/Soul.Surfer.2011.480p.BluRay.XviD.AC3-DMZ.part4.rar
http://www.filesonic.com/file/1433656874/Soul.Surfer.2011.480p.BluRay.XviD.AC3-DMZ.part5.rar
http://www.filesonic.com/file/1433661144/Soul.Surfer.2011.480p.BluRay.XviD.AC3-DMZ.part6.rar
http://www.filesonic.com/file/1433669474/Soul.Surfer.2011.480p.BluRay.XviD.AC3-DMZ.part7.rar
http://www.filesonic.com/file/1433661194/Soul.Surfer.2011.480p.BluRay.XviD.AC3-DMZ.part8.rar

Fileserve
http://www.fileserve.com/file/sdENTHv/Soul.Surfer.2011.480p.BluRay.XviD.AC3-DMZ.part1.rar
http://www.fileserve.com/file/jq3aqfp/Soul.Surfer.2011.480p.BluRay.XviD.AC3-DMZ.part2.rar
http://www.fileserve.com/file/5t3vFA7/Soul.Surfer.2011.480p.BluRay.XviD.AC3-DMZ.part3.rar
http://www.fileserve.com/file/D5G4tbB/Soul.Surfer.2011.480p.BluRay.XviD.AC3-DMZ.part4.rar
http://www.fileserve.com/file/aEN5Puz/Soul.Surfer.2011.480p.BluRay.XviD.AC3-DMZ.part5.rar
http://www.fileserve.com/file/28vNUZ8/Soul.Surfer.2011.480p.BluRay.XviD.AC3-DMZ.part6.rar
http://www.fileserve.com/file/3z3m9dC/Soul.Surfer.2011.480p.BluRay.XviD.AC3-DMZ.part7.rar
http://www.fileserve.com/file/pEMbEHC/Soul.Surfer.2011.480p.BluRay.XviD.AC3-DMZ.part8.rar