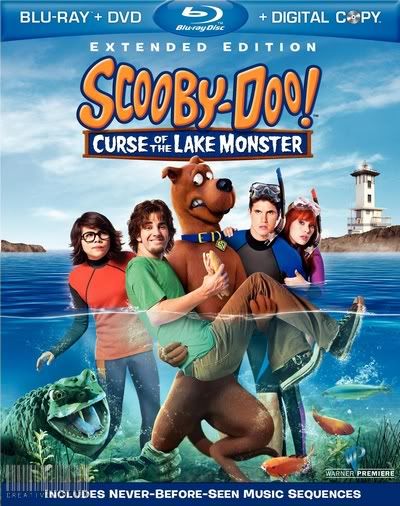 Scooby-Doo! Curse of the Lake Monster (2010) 720p BluRay x264-DMZ
Matroska | 4.373 GiB | 1280x720 | AVC @ 6 108 Kbps | English | DTS @ 1 510 Kbps - 6 channels | 1h 22mn
Genre: Adventure | Comedy | Family
Scooby-Doo! Curse of the Lake Monster is a live action/CGI television film by Warner Premiere for Cartoon Network based on the Saturday morning cartoon series Scooby-Doo by Hanna-Barbera. It is the fourth installment (chronologically, the second) of Scooby-Doo Live-Action film series. Director Brian Levant, producer Brian Gilbert and writers Daniel Altiere and Steven Altiere regroup for this production. Scooby-Doo will appear via computer-generated animation produced by the Animation Picture Company. The Atlas Entertainment production also contains the previous live action cast from Scooby-Doo! The Mystery Begins. The film premiered on October 16, 2010.
More information at:
http://www.imdb.com/title/tt1618435/
Screenshot:
Download Links
Filesonic
http://www.filesonic.com/file/595647871/Scooby-Doo.-.Curse.of.the.Lake.Monster.2010.720p.BluRay.x264-DMZ.part01.rar
http://www.filesonic.com/file/595629444/Scooby-Doo.-.Curse.of.the.Lake.Monster.2010.720p.BluRay.x264-DMZ.part02.rar
http://www.filesonic.com/file/595664654/Scooby-Doo.-.Curse.of.the.Lake.Monster.2010.720p.BluRay.x264-DMZ.part03.rar
http://www.filesonic.com/file/595662244/Scooby-Doo.-.Curse.of.the.Lake.Monster.2010.720p.BluRay.x264-DMZ.part04.rar
http://www.filesonic.com/file/595631644/Scooby-Doo.-.Curse.of.the.Lake.Monster.2010.720p.BluRay.x264-DMZ.part05.rar
http://www.filesonic.com/file/595603151/Scooby-Doo.-.Curse.of.the.Lake.Monster.2010.720p.BluRay.x264-DMZ.part06.rar
http://www.filesonic.com/file/598316714/Scooby-Doo.-.Curse.of.the.Lake.Monster.2010.720p.BluRay.x264-DMZ.part07.rar
http://www.filesonic.com/file/595650151/Scooby-Doo.-.Curse.of.the.Lake.Monster.2010.720p.BluRay.x264-DMZ.part08.rar
http://www.filesonic.com/file/595657141/Scooby-Doo.-.Curse.of.the.Lake.Monster.2010.720p.BluRay.x264-DMZ.part09.rar
http://www.filesonic.com/file/595570661/Scooby-Doo.-.Curse.of.the.Lake.Monster.2010.720p.BluRay.x264-DMZ.part10.rar

Fileserve
http://www.fileserve.com/file/DzZX9zu/Scooby-Doo.-.Curse.of.the.Lake.Monster.2010.720p.BluRay.x264-DMZ.part01.rar
http://www.fileserve.com/file/xaAjVNt/Scooby-Doo.-.Curse.of.the.Lake.Monster.2010.720p.BluRay.x264-DMZ.part02.rar
http://www.fileserve.com/file/KsFh4VW/Scooby-Doo.-.Curse.of.the.Lake.Monster.2010.720p.BluRay.x264-DMZ.part03.rar
http://www.fileserve.com/file/PWayjdj/Scooby-Doo.-.Curse.of.the.Lake.Monster.2010.720p.BluRay.x264-DMZ.part04.rar
http://www.fileserve.com/file/zk2a6sA/Scooby-Doo.-.Curse.of.the.Lake.Monster.2010.720p.BluRay.x264-DMZ.part05.rar
http://www.fileserve.com/file/DWJgCpd/Scooby-Doo.-.Curse.of.the.Lake.Monster.2010.720p.BluRay.x264-DMZ.part06.rar
http://www.fileserve.com/file/vKMdBZH/Scooby-Doo.-.Curse.of.the.Lake.Monster.2010.720p.BluRay.x264-DMZ.part07.rar
http://www.fileserve.com/file/9yS458Y/Scooby-Doo.-.Curse.of.the.Lake.Monster.2010.720p.BluRay.x264-DMZ.part08.rar
http://www.fileserve.com/file/fKytKPU/Scooby-Doo.-.Curse.of.the.Lake.Monster.2010.720p.BluRay.x264-DMZ.part09.rar
http://www.fileserve.com/file/4R7jStE/Scooby-Doo.-.Curse.of.the.Lake.Monster.2010.720p.BluRay.x264-DMZ.part10.rar

Uploading
http://uploading.com/files/719b739a/Scooby-Doo.-.Curse.of.the.Lake.Monster.2010.720p.BluRay.x264-DMZ.part01.rar
http://uploading.com/files/5299314d/Scooby-Doo.-.Curse.of.the.Lake.Monster.2010.720p.BluRay.x264-DMZ.part02.rar
http://uploading.com/files/emf79d12/Scooby-Doo.-.Curse.of.the.Lake.Monster.2010.720p.BluRay.x264-DMZ.part03.rar
http://uploading.com/files/4f1efe92/Scooby-Doo.-.Curse.of.the.Lake.Monster.2010.720p.BluRay.x264-DMZ.part04.rar
http://uploading.com/files/e782mfbb/Scooby-Doo.-.Curse.of.the.Lake.Monster.2010.720p.BluRay.x264-DMZ.part05.rar
http://uploading.com/files/1ff85bbc/Scooby-Doo.-.Curse.of.the.Lake.Monster.2010.720p.BluRay.x264-DMZ.part06.rar
http://uploading.com/files/a6896391/Scooby-Doo.-.Curse.of.the.Lake.Monster.2010.720p.BluRay.x264-DMZ.part07.rar
http://uploading.com/files/62d3m784/Scooby-Doo.-.Curse.of.the.Lake.Monster.2010.720p.BluRay.x264-DMZ.part08.rar
http://uploading.com/files/7312m496/Scooby-Doo.-.Curse.of.the.Lake.Monster.2010.720p.BluRay.x264-DMZ.part09.rar
http://uploading.com/files/8f9bme32/Scooby-Doo.-.Curse.of.the.Lake.Monster.2010.720p.BluRay.x264-DMZ.part10.rar