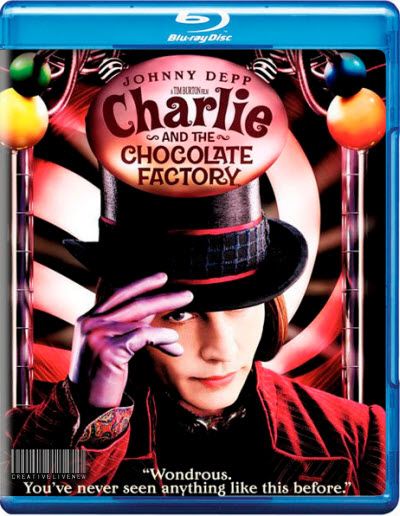 Charlie and the Chocolate Factory (2005) m-720p BDRip AAC x264-m4c14k
Matroska | 2.325 GiB | 1280x720 | AVC @ 2 600 Kbps | English | AAC LC-SBR @ 48.0 KHz / 24.0 KHz - 6 channels | 1h 55mn
Genre: Adventure | Comedy | Family
When Willy Wonka decides to let five children into his chocolate factory, he decides to release five golden tickets in five separate chocolate bars, causing complete mayhem. The tickets start to be found, with the fifth going to a very special boy, called Charlie Bucket. With his Grandpa, Charlie joins the rest of the children to experience the most amazing factory ever. But not everything goes to plan within the factory.
More information at:
http://www.imdb.com/title/tt0367594/
Screenshot:
Download Links
Filesonic
http://www.filesonic.com/file/595668951/Charlie.and.the.Chocolate.Factory.2005.m-720p.BDRip.AAC.x264-m4c14k.part1.rar
http://www.filesonic.com/file/595629601/Charlie.and.the.Chocolate.Factory.2005.m-720p.BDRip.AAC.x264-m4c14k.part2.rar
http://www.filesonic.com/file/595666421/Charlie.and.the.Chocolate.Factory.2005.m-720p.BDRip.AAC.x264-m4c14k.part3.rar
http://www.filesonic.com/file/595664291/Charlie.and.the.Chocolate.Factory.2005.m-720p.BDRip.AAC.x264-m4c14k.part4.rar
http://www.filesonic.com/file/595669521/Charlie.and.the.Chocolate.Factory.2005.m-720p.BDRip.AAC.x264-m4c14k.part5.rar
http://www.filesonic.com/file/595330661/Charlie.and.the.Chocolate.Factory.2005.m-720p.BDRip.AAC.x264-m4c14k.part6.rar

Fileserve
http://www.fileserve.com/file/7FJd9Ym/Charlie.and.the.Chocolate.Factory.2005.m-720p.BDRip.AAC.x264-m4c14k.part1.rar
http://www.fileserve.com/file/bWPKUaV/Charlie.and.the.Chocolate.Factory.2005.m-720p.BDRip.AAC.x264-m4c14k.part2.rar
http://www.fileserve.com/file/u9hMVWa/Charlie.and.the.Chocolate.Factory.2005.m-720p.BDRip.AAC.x264-m4c14k.part3.rar
http://www.fileserve.com/file/43wjTSZ/Charlie.and.the.Chocolate.Factory.2005.m-720p.BDRip.AAC.x264-m4c14k.part4.rar
http://www.fileserve.com/file/tKnMryz/Charlie.and.the.Chocolate.Factory.2005.m-720p.BDRip.AAC.x264-m4c14k.part5.rar
http://www.fileserve.com/file/jcHT7ma/Charlie.and.the.Chocolate.Factory.2005.m-720p.BDRip.AAC.x264-m4c14k.part6.rar

Uploading
http://uploading.com/files/81a589c5/Charlie.and.the.Chocolate.Factory.2005.m-720p.BDRip.AAC.x264-m4c14k.part1.rar
http://uploading.com/files/ee451843/Charlie.and.the.Chocolate.Factory.2005.m-720p.BDRip.AAC.x264-m4c14k.part2.rar
http://uploading.com/files/699d33f4/Charlie.and.the.Chocolate.Factory.2005.m-720p.BDRip.AAC.x264-m4c14k.part3.rar
http://uploading.com/files/5c7d55b3/Charlie.and.the.Chocolate.Factory.2005.m-720p.BDRip.AAC.x264-m4c14k.part4.rar
http://uploading.com/files/99b7m568/Charlie.and.the.Chocolate.Factory.2005.m-720p.BDRip.AAC.x264-m4c14k.part5.rar
http://uploading.com/files/3ea6bff9/Charlie.and.the.Chocolate.Factory.2005.m-720p.BDRip.AAC.x264-m4c14k.part6.rar