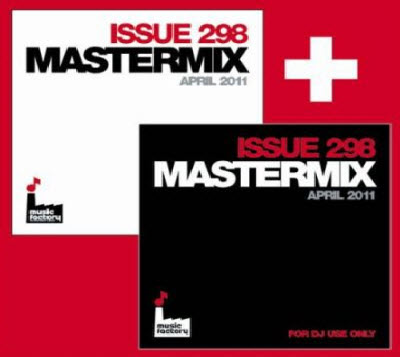 VA - Mastermix Issue 298 (2011)
2CD | Release: 2011 | Label: Music Factory | MP3 320 Kbps | 340 MB
Genre: Euro Dance, Pop Dance
Tracklist:
White Disc:
1 Chart Hits
All tracks taken from Pro Disc 130
HIT THE LIGHTS Jay Sean feat. Lilí Wayne
PARTY ALL NIGHT (SLEEP ALL DAY) Sean Kingston
DIRTY TALK Wynter Gordon
ON THE FLOOR Jennifer Lopez feat. Pitbull
2 Ultimate Glee!
EXPRESS YOURSELF Glee Cast
TELEPHONE Glee Cast
START ME UP/LIVINí ON A PRAYER Glee Cast
DONíT STOP BELIEVINí Glee Cast
JUMP Glee Cast
ITíS MY LIFE/CONFESSIONS (PT. 1) Glee Cast
JESSIEíS GIRL Glee Cast
DONíT GO BREAKING MY HEART Glee Cast
TOXIC Glee Cast
FORGET YOU Glee Cast feat. Gwyneth Paltrow
3 Extended Pop Party
CLUB CANíT HANDLE ME Flo Rida feat. David Guetta
FIREWORK Katy Perry
CALIFORNIA GURLS Katy Perry feat. Snoop Dogg
RAISE YOUR GLASS Pink
4 70s Soul Divas
LADY MARMALADE Labelle
HEíS THE GREATEST DANCER Sister Sledge
YOUNG HEARTS RUN FREE Candi Staton
IíM EVERY WOMAN Chaka Khan
BAD GIRLS Donna Summer
NEVER CAN SAY GOODBYE Gloria Gaynor
5 Another Mambo Party!
MAMBO NO. 5 (A LITTLE BIT OF...) Lou Bega
UPSIDE DOWN Paloma Faith
GUAGLIONE Perez ĎPrezí Prado
INSIDE OUT (IMELDA MAY VS.
BLUE JAY GONZALEZ - LATIN MIX) Imelda May
MAMBO NO. 5 (A LITTLE BIT OF...) (REPRISE) Lou Bega
TAINTED LOVE Imelda May
GUAGLIONE (REPRISE) Perez ĎPrezí Prado
HANKY PANKY Madonna
MAMBO NO. 5 (A LITTLE BIT OF...) (SECOND REPRISE) Lou Bega
6 Royal Wedding Street Party
GOD SAVE THE QUEEN London Theatre Orchestra
RULE BRITANNIA London Theatre Orchestra
LAND OF HOPE & GLORY (POMP & CIRCUMSTANCE NO.1) Royal Philarmonic Orchestra
FANFARE/TRUMPET VOLUNTARY (EXCERPT)/
CHURCH WEDDING BELLS Traditional
CELEBRATION Kylie Minogue
MADE IN ENGLAND Elton John
Black Disc:
1 Commercial Dance
All tracks taken from Pro Dance 39
KIDZ (REVENGE OF THE KIDZ REMIX) Take That
HEY BABY (DROP IT TO THE FLOOR) (AJ FIRE REMIX) Pitbull feat. T-Pain
DIRTY TALK (CHEW FU REMIX) Wynter Gordon
MY BOY (ALIAS CLUB MIX) Duffy
DONíT HOLD YOUR BREATH (CAHILL REMIX) Nicole Scherzinger
2 Urban Dance
CíMON (CATCH ĎEM BY SURPRISE) Tiesto vs. Diplo feat. Busta Rhymes
PRICE TAG (DOMAN & GOODING REMIX) Jessie J feat. B.o.B
PEACOCK (CORY ENEMY & MIA MORET REMIX) Katy Perry
SERGEANT SMASH (KAT KRAZY EXTENDED REMIX) Talay Riley
S&M (DAVE AUDE CLUB MIX) Rihanna
3 25 Years Of Dance...The Journey!
GROOVE IS IN THE HEART Deee-Lite
JACK TO THE SOUND OF THE UNDERGROUND Hithouse
WHAT CAN YOU DO FOR ME Utah Saints
CAN U DANCE? Kenny Jamminí Jason &
Fast Eddie Smith
RHYTHM IS A MYSTERY K-Klass
DONíT MISS THE PARTYLINE Bizz Nizz
GYPSY WOMAN (LA DA DEE) Crystal Waters
IíM TIRED OF GETTING PUSHED AROUND 2 Men, A Drum Machine &
A Trumpet
FINALLY Ce Ce Peniston
GOOD LIFE Inner City
2v231 Anticappella
INFINITY Guru Josh
TOUCH ME 49ers
SUCH A GOOD FEELING Brothers In Rhythm
ANTHEM N-Joi
MOVE YOUR BODY Xpansions
DONíT YOU WANT ME Felix
4 In The Mix:
Cee-Lo Green
BRIGHT LIGHTS BIGGER CITY Cee-Lo Green
CRAZY Gnarls Barkley
FORGET YOU Cee-Lo Green
ITíS OK Cee-Lo Green
5 MGMT vs. Far East Movement
KIDS (INSTRUMENTAL) MGMT
LIKE A G6 (ACAPELLA) Far East Movement feat.
Cataracs & Dev
6 Diddy Dirty Money vs. Chipmunk
COMING HOME Diddy Dirty Money feat. Skylar Grey
CHAMPION Chipmunk feat. Chris Brown
7 Adele vs. Britney Spears
ROLLING IN THE DEEP (ACAPELLA) Adele
HOLD IT AGAINST ME (INSTRUMENTAL) Britney Spears
8 ĎS&Mí (Funked Off DJs Remix)
S&M Rihanna
Download Links
Filesonic
http://www.filesonic.com/file/595626974/MMI_298.part1.rar
http://www.filesonic.com/file/595627284/MMI_298.part2.rar
http://www.filesonic.com/file/595629354/MMI_298.part3.rar
http://www.filesonic.com/file/595629114/MMI_298.part4.rar
Fileserve
http://www.fileserve.com/file/wZyPSw3/MMI_298.part1.rar
http://www.fileserve.com/file/mpzpVhd/MMI_298.part2.rar
http://www.fileserve.com/file/PH6bQ4d/MMI_298.part3.rar
http://www.fileserve.com/file/WAuMtjT/MMI_298.part4.rar
All links are interchangable. It mean you can download any part of archive from any server and can extract it without problem! PM me if links are dead, I will try to re-upload the file if I can!