Autodesk Inventor Pro v2012 WIN32/64-ISO | 5.3 Gb x 2 ISO files
Autodesk Inventor 3D CAD software products offer a comprehensive, flexible set of software for 3D mechanical design, product simulation, tooling creation, and design communication. Inventor takes you beyond 3D to Digital Prototyping by enabling you to produce an accurate 3D model that can help you design, visualize, and simulate your products before they are built. Digital Prototyping with Inventor helps companies design better products, reduce development costs, and get to market faster.
Easy to use and easy to learn, Autodesk Inventor software products offer a flexible set of tools for 3D mechanical design, CAD productivity, design communication, product simulation, routed systems, and mold design. With Inventor software, you can integrate 2D AutoCAD drawings and 3D data into a single digital model, creating a virtual representation of the final product that can enable you to validate the form, fit, and function of the product before it is ever built.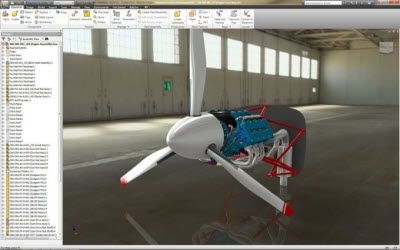 Notable highlights of 2012 edition:
+ Inventor RS, Sim, and Tooling are now rolled into just Professional (RIP friends)
+ New Product Design Suites
+ Ray Tracing
+ Multi-Core Support for many items (Large Drawings, Ray Tracing, Mold funcitons)
+ Part Modeling Enhancements (Rib, Boss, Sweep, Face Draft, etc)
+ Fully Customizable Marking Menu (with Gestures!)
+ Dynamic Secitoning in Parts and Assemblies with support for Part View Reps (finally!)
+ iLogic Custom User Form WIzard
+ GRANTA materials ECO assistant
+ And many other...
Download Links
Filesonic
http://www.filesonic.com/file/535016401/Autodesk.Inventor.Pro.v2012.Win32-ISO.part01.rar
http://www.filesonic.com/file/535024571/Autodesk.Inventor.Pro.v2012.Win32-ISO.part02.rar
http://www.filesonic.com/file/535021271/Autodesk.Inventor.Pro.v2012.Win32-ISO.part03.rar
http://www.filesonic.com/file/535021591/Autodesk.Inventor.Pro.v2012.Win32-ISO.part04.rar
http://www.filesonic.com/file/534829351/Autodesk.Inventor.Pro.v2012.Win32-ISO.part05.rar
http://www.filesonic.com/file/534345501/Autodesk.Inventor.Pro.v2012.Win32-ISO.part06.rar
http://www.filesonic.com/file/535016221/Autodesk.Inventor.Pro.v2012.Win32-ISO.part07.rar
http://www.filesonic.com/file/535023411/Autodesk.Inventor.Pro.v2012.Win32-ISO.part08.rar
http://www.filesonic.com/file/535024401/Autodesk.Inventor.Pro.v2012.Win32-ISO.part09.rar
http://www.filesonic.com/file/535021731/Autodesk.Inventor.Pro.v2012.Win32-ISO.part10.rar
http://www.filesonic.com/file/535024711/Autodesk.Inventor.Pro.v2012.Win32-ISO.part11.rar
http://www.filesonic.com/file/534043081/Autodesk.Inventor.Pro.v2012.Win32-ISO.part12.rar
http://www.filesonic.com/file/535022781/Autodesk.Inventor.Pro.v2012.Win64-ISO.part01.rar
http://www.filesonic.com/file/534344901/Autodesk.Inventor.Pro.v2012.Win64-ISO.part02.rar
http://www.filesonic.com/file/535032191/Autodesk.Inventor.Pro.v2012.Win64-ISO.part03.rar
http://www.filesonic.com/file/535033621/Autodesk.Inventor.Pro.v2012.Win64-ISO.part04.rar
http://www.filesonic.com/file/534994474/Autodesk.Inventor.Pro.v2012.Win64-ISO.part05.rar
http://www.filesonic.com/file/534757954/Autodesk.Inventor.Pro.v2012.Win64-ISO.part06.rar
http://www.filesonic.com/file/534770984/Autodesk.Inventor.Pro.v2012.Win64-ISO.part07.rar
http://www.filesonic.com/file/535004654/Autodesk.Inventor.Pro.v2012.Win64-ISO.part08.rar
http://www.filesonic.com/file/535005164/Autodesk.Inventor.Pro.v2012.Win64-ISO.part09.rar
http://www.filesonic.com/file/535004894/Autodesk.Inventor.Pro.v2012.Win64-ISO.part10.rar
http://www.filesonic.com/file/535037054/Autodesk.Inventor.Pro.v2012.Win64-ISO.part11.rar
http://www.filesonic.com/file/535055284/Autodesk.Inventor.Pro.v2012.Win64-ISO.part12.rar
http://www.filesonic.com/file/535044534/Autodesk.Inventor.Pro.v2012.Win64-ISO.part13.rar
http://www.filesonic.com/file/534118674/Autodesk.Inventor.Pro.v2012.Win64-ISO.part14.rar

Fileserve
http://www.fileserve.com/file/5ExHSGf/Autodesk.Inventor.Pro.v2012.Win32-ISO.part01.rar
http://www.fileserve.com/file/gYutera/Autodesk.Inventor.Pro.v2012.Win32-ISO.part02.rar
http://www.fileserve.com/file/YMJpAxd/Autodesk.Inventor.Pro.v2012.Win32-ISO.part03.rar
http://www.fileserve.com/file/urAUAqS/Autodesk.Inventor.Pro.v2012.Win32-ISO.part04.rar
http://www.fileserve.com/file/VqUQJzV/Autodesk.Inventor.Pro.v2012.Win32-ISO.part05.rar
http://www.fileserve.com/file/nEEqDMT/Autodesk.Inventor.Pro.v2012.Win32-ISO.part06.rar
http://www.fileserve.com/file/Jxah7YA/Autodesk.Inventor.Pro.v2012.Win32-ISO.part07.rar
http://www.fileserve.com/file/Z8Z8UPW/Autodesk.Inventor.Pro.v2012.Win32-ISO.part08.rar
http://www.fileserve.com/file/bqJ6wMW/Autodesk.Inventor.Pro.v2012.Win32-ISO.part09.rar
http://www.fileserve.com/file/rn5MTeW/Autodesk.Inventor.Pro.v2012.Win32-ISO.part10.rar
http://www.fileserve.com/file/8KJS7HD/Autodesk.Inventor.Pro.v2012.Win32-ISO.part11.rar
http://www.fileserve.com/file/FGcKfcM/Autodesk.Inventor.Pro.v2012.Win32-ISO.part12.rar
http://www.fileserve.com/file/d7BnKUD/Autodesk.Inventor.Pro.v2012.Win64-ISO.part01.rar
http://www.fileserve.com/file/vYmKqTj/Autodesk.Inventor.Pro.v2012.Win64-ISO.part02.rar
http://www.fileserve.com/file/j5DuFqe/Autodesk.Inventor.Pro.v2012.Win64-ISO.part03.rar
http://www.fileserve.com/file/n7c2faw/Autodesk.Inventor.Pro.v2012.Win64-ISO.part04.rar
http://www.fileserve.com/file/T8SSxqw/Autodesk.Inventor.Pro.v2012.Win64-ISO.part05.rar
http://www.fileserve.com/file/vrhuFbX/Autodesk.Inventor.Pro.v2012.Win64-ISO.part06.rar
http://www.fileserve.com/file/qW7UxRq/Autodesk.Inventor.Pro.v2012.Win64-ISO.part07.rar
http://www.fileserve.com/file/3vtrXAY/Autodesk.Inventor.Pro.v2012.Win64-ISO.part08.rar
http://www.fileserve.com/file/DbVUDat/Autodesk.Inventor.Pro.v2012.Win64-ISO.part09.rar
http://www.fileserve.com/file/ZYrUU8Q/Autodesk.Inventor.Pro.v2012.Win64-ISO.part10.rar
http://www.fileserve.com/file/3XHBwwx/Autodesk.Inventor.Pro.v2012.Win64-ISO.part11.rar
http://www.fileserve.com/file/aDHVdU8/Autodesk.Inventor.Pro.v2012.Win64-ISO.part12.rar
http://www.fileserve.com/file/FQ7Ckvm/Autodesk.Inventor.Pro.v2012.Win64-ISO.part13.rar
http://www.fileserve.com/file/zwc9wba/Autodesk.Inventor.Pro.v2012.Win64-ISO.part14.rar

Uploadstation
http://www.uploadstation.com/file/zMjmzh6/Autodesk.Inventor.Pro.v2012.Win32-ISO.part01.rar
http://www.uploadstation.com/file/gqhDZ7M/Autodesk.Inventor.Pro.v2012.Win32-ISO.part02.rar
http://www.uploadstation.com/file/2Kxypn5/Autodesk.Inventor.Pro.v2012.Win32-ISO.part03.rar
http://www.uploadstation.com/file/hCmTXhc/Autodesk.Inventor.Pro.v2012.Win32-ISO.part05.rar
http://www.uploadstation.com/file/CC8pN67/Autodesk.Inventor.Pro.v2012.Win32-ISO.part06.rar
http://www.uploadstation.com/file/3bfPmuQ/Autodesk.Inventor.Pro.v2012.Win32-ISO.part07.rar
http://www.uploadstation.com/file/Ej6cD2g/Autodesk.Inventor.Pro.v2012.Win32-ISO.part10.rar
http://www.uploadstation.com/file/ma9SRvD/Autodesk.Inventor.Pro.v2012.Win32-ISO.part11.rar
http://www.uploadstation.com/file/tyXFa74/Autodesk.Inventor.Pro.v2012.Win32-ISO.part12.rar
http://www.uploadstation.com/file/PqBmCKY/Autodesk.Inventor.Pro.v2012.Win64-ISO.part01.rar
http://www.uploadstation.com/file/vM5W6K9/Autodesk.Inventor.Pro.v2012.Win64-ISO.part02.rar
http://www.uploadstation.com/file/cCeh5wp/Autodesk.Inventor.Pro.v2012.Win64-ISO.part03.rar
http://www.uploadstation.com/file/fwgJYPt/Autodesk.Inventor.Pro.v2012.Win64-ISO.part04.rar
http://www.uploadstation.com/file/7bWgmvN/Autodesk.Inventor.Pro.v2012.Win64-ISO.part06.rar
http://www.uploadstation.com/file/3jdz6dh/Autodesk.Inventor.Pro.v2012.Win64-ISO.part07.rar
http://www.uploadstation.com/file/n9AtASY/Autodesk.Inventor.Pro.v2012.Win64-ISO.part08.rar
http://www.uploadstation.com/file/Qvuyje3/Autodesk.Inventor.Pro.v2012.Win64-ISO.part10.rar
http://www.uploadstation.com/file/yFxeG6p/Autodesk.Inventor.Pro.v2012.Win64-ISO.part11.rar
http://www.uploadstation.com/file/bv5vMu7/Autodesk.Inventor.Pro.v2012.Win64-ISO.part13.rar
http://www.uploadstation.com/file/CYCXKuy/Autodesk.Inventor.Pro.v2012.Win64-ISO.part14.rar

Usershare
http://www.usershare.net/g9j8m6x6kh2n/Autodesk.Inventor.Pro.v2012.Win32-ISO.part01.rar
http://www.usershare.net/g4zuhwia1loj/Autodesk.Inventor.Pro.v2012.Win32-ISO.part02.rar
http://www.usershare.net/3rph1sjqhnli/Autodesk.Inventor.Pro.v2012.Win32-ISO.part03.rar
http://www.usershare.net/8dpc5dt6xvgh/Autodesk.Inventor.Pro.v2012.Win32-ISO.part04.rar
http://www.usershare.net/ub7z2tskzugi/Autodesk.Inventor.Pro.v2012.Win32-ISO.part05.rar
http://www.usershare.net/hm9zuyrt25gb/Autodesk.Inventor.Pro.v2012.Win32-ISO.part06.rar
http://www.usershare.net/0ia5tu2392ew/Autodesk.Inventor.Pro.v2012.Win32-ISO.part07.rar
http://www.usershare.net/bxqvgrsy5dlp/Autodesk.Inventor.Pro.v2012.Win32-ISO.part08.rar
http://www.usershare.net/2thl8v7wtxvn/Autodesk.Inventor.Pro.v2012.Win32-ISO.part09.rar
http://www.usershare.net/krhvbul2t766/Autodesk.Inventor.Pro.v2012.Win32-ISO.part10.rar
http://www.usershare.net/1s7crbgpuusf/Autodesk.Inventor.Pro.v2012.Win32-ISO.part11.rar
http://www.usershare.net/wc6jqz6cslrb/Autodesk.Inventor.Pro.v2012.Win32-ISO.part12.rar
http://www.usershare.net/o2fiwlr6ehmu/Autodesk.Inventor.Pro.v2012.Win64-ISO.part01.rar
http://www.usershare.net/xwsqrz77610s/Autodesk.Inventor.Pro.v2012.Win64-ISO.part02.rar
http://www.usershare.net/l8rmqe0mtrzr/Autodesk.Inventor.Pro.v2012.Win64-ISO.part03.rar
http://www.usershare.net/vui3petubx3k/Autodesk.Inventor.Pro.v2012.Win64-ISO.part04.rar
http://www.usershare.net/xpzptca0konp/Autodesk.Inventor.Pro.v2012.Win64-ISO.part05.rar
http://www.usershare.net/y27agptpwi0v/Autodesk.Inventor.Pro.v2012.Win64-ISO.part06.rar
http://www.usershare.net/2f1za7cbvn7d/Autodesk.Inventor.Pro.v2012.Win64-ISO.part07.rar
http://www.usershare.net/9asmdwjnhs1v/Autodesk.Inventor.Pro.v2012.Win64-ISO.part08.rar
http://www.usershare.net/5i9p4960ltor/Autodesk.Inventor.Pro.v2012.Win64-ISO.part09.rar
http://www.usershare.net/cse2vv3ha3sk/Autodesk.Inventor.Pro.v2012.Win64-ISO.part10.rar
http://www.usershare.net/uksiyxsp3l1q/Autodesk.Inventor.Pro.v2012.Win64-ISO.part11.rar
http://www.usershare.net/vqk4374xpbd9/Autodesk.Inventor.Pro.v2012.Win64-ISO.part12.rar
http://www.usershare.net/6ogv1avrixgl/Autodesk.Inventor.Pro.v2012.Win64-ISO.part13.rar
http://www.usershare.net/a1cep5npz11u/Autodesk.Inventor.Pro.v2012.Win64-ISO.part14.rar