The Kings Speech (2010) 1080p BluRay DTS x264-DMZ
Matroska | 11.50 GiB | 1920x1080 | AVC @ 12.4 Mbps | English | DTS @ 1 510 Kbps - 6 channels | 1h 58mn
Genre: Biography | Drama | History
Tells the story of the man who became King George VI, the father of Queen Elizabeth II. After his brother abdicates, George ( Bertie ) reluctantly assumes the throne. Plagued by a dreaded stammer and considered unfit to be king, Bertie engages the help of an unorthodox speech therapist named Lionel Logue. Through a set of unexpected techniques, and as a result of an unlikely friendship, Bertie is able to find his voice and boldly lead the country through war.
More information at:
http://www.imdb.com/title/tt1504320/
Screenshot: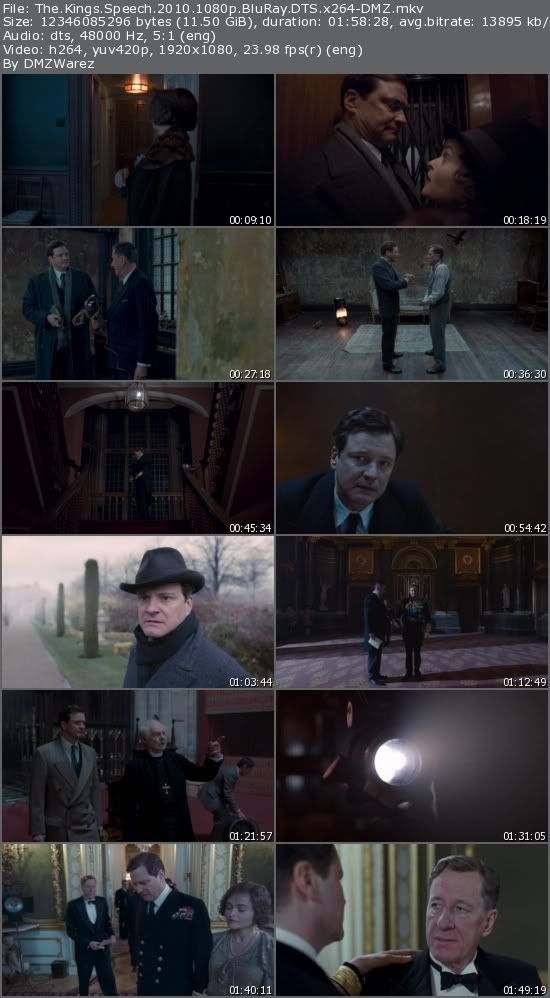 Download Links
Filesonic
http://www.filesonic.com/file/535294141/The.Kings.Speech.2010.1080p.BluRay.DTS.x264-DMZ.part01.rar
http://www.filesonic.com/file/535157234/The.Kings.Speech.2010.1080p.BluRay.DTS.x264-DMZ.part02.rar
http://www.filesonic.com/file/535154124/The.Kings.Speech.2010.1080p.BluRay.DTS.x264-DMZ.part03.rar
http://www.filesonic.com/file/535157394/The.Kings.Speech.2010.1080p.BluRay.DTS.x264-DMZ.part04.rar
http://www.filesonic.com/file/535177954/The.Kings.Speech.2010.1080p.BluRay.DTS.x264-DMZ.part05.rar
http://www.filesonic.com/file/535211434/The.Kings.Speech.2010.1080p.BluRay.DTS.x264-DMZ.part06.rar
http://www.filesonic.com/file/535216364/The.Kings.Speech.2010.1080p.BluRay.DTS.x264-DMZ.part07.rar
http://www.filesonic.com/file/535212184/The.Kings.Speech.2010.1080p.BluRay.DTS.x264-DMZ.part08.rar
http://www.filesonic.com/file/535159094/The.Kings.Speech.2010.1080p.BluRay.DTS.x264-DMZ.part09.rar
http://www.filesonic.com/file/533396694/The.Kings.Speech.2010.1080p.BluRay.DTS.x264-DMZ.part10.rar
http://www.filesonic.com/file/533399194/The.Kings.Speech.2010.1080p.BluRay.DTS.x264-DMZ.part11.rar
http://www.filesonic.com/file/534431844/The.Kings.Speech.2010.1080p.BluRay.DTS.x264-DMZ.part12.rar

Fileserve
http://www.fileserve.com/file/EJJTQCh/The.Kings.Speech.2010.1080p.BluRay.DTS.x264-DMZ.part01.rar
http://www.fileserve.com/file/dv7BDeq/The.Kings.Speech.2010.1080p.BluRay.DTS.x264-DMZ.part02.rar
http://www.fileserve.com/file/kuRdkna/The.Kings.Speech.2010.1080p.BluRay.DTS.x264-DMZ.part03.rar
http://www.fileserve.com/file/ckSn5Gg/The.Kings.Speech.2010.1080p.BluRay.DTS.x264-DMZ.part04.rar
http://www.fileserve.com/file/YSBj4mr/The.Kings.Speech.2010.1080p.BluRay.DTS.x264-DMZ.part05.rar
http://www.fileserve.com/file/RVW4wgK/The.Kings.Speech.2010.1080p.BluRay.DTS.x264-DMZ.part06.rar
http://www.fileserve.com/file/4EcVHNH/The.Kings.Speech.2010.1080p.BluRay.DTS.x264-DMZ.part07.rar
http://www.fileserve.com/file/Z3ksXxD/The.Kings.Speech.2010.1080p.BluRay.DTS.x264-DMZ.part08.rar
http://www.fileserve.com/file/9KQBRq3/The.Kings.Speech.2010.1080p.BluRay.DTS.x264-DMZ.part09.rar
http://www.fileserve.com/file/FKe2fdz/The.Kings.Speech.2010.1080p.BluRay.DTS.x264-DMZ.part10.rar
http://www.fileserve.com/file/affN2V9/The.Kings.Speech.2010.1080p.BluRay.DTS.x264-DMZ.part11.rar
http://www.fileserve.com/file/Q2QW66m/The.Kings.Speech.2010.1080p.BluRay.DTS.x264-DMZ.part12.rar

Uploadstation
http://www.uploadstation.com/file/sdemrbG/The.Kings.Speech.2010.1080p.BluRay.DTS.x264-DMZ.part02.rar
http://www.uploadstation.com/file/QZMRGQA/The.Kings.Speech.2010.1080p.BluRay.DTS.x264-DMZ.part08.rar
http://www.uploadstation.com/file/fRAzU74/The.Kings.Speech.2010.1080p.BluRay.DTS.x264-DMZ.part12.rar

Usershare
http://www.usershare.net/n4k1ngpg7x22/The.Kings.Speech.2010.1080p.BluRay.DTS.x264-DMZ.part01.rar
http://www.usershare.net/gexut3e0ud0y/The.Kings.Speech.2010.1080p.BluRay.DTS.x264-DMZ.part02.rar
http://www.usershare.net/a54lwc9qqixg/The.Kings.Speech.2010.1080p.BluRay.DTS.x264-DMZ.part03.rar
http://www.usershare.net/6u8133vnyqvm/The.Kings.Speech.2010.1080p.BluRay.DTS.x264-DMZ.part04.rar
http://www.usershare.net/9j1kin3wvdbi/The.Kings.Speech.2010.1080p.BluRay.DTS.x264-DMZ.part05.rar
http://www.usershare.net/wjfnlhb57dyl/The.Kings.Speech.2010.1080p.BluRay.DTS.x264-DMZ.part06.rar
http://www.usershare.net/yiq4jj28j8mn/The.Kings.Speech.2010.1080p.BluRay.DTS.x264-DMZ.part07.rar
http://www.usershare.net/rdrue29v2hvw/The.Kings.Speech.2010.1080p.BluRay.DTS.x264-DMZ.part08.rar
http://www.usershare.net/6n21i8vzc6d1/The.Kings.Speech.2010.1080p.BluRay.DTS.x264-DMZ.part09.rar
http://www.usershare.net/0m73cies10li/The.Kings.Speech.2010.1080p.BluRay.DTS.x264-DMZ.part10.rar
http://www.usershare.net/m85cfqxbof2q/The.Kings.Speech.2010.1080p.BluRay.DTS.x264-DMZ.part11.rar
http://www.usershare.net/yrvq3ysibb9q/The.Kings.Speech.2010.1080p.BluRay.DTS.x264-DMZ.part12.rar