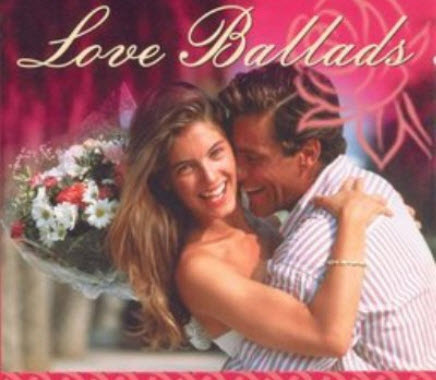 VA - Love Ballads (2009)
Genre: Pop, Rock, Dance | 200 tracks | Release: 2009 | MP3 128 kbps | 698 MB
Tracklist
001.The Attic - Even If It Hurts Me.
002.September - Cry For You (Candle Light Edit).
003.Eros Ramazotti - Un Cuore Con Le Ali.
004.Arash feat. Helena - Pure Love.
005.Julio Iglesias Jr - My Mistake.
006.Pussycat Dolls - Hush Hush.
007.Beyonce - If I Were A Boy.
008.Britney Spears - Out From Under.
009.Ashanti - The Way That I Love You.
010.Garou - Burning (Radio Edit).
011.Lady Gaga - Brown Eyes.
012.Jennifer Lopez - Brave.
013.Maria - Hold On Be Strong.
014.Anastacia - Never Gonna Love Again.
015.Pink - I Don t Believe You.
016.Sergey Lazarev - Almost Sorry.
017.Jane Birkin - Periode Bleue.
018.Brazzaville feat. Minerva - The Clouds in Camarillo.
019.Craig David - Unbelievable.
020.Alicia Keys - Like You ll Never See Me Again.
021.Emin - Still.
022.Christina Aguilera - Hurt.
023.David Tavare - En La Oscuridad.
024.Fergie - Finally (Radio Edit).
025.Jay Sean - Ride It.
026.Laleh - Live Tomorrow.
027.Morten Harket - Darkspace (You re With Me).
028.Emilia - I Won t Cry.
029.Tiziano Ferro - Ed Ero Contentissimo.
030.Enigma feat. Andru Donald - Je T aime Till My Dying Day.
031.Sugababes - Can We Call A Truce.
032.Melanie Flash - One in A Million (Ballad version).
033.David Charvet - Sometimes it Rains.
034.Jonas Brothers - A Little Bit Longer.
035.Avril Lavigne - Keep Holding On.
036.Will Young - Changes.
037.James Blunt - Carry You Home.
038.Fady Maalouf - Blessed.
039.Dido - Look No Further.
040.Mc Magic - Princess.
041.Ysa Ferrer - My Lovarium Never Ends.
042.Ice Cream - I.M.Y.S.M..
043.Loona - Salam Aleikoum.
044.Tocadisco feat. Chelonis R. Jones - Shrine.
045.Clea - Stuck In The Middle.
046.Declan - An Angel.
047.Enrique Iglesias - Somebodys Me.
048.Leona Lewis - Here I Am.
049.Captain Jack - I Was A Fool.
050.Duffy - Warwick Avenue (Radio Edit).
051.Toni Braxton - Suddenly.
052.Celine Dion - My Love.
053.Backstreet Boys - Love Will Keep You Up All Night.
054.Janet Jackson - Greatest X.
055.Bosson - What if I.
056.Superbus - Ca Mousse.
057.David Archuleta - To Be With You.
058.Adele - Chasing Pavements.
059.Craig David - Never Should Have Walked Away.
060.Freewinder - Shooting Stars.
061.Eros Ramazzotti - Sta Passando Novembre.
062.Infernal - Back To Youth.
063.James Blunt - Love Love Love.
064.Amy Pearson - Tell Me.
065.Mark Medlock - Never Let You Go.
066.BWO - The Destiny of Love.
067.Leona Lewis - Better In Time.
068.Mariah Carey - Bye Bye.
069.Atomic Kitten - Anyone Who Had A Heart.
070.The Rasmus - Livin In A World Without You (Acoustic Version).
071.Mathieu Edward And Sheryfa Luna - Comme Avant.
072.Keyshia Cole - Fallin Out.
073.Colbie Caillat - The Little Things.
074.Westlife - Im Already There.
075.Loona - Angel.
076.Jon Mclaughlin - Smack Into You.
077.Brandur - Lullaby.
078.Danzel - Shame.
079.Jem - It s Amazing.
080.Tina Arena - Entends-Tu Le Monde.
081.Morten Harket - We ll Never Speak Again.
082.Nelly Furtado - In God s Hands.
083.Eagles - Busy Being Fabulous.
084.Mylene Farmer - Appelle Mon Numero.
085.Bryan Adams - We Found What We Were Looking For.
086.Mutya Buena - Fast Car.
087.Patrick Nuo - Girl In The Moon.
088.Rihanna - Cry.
089.Nickelback - If Everyone Cared.
090.Morcheeba Feat. Judy Tzuke - Enjoy The Ride.
091.Craig David - Officially Yours.
092.Sarah Connor - The Best Side of Life.
093.Corrine Bailey Rae - Like a star.
094.Pet Shop Boys - Numb.
095.Bliss - Kissing.
096.Cascada - Could It Be You.
097.No Angels - Disappear (Yin Yang Remix).
098.Plumb - In My Arms.
099.Space People - Allo.
100.Enigma feat. Andru Donald - The Language Of Sound.
101.Hampenberg - Love In Siberia (Ks Candlelight Remix).
102.David Vendetta - Love To Love You Baby (Lounge Mix).
103.Loona - Hijo De La Luna.
104.Marius feat. Cabron - Never Be.
105.Duffy - Stepping Stone.
106.Bob Sinclar - World Hold on (Acoustic version).
107.Monrose - What You Dont Know.
108.Shayne Ward - No Promises.
109.Jennifer Lopez - Porque La Vida Es As?.
110.Eros Ramazzotti - Il Tempo Tra Di Noi.
111.Leona Lewis - Run.
112.Take That - Rule The World (Radio Edit).
113.Mariah Carey - I Stay In Love.
114.Norah Jones - Until The End.
115.Lemar - If She Knew.
116.Melissa - I Believed.
117.The Bird & The Bee - How Deep Is Your Love.
118.Rihanna - Take A Bow.
119.Milk Inc - Perfect Lie.
120.Alexander O neal Feat. Mica Paris - Secret Lovers.
121.Tiziano Ferro - Alla Mia Eta.
122.BWO - Will My Arms Be Strong Enough.
123.Geta Burlacu - A Century of Love.
124.Mikal Blue - Gold.
125.Colbie Caillat - Realize.
126.Mylene Farmer - Point De Suture.
127.Portishead - The Rip.
128.Radiohead - Nude.
129.Nathalie Cardone - Yo Soy Rebelde.
130.Morten Harket - With You With Me.
131.Nickelback - I d Come For You.
132.Nelly Furtado Feat. Keith Urban - In God s Hands.
133.Pink - Glitter In The Air.
134.Liberty X - Divine Intervention.
135.Mina - How The Angels Fly.
136.Lenny Kravitz - A New Door.
137.Melanie C - This Time.
138.John Mayer - Say.
139.Morcheeba feat. Manda - Gained The World.
140.Bryan Adams - Broken Wings.
141.Evanescence - Good Enough.
142.Dave Barnes - Until You.
143.Loona - In The Sound Of Silence.
144.David Cook - Permanent.
145.Sarah Mclachlan - Ordinary Miracle.
146.George Stanford - My Own Worst Enemy (Radio Edit).
147.Maika - Felix.
148.Craig David - Do You Believe In Love.
149.David Archuleta - Crush.
150.Beyonce - Stop Sign.
151.Dante Thomas feat. Pink - Damed If I Cry.
152.Sarah McLachlan - U Want Me 2.
153.Andrea Bocelli & Christina Aguilera - Somos Novios (Its Impossible).
154.Carters Chord - Young Love (Radio Edit).
155.David Usher - When It Hurts.
156.Katie Melua - Nine Million Bicycles.
157.Eagles - What Do I Do With My Heart.
158.Josh Kelley - To Remember.
159.BNB - Mamma Mia (Spanish Version).
160.Dido - Don t Believe In Love.
161.Garou - First Day Of My Life.
162.India.Arie - The Heart Of The Matter.
163.Danzel - Unlocked.
164.Giusy Ferreri - Non Ti Scordar Mai Di Me.
165.Antimateria - Out Of Love.
166.Enrique Iglesias - Lloro Por Ti.
167.Jennifer Lopez - Me Haces Falta.
168.H-Blockx - Open Letter To A Friend.
169.Jonas Brothers - When You Look Me In The Eyes.
170.Eros Ramazzotti - Ci Parliamo Da Grandi.
171.Gabrielle feat. Paul Weller - Why.
172.James Blunt - Goodbye My Lover.
173.Katrina Carlson - Here And Now.
174.Mika - Over My Shoulder.
175.New Kids On The Block - 2 In The Morning.
176.BWO - Open Door.
177.Infernal - Days Full Of Loving.
178.Blue - Best In Me.
179.Fergie - Big Boys Dont Cry (Personal).
180.Mario Vazquez - We Gon Last.
181.Leona Lewis feat. Avril Lavigne - I Will Be.
182.Mylene Farmer - Si J Avais Au Moins....
183.Pachanga - Tu Means in Spanish You.
184.Westlife - Us Against The World.
185.Loona - Eternally.
186.Scissor Sisters - Land Of A Thousand Words.
187.Wet Wet Wet - Weightless.
188.Patrick Nuo - Rainbow Love.
189.Christina Aguilera - I Turn To You.
190.Craig David - Johnny.
191.Britney Spears - My Baby.
192.Paolo Meneguzzi - Ti Amo Ti Odio.
193.Beyonce - Listen.
194.Nelly Furtado feat. Rea Garvey from Raemon - All Good Things (Come To An End).
195.Alicia Keys - Superwoman.
196.Enrique Iglesias feat. Coti - Donde ?stan ?orazon.
197.Duffy - I m Scared.
198.Rihanna feat. Ne-Yo - Hate that I Love You.
199.Jodie Pijper - Open Up (Anuncio Nescafe).
200.Thomas Anders - Kisses For Christmas (Orchestral).
Download Links
Filesonic
http://www.filesonic.com/file/576526004/Love.ballade.2009.part1.rar
http://www.filesonic.com/file/576525934/Love.ballade.2009.part2.rar
http://www.filesonic.com/file/576525794/Love.ballade.2009.part3.rar
http://www.filesonic.com/file/576527144/Love.ballade.2009.part4.rar
http://www.filesonic.com/file/576527424/Love.ballade.2009.part5.rar
http://www.filesonic.com/file/576527494/Love.ballade.2009.part6.rar
http://www.filesonic.com/file/576527894/Love.ballade.2009.part7.rar
Fileserve
http://www.fileserve.com/file/perByBE/Love.ballade.2009.part1.rar
http://www.fileserve.com/file/sDvuZZQ/Love.ballade.2009.part2.rar
http://www.fileserve.com/file/yskwB3e/Love.ballade.2009.part3.rar
http://www.fileserve.com/file/k3ma8Md/Love.ballade.2009.part4.rar
http://www.fileserve.com/file/WekXSeG/Love.ballade.2009.part5.rar
http://www.fileserve.com/file/75MkHaA/Love.ballade.2009.part6.rar
http://www.fileserve.com/file/cv7CtF5/Love.ballade.2009.part7.rar
All links are interchangable. It mean you can download any part of archive from any server and can extract it without problem! PM me if links are dead, I will try to re-upload the file if I can!