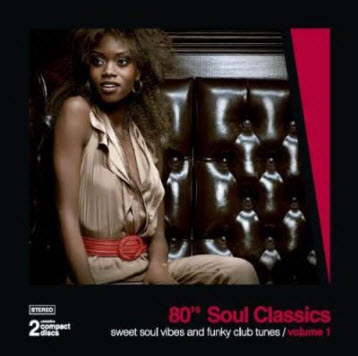 VA - 80s Soul Classics Vol 1 (2010)
2CD | Release: 2010 | Label: PTG Records, Vinyl Masterpiece | MP3 207 kbps avg | 189 MB
Genre: Soul, Funk, Disco
We proudly present a cracking batch of funky dancers and gentle groovers that captured the classy black clubs and radio airwaves from the early 80ís to the mid 80ís. If you are familiar with the sunny L.A. sound of Solar Records, the Minneapolis made Flyte Tyme productions, the lush Hush sound of New York or the sheer electricity of 80ís grooves, stay tuned and youíll be Walking Into Sunshine. Itís not the obvious mix of classic stompers offered here.
This Vol. 1 of this brand new PTG Records collection digs deeper and uncovers the soulful treasure tunes that made the post disco years and the emerging days of synth funk so abundant and exciting. 80ís Soul Classics is the story of black music past the seventies disco craze when musicality was on the rise again after the monotonous reign of the disco queens.
2CD with 24 titles with black superstars such as:
Players Association, Angela Bofill, Kashif, Gary Taylor, Crown Heights Affair, Champaign, Debarge, Fat Larryís Band, Nick Straker Band, McFadden and Whitehead and many others.
Tracklist:
CD1:
01. THE PLAYERS ASSOCIATION - The Get-Down Mellow Sound
02. ANGELA BOFILL - Is This A Dream
03. KASHIF - Don?t Stop My Love
04. GARY TAYLOR - Just What I Have In Mind
05. CENTRAL LINE - Walking Into Sunshine
06. CROWN HEIGHTS AFFAIR - Think Positive
07. GLENN JONES - Finesse
08. CHAMPAIGN - Off And On Love
09. TWIN IMAGE - Love Lesson
10. VERNON BURCH - Do It To Me
11. ENCHANTMENT - Somebodyís loving you
12. ELLIE HOPE - Lucky
CD2:
01. DEBARGE - You Wear It Well
02. BREAKWATER - Let Love In
03. MIDNIGHT STAR - Two In Love
04. FAT LARRYíS BAND - Be My Lady
05. NICK STRAKER BAND - We Can Still Be Friends
06. MICHAEL HENDERSON - You Wouldn?t Have To Work At All
07. MCB - Iím The One, Youíre The One
08. RHYZE - Rhyze to the top
09. MC FADDEN AND WHITEHEAD - One More Time
10. PAGODA - Finders Keepers
11. ALFONZO - Donít Stop This Feeling
12. FIRST CIRCLE - In The Name Of Love
Download Links
Filesonic
http://www.filesonic.com/file/576558324/80s_Soul_Classics_Vol_1.part1.rar
http://www.filesonic.com/file/576560564/80s_Soul_Classics_Vol_1.part2.rar
Fileserve
http://www.fileserve.com/file/qjWqAyt/80s_Soul_Classics_Vol_1.part1.rar
http://www.fileserve.com/file/yfxFaTd/80s_Soul_Classics_Vol_1.part2.rar
All links are interchangable. It mean you can download any part of archive from any server and can extract it without problem! PM me if links are dead, I will try to re-upload the file if I can!