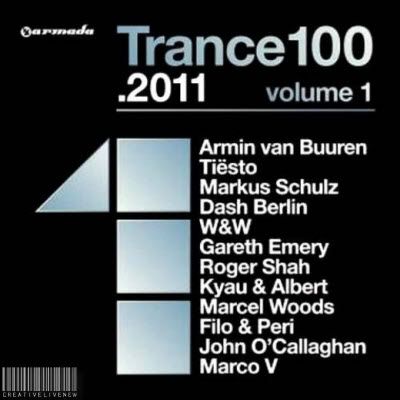 VA-Trance 100 2011 Vol 2-4CD-2011-wAx | 462 Mb
Tracklist:
CD 1:
01. Marco V & MoHawk Passenger
02. Las Salinas San Antoni (Ali Wilson & Tristan Ingram Full Fi
03. Jochen Miller U and Eye
04. Ruben de Ronde They Are Not You (Paul Rigel Remix)
05. Schodt & Sundriver ft Aida Fenhel Here With Me (Sundriver V
06. tyDi ft Brianna Holan Never Go Back
07. Conjure One ft Jaren Like Ice (Marcus Schossow Remix)
08. Armin van Buuren ft Laura V Drowning (Myon & Shane 54 Class
09. Faruk Sabanci Jessicas Sanctuary
10. Darren Tate Field Of Dreams
11. Filo & Peri Collateral Damage
12. The King & The Thief The Blacksmith (Paul Trainer Remix)
13. Josh Gabriel Presents Winter Kills Hot As Hades (John OCal
14. Marcel Woods Champagne Dreams (W&W Remix)
15. Kyau & Albert Barbizon
16. Spark7 Lightness
17. Tenishia ft Aneym Man in Denial (David Forbes Remix)
18. Markus Schulz Presents Dakota Sinners
19. Dash Berlin ft Emma Hewitt Disarm Yourself
20. Hoyaa Iceland Falls
21. Sneijder Back To Berlin
22. Chris & Matt Kidd Serene
23. Active Sight Out Of Our Lives (Alex M.O.R.P.H. Remix)
24. Giuseppe Ottaviani and Walsh & McAuley ft Emma Lock Ready (
25. Lustral I Feel You (John OCallaghan Remix)
CD 2:
01. Shane Halcon Solid Ground
02. Mike Foyle Presents Statica Head Rush
03. Mr. Pit Overload
04. San Far From In Between (Wellenrausch Remix)
05. Shato & Paul Rockseek meets Voy-Tech Crypoint (Stoneface &
06. Ad Brown ft Kerry Leva Memorial (You Were Loved) (Maor Levi
07. Jose Amnesia ft Jennifer Rene Louder (Alex M.O.R.P.H. Remix)
08. Nuera Green Cape Sunset
09. David Forbes ft Alan Nimmo Galapagos (Alternative Mix)
10. Store N Forward Donut
11. Reminder ft Cathy Burton Love to Hold
12. Justin Dobslaw Cold Snap (Andrew Rayel Remix)
13. Paul Gibson Fusion (Rafael Frost Remix)
14. Filo & Peri vs Ronski Speed Propane
15. Anton Firtich ft Betsie Larkin Out Of The Storm (Dub Mix)
16. David Newsum Narco
17. John OCallaghan & Timmy & Tommy Talk To Me (Activa Present
18. Running Man Sorrow
19. Signum ft Kate Louise Smith Liberate
20. Dulac & Dubois ft Szen Move On (Kim Svard Remix)
21. Will Holland ft Jeza Start Again (Juventa Remix)
22. Binary Finary 1998 (Alex M.O.R.P.H. Remix)
23. Dave202 Coming Home (Club Mix)
24. Running Man Presents Fifth Dimension Dont Say Goodbye
25. Pulser My Religion
CD 3:
01. W&W Impact
02. Cressida & Reminder Pillowfight
03. Arctic Moon Adelaide (Ben Nicky Remix)
04. Bjorn Akesson Painting Pyramids (Nhato Remix)
05. John OCallaghan ft Audrey Gallagher Bring Back The Sun (Ma
06. Abstract Vision & Elite Electronic Echoes (Protoculture Remix)
07. Cerf, Mitiska & Jaren Another World (Shogun Remix)
08. Roger Shah Presents Sunlounger ft Lorilee Life (Original Cl
09. Markus Schulz Future Cities
10. Danny Chen Yoru
11. Arnej ft Sally Saifi Free Of You (Arnej Instrumental Mix)
12. Aly & Fila ft Tiff Lacey Paradise (Ruben de Ronde Remix)
13. M6 Fair & Square (Alexander Popov Remix)
14. Robert Nickson & Thomas Datt Godless
15. DNS Project Second Chapter
16. M.I.K.E. Presents Plastic Boy The Color Of Passion
17. Rapha Dark Temptation
18. Myon & Shane 54 - International Departures (Classic Anthem Mix)
19. Signum Shamisan
20. Susana ft Jorn van Deynhoven Never Mine
21. Stonevalley Alcatraz
22. Daniel Kandi Promised (Emotional Mix)
23. Paul van Dyk ft Sue McLaren We Come Together (Reverse Remix)
24. Ilya Soloviev Mercury
25. The Thrillseekers Presents Hydra Affinity (Menno de Jong Re
CD 4:
01. Joonas Hahmo Western
02. Jacob Henry Cloak & Dagger (Tom Fall Remix)
03. Wippenberg Phoenix
04. Tiesto vs Diplo ft Busta Rhymes CMon (Catch Em By Surpris
05. ElSandro Merriment (Aaron Camz Remix)
06. Inge Lemon Starchild (Gofman & Tsukerman Remix)
07. Cliff Coenraad Oh Mega
08. Beat Service ft Emma Lock Not Out (Original Proglifting Mix)
09. Arnej We Need Them (Club Mix)
10. Danny Chen Oceanside
11. Tucandeo Lockdown
12. Heatbeat ft Jeza Light Up
13. Nash & Pepper I Killed The Love (Arnej Dub)
14. Orjan Nilsen Go Fast
15. Norin & Rad vs Recurve The Gift
16. Tom Colontonio Reflection
17. Whiteroom ft Amy Cooper Someday (Alex M.O.R.P.H. Remix)
18. Andrew Rayel Aether
19. Lange & Fabio XB Presents Yves De Lacroix Electrify (Lange
20. Josh Gabriel Presents Winter Kills Deep Down (Alex M.O.R.P .
21. Stacker Eternity
22. Vast Vision Ambrosia (Arctic Moon Remix)
23. Adam Szabo Radiance
24. RAM RAMazing
25. Insigma Evolution
Download Links
Filesonic
http://www.filesonic.com/file/399635794/VA-Trance.100.2011.Vol.2-4CD-2011-wAx.part1.rar
http://www.filesonic.com/file/399598254/VA-Trance.100.2011.Vol.2-4CD-2011-wAx.part2.rar

Fileserve
http://www.fileserve.com/file/UYqqZfY/VA-Trance.100.2011.Vol.2-4CD-2011-wAx.part1.rar
http://www.fileserve.com/file/PQhxX3G/VA-Trance.100.2011.Vol.2-4CD-2011-wAx.part2.rar