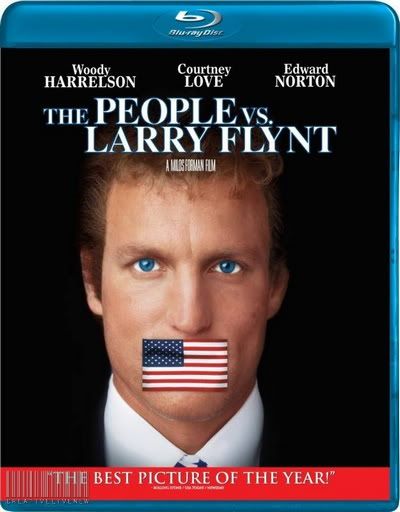 The People vs Larry Flynt (1996) 720p BluRay x264-DMZ
Matroska | 5.463 GiB | 1280x536 | AVC @ 4 532 Kbps | English | DTS @ 1 510 Kbps - 6 channels | 2h 9mn
Genre: Biography | Drama
At the twilight of the sexual revolution in the U.S., a sex industry entrepreneur named Larry Flynt leveraged a small string of Ohio strip-clubs into the beginnings of a publishing empire. Hustler magazines publisher, a grade-school dropout and Kentucky redneck, was nobodys hero, but circumstance would cast him as the eras last crusader. It was a role that brought Larry Flynt both ruin and glory. Flynt becomes the unlikely champion of the First Amendment when he takes his fight against the Rev. Jerry Falwell all the way to the Supreme Court.
More information at:
http://www.imdb.com/title/tt0117318/
Screenshot:
Download Links
Filesonic
http://www.filesonic.com/file/399804174/The.People.vs.Larry.Flynt.1996.720p.BluRay.x264-DMZ.part01.rar
http://www.filesonic.com/file/399803674/The.People.vs.Larry.Flynt.1996.720p.BluRay.x264-DMZ.part02.rar
http://www.filesonic.com/file/399802414/The.People.vs.Larry.Flynt.1996.720p.BluRay.x264-DMZ.part03.rar
http://www.filesonic.com/file/399802904/The.People.vs.Larry.Flynt.1996.720p.BluRay.x264-DMZ.part04.rar
http://www.filesonic.com/file/399803144/The.People.vs.Larry.Flynt.1996.720p.BluRay.x264-DMZ.part05.rar
http://www.filesonic.com/file/399803884/The.People.vs.Larry.Flynt.1996.720p.BluRay.x264-DMZ.part06.rar
http://www.filesonic.com/file/399802314/The.People.vs.Larry.Flynt.1996.720p.BluRay.x264-DMZ.part07.rar
http://www.filesonic.com/file/399802654/The.People.vs.Larry.Flynt.1996.720p.BluRay.x264-DMZ.part08.rar
http://www.filesonic.com/file/399803964/The.People.vs.Larry.Flynt.1996.720p.BluRay.x264-DMZ.part09.rar
http://www.filesonic.com/file/399805214/The.People.vs.Larry.Flynt.1996.720p.BluRay.x264-DMZ.part10.rar
http://www.filesonic.com/file/399803054/The.People.vs.Larry.Flynt.1996.720p.BluRay.x264-DMZ.part11.rar
http://www.filesonic.com/file/399804204/The.People.vs.Larry.Flynt.1996.720p.BluRay.x264-DMZ.part12.rar
http://www.filesonic.com/file/399547574/The.People.vs.Larry.Flynt.1996.720p.BluRay.x264-DMZ.part13.rar

Fileserve
http://www.fileserve.com/file/yZKVQ58/The.People.vs.Larry.Flynt.1996.720p.BluRay.x264-DMZ.part01.rar
http://www.fileserve.com/file/9S2bKcx/The.People.vs.Larry.Flynt.1996.720p.BluRay.x264-DMZ.part02.rar
http://www.fileserve.com/file/5eZyPZf/The.People.vs.Larry.Flynt.1996.720p.BluRay.x264-DMZ.part03.rar
http://www.fileserve.com/file/tvCQ8rq/The.People.vs.Larry.Flynt.1996.720p.BluRay.x264-DMZ.part04.rar
http://www.fileserve.com/file/QhGzJhJ/The.People.vs.Larry.Flynt.1996.720p.BluRay.x264-DMZ.part05.rar
http://www.fileserve.com/file/bSwRGWC/The.People.vs.Larry.Flynt.1996.720p.BluRay.x264-DMZ.part06.rar
http://www.fileserve.com/file/HRQyYXj/The.People.vs.Larry.Flynt.1996.720p.BluRay.x264-DMZ.part07.rar
http://www.fileserve.com/file/j3WcgDs/The.People.vs.Larry.Flynt.1996.720p.BluRay.x264-DMZ.part08.rar
http://www.fileserve.com/file/bG7ja7V/The.People.vs.Larry.Flynt.1996.720p.BluRay.x264-DMZ.part09.rar
http://www.fileserve.com/file/TArk6vQ/The.People.vs.Larry.Flynt.1996.720p.BluRay.x264-DMZ.part10.rar
http://www.fileserve.com/file/YEYGmVN/The.People.vs.Larry.Flynt.1996.720p.BluRay.x264-DMZ.part11.rar
http://www.fileserve.com/file/ynfre69/The.People.vs.Larry.Flynt.1996.720p.BluRay.x264-DMZ.part12.rar
http://www.fileserve.com/file/PmyQXhG/The.People.vs.Larry.Flynt.1996.720p.BluRay.x264-DMZ.part13.rar