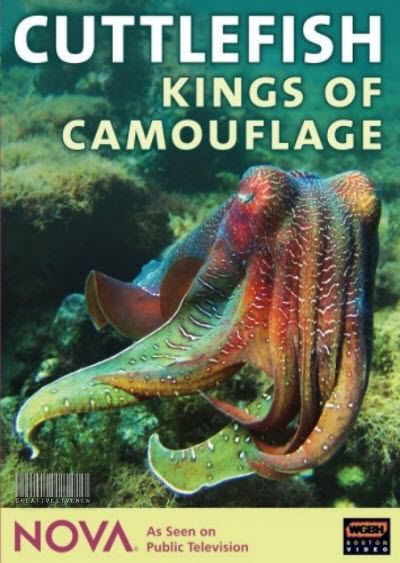 NOVA Cuttlefish Kings Of Camouflage 2007 DVDRip XviD-DMZ
AVI | 349.1 MiB | 608x336 | XviD @ 758 Kbps | English | MP3 @ 128 Kbps - 2 channels | 54mn 10s
Genre: Documentary
Call it a case of mistaken identity. When it comes to camouflage, chameleons get all the attention. But the often-overlooked cuttlefish is the real master of disguise. Cousins of the squid and octopus, cuttlefish are among the most unusual animals on our planet. These shape-shifting creatures can hypnotize their prey, impersonate the opposite sex and even kill with lightning-fast speed. More accomplished masters of disguise than any chameleon, they have an incredible ability to morph their skin color - even their shape - to blend into most any background. Cuttlefish also have one of the largest brain-to-body ratios among the invertebrates. With stunning underwater footage and in-depth expert interviews, NOVA gets up close and personal with this astonishing brainy bunch.
Screenshot: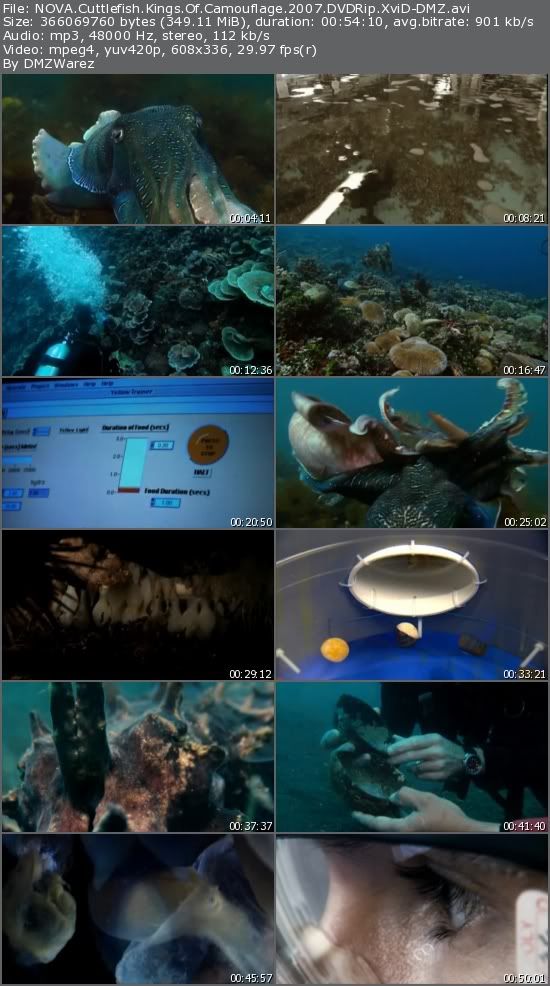 Download Links
Filesonic
http://www.filesonic.com/file/399769534/NOVA.Cuttlefish.Kings.Of.Camouflage.2007.DVDRip.XviD-DMZ.part1.rar
http://www.filesonic.com/file/399739734/NOVA.Cuttlefish.Kings.Of.Camouflage.2007.DVDRip.XviD-DMZ.part2.rar

Fileserve
http://www.fileserve.com/file/eQWEchF/NOVA.Cuttlefish.Kings.Of.Camouflage.2007.DVDRip.XviD-DMZ.part1.rar
http://www.fileserve.com/file/dWTAnN8/NOVA.Cuttlefish.Kings.Of.Camouflage.2007.DVDRip.XviD-DMZ.part2.rar