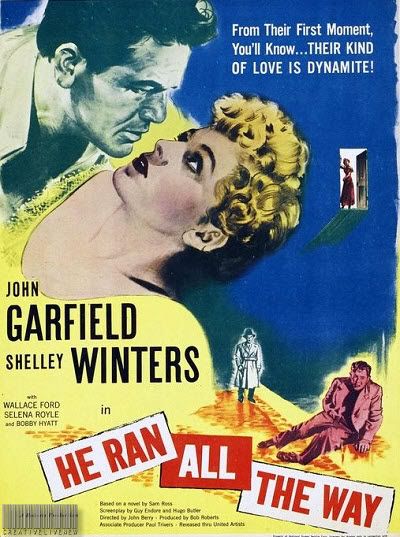 He Ran All the Way (1951) DVDRip XviD-DMZ
AVI | 1.007 GiB | 640x480 | XviD @ 1 799 Kbps | English | MP3 @ 128 Kbps - 2 channels | 1h 14mn
Genre: Crime | Drama
The uptight and dumb smalltime thief Nick Robey and his partner and only friend Al Molin robber US$ 10,000.00 from a man, but the heist goes wrong. Al Molin is killed by a policeman and Nick shots him deadly in the spine. He hides out in a public swimming pool and meets the lonely spinster Peggy Dobbs in the water. Nick uses Peggy to lie low and leave the plunge. He offers a ride in a taxi to her and she invites him to enter in her apartment, where she introduces her family to him. When Nick discovers that he killed the cop, he decides to use Peggy s apartment as hideout to wait the police manhunt cool down, forcing the family to lodge him. When Nick finds that Peggy loves him, he invites her to leave the town with him and asks her to buy a used runaway car. However, the paranoid Nick cannot trust anybody and believes Peggy has betrayed him.
More information at:
http://www.imdb.com/title/tt0043625/
Screenshot:
Download Links
Filesonic
http://www.filesonic.com/file/399909591/He.Ran.All.the.Way.1951.DVDRip.XviD-DMZ.part1.rar
http://www.filesonic.com/file/399908831/He.Ran.All.the.Way.1951.DVDRip.XviD-DMZ.part2.rar
http://www.filesonic.com/file/399901701/He.Ran.All.the.Way.1951.DVDRip.XviD-DMZ.part3.rar
http://www.filesonic.com/file/399911791/He.Ran.All.the.Way.1951.DVDRip.XviD-DMZ.part4.rar
http://www.filesonic.com/file/398781831/He.Ran.All.the.Way.1951.DVDRip.XviD-DMZ.part6.rar

Fileserve
http://www.fileserve.com/file/7ZbaJTJ/He.Ran.All.the.Way.1951.DVDRip.XviD-DMZ.part1.rar
http://www.fileserve.com/file/B3uWZgX/He.Ran.All.the.Way.1951.DVDRip.XviD-DMZ.part2.rar
http://www.fileserve.com/file/vGYsD7W/He.Ran.All.the.Way.1951.DVDRip.XviD-DMZ.part3.rar
http://www.fileserve.com/file/fu8fbwY/He.Ran.All.the.Way.1951.DVDRip.XviD-DMZ.part3.rar
http://www.fileserve.com/file/kqJnU9B/He.Ran.All.the.Way.1951.DVDRip.XviD-DMZ.part3.rar
http://www.fileserve.com/file/DVVwkuY/He.Ran.All.the.Way.1951.DVDRip.XviD-DMZ.part4.rar
http://www.fileserve.com/file/FfwkzcV/He.Ran.All.the.Way.1951.DVDRip.XviD-DMZ.part5.rar
http://www.fileserve.com/file/YPPUnfM/He.Ran.All.the.Way.1951.DVDRip.XviD-DMZ.part6.rar