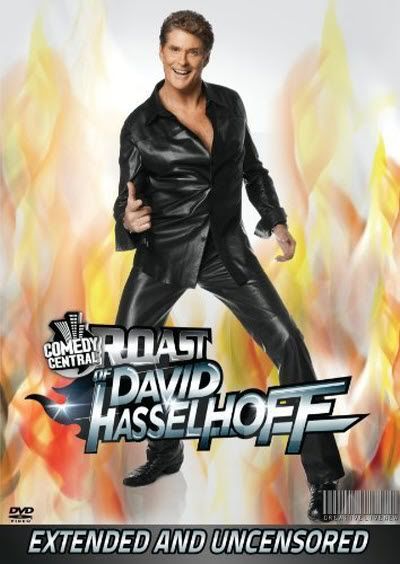 The Comedy Central - Roast of David Hasselhoff Extended and Uncensored (2010) DVDRip XviD-DMZ
AVI | 699.4 MiB | 640x352 | XviD @ 1 133 Kbps | English | AC3 @ 224 Kbps - 2 channels | 1h 11mn
Genre: Comedy
Talk about an easy target! The roster of stars roasting David Hasselhoff tonight can choose from his breakout role as the leather-jacket-clad pal of a talking car, his singing success in Germany, his shirtless stint on Baywatch, or that embarrassing drunken hamburger video (although thats probably off-limits). Whatever the jokes are, with Family Guy creator Seth MacFarlane as roast-master and a lineup including Hasselhoffs former co-star Pamela Anderson, Jerry Springer, and Queen of Mean Lisa Lampanelli, this will be one roast worth watching.
More information at:
http://www.imdb.com/title/tt1694505/
Screenshot: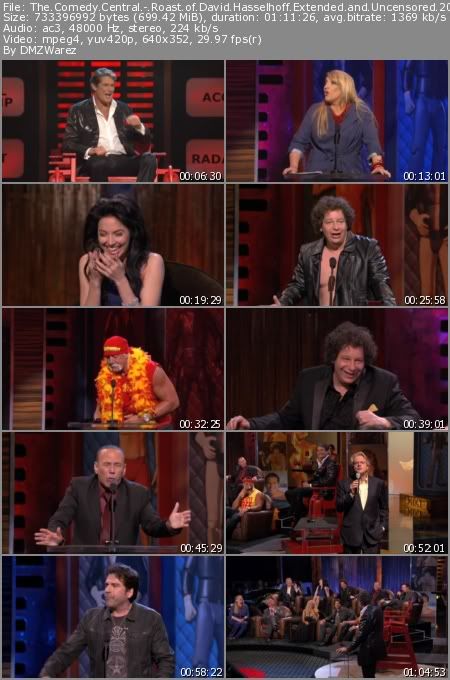 Download Links
Filesonic
http://www.filesonic.com/file/308493204/The.Comedy.Central.-.Roast.of.David.Hasselhoff.Extended.and.Uncensored.2010.DVDRip.XviD-DMZ.part1.rar
http://www.filesonic.com/file/308513901/The.Comedy.Central.-.Roast.of.David.Hasselhoff.Extended.and.Uncensored.2010.DVDRip.XviD-DMZ.part2.rar
http://www.filesonic.com/file/308490104/The.Comedy.Central.-.Roast.of.David.Hasselhoff.Extended.and.Uncensored.2010.DVDRip.XviD-DMZ.part3.rar
http://www.filesonic.com/file/308510461/The.Comedy.Central.-.Roast.of.David.Hasselhoff.Extended.and.Uncensored.2010.DVDRip.XviD-DMZ.part4.rar
http://www.filesonic.com/file/308509441/The.Comedy.Central.-.Roast.of.David.Hasselhoff.Extended.and.Uncensored.2010.DVDRip.XviD-DMZ.part5.rar
http://www.filesonic.com/file/308493134/The.Comedy.Central.-.Roast.of.David.Hasselhoff.Extended.and.Uncensored.2010.DVDRip.XviD-DMZ.part6.rar
http://www.filesonic.com/file/308501391/The.Comedy.Central.-.Roast.of.David.Hasselhoff.Extended.and.Uncensored.2010.DVDRip.XviD-DMZ.part7.rar

Fileserve
http://www.fileserve.com/file/SdSXET2/The.Comedy.Central.-.Roast.of.David.Hasselhoff.Extended.and.Uncensored.2010.DVDRip.XviD-DMZ.part1.rar
http://www.fileserve.com/file/QHGKChC/The.Comedy.Central.-.Roast.of.David.Hasselhoff.Extended.and.Uncensored.2010.DVDRip.XviD-DMZ.part2.rar
http://www.fileserve.com/file/wvFKFKS/The.Comedy.Central.-.Roast.of.David.Hasselhoff.Extended.and.Uncensored.2010.DVDRip.XviD-DMZ.part3.rar
http://www.fileserve.com/file/FANvphf/The.Comedy.Central.-.Roast.of.David.Hasselhoff.Extended.and.Uncensored.2010.DVDRip.XviD-DMZ.part4.rar
http://www.fileserve.com/file/N3aKUXx/The.Comedy.Central.-.Roast.of.David.Hasselhoff.Extended.and.Uncensored.2010.DVDRip.XviD-DMZ.part5.rar
http://www.fileserve.com/file/ezH3RQh/The.Comedy.Central.-.Roast.of.David.Hasselhoff.Extended.and.Uncensored.2010.DVDRip.XviD-DMZ.part6.rar
http://www.fileserve.com/file/bVA6sT5/The.Comedy.Central.-.Roast.of.David.Hasselhoff.Extended.and.Uncensored.2010.DVDRip.XviD-DMZ.part7.rar

Usershare
http://www.usershare.net/x6eg310pfix7/The.Comedy.Central.-.Roast.of.David.Hasselhoff.Extended.and.Uncensored.2010.DVDRip.XviD-DMZ.part1.rar
http://www.usershare.net/84mwopzsf1pw/The.Comedy.Central.-.Roast.of.David.Hasselhoff.Extended.and.Uncensored.2010.DVDRip.XviD-DMZ.part2.rar
http://www.usershare.net/nu0obf4x4xoe/The.Comedy.Central.-.Roast.of.David.Hasselhoff.Extended.and.Uncensored.2010.DVDRip.XviD-DMZ.part3.rar
http://www.usershare.net/568henqial5d/The.Comedy.Central.-.Roast.of.David.Hasselhoff.Extended.and.Uncensored.2010.DVDRip.XviD-DMZ.part4.rar
http://www.usershare.net/8j5mbbuwtr0r/The.Comedy.Central.-.Roast.of.David.Hasselhoff.Extended.and.Uncensored.2010.DVDRip.XviD-DMZ.part5.rar
http://www.usershare.net/eg14z04n2gsb/The.Comedy.Central.-.Roast.of.David.Hasselhoff.Extended.and.Uncensored.2010.DVDRip.XviD-DMZ.part6.rar