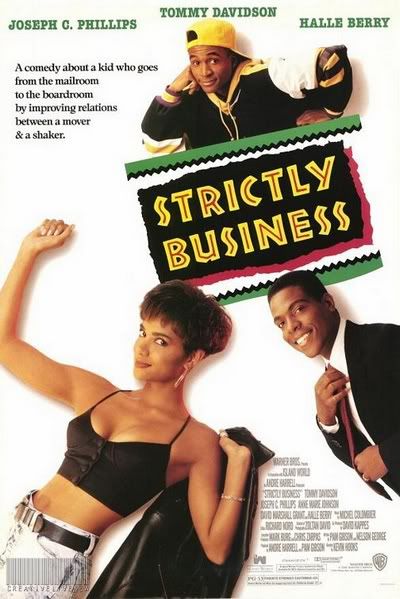 Strictly Business (1991) DVDRip XviD-DMZ
AVI | 697.8 MiB | 640x352 | XviD @ 1 028 Kbps | English | MP3 @ 135 Kbps - 2 channels | 1h 22mn
Genre: Comedy | Romance
Fun-loving Bobby is a mail boy in a big firm, but he has a trump card, his best friend Waymon, a white African-American who is almost a partner in the firm. They make a deal - Waymon will try to move Bobby to the trainee broker programme if he will help him meet Natalie, the girl of his dreams. There s only one problem, everyone will have to change...
More information at:
http://www.imdb.com/title/tt0102996/
Screenshot:
Download Links
Filesonic
http://www.filesonic.com/file/308512711/Strictly.Business.1991.DVDRip.XviD-DMZ.part1.rar
http://www.filesonic.com/file/308479174/Strictly.Business.1991.DVDRip.XviD-DMZ.part2.rar
http://www.filesonic.com/file/308493241/Strictly.Business.1991.DVDRip.XviD-DMZ.part3.rar
http://www.filesonic.com/file/308479294/Strictly.Business.1991.DVDRip.XviD-DMZ.part4.rar
http://www.filesonic.com/file/308479794/Strictly.Business.1991.DVDRip.XviD-DMZ.part5.rar
http://www.filesonic.com/file/308479814/Strictly.Business.1991.DVDRip.XviD-DMZ.part6.rar
http://www.filesonic.com/file/308491661/Strictly.Business.1991.DVDRip.XviD-DMZ.part7.rar

Fileserve
http://www.fileserve.com/file/zkHb8dx/Strictly.Business.1991.DVDRip.XviD-DMZ.part1.rar
http://www.fileserve.com/file/xxfPpk9/Strictly.Business.1991.DVDRip.XviD-DMZ.part2.rar
http://www.fileserve.com/file/hvxPKaS/Strictly.Business.1991.DVDRip.XviD-DMZ.part3.rar
http://www.fileserve.com/file/gcKfVjK/Strictly.Business.1991.DVDRip.XviD-DMZ.part4.rar
http://www.fileserve.com/file/sMGPCD2/Strictly.Business.1991.DVDRip.XviD-DMZ.part5.rar
http://www.fileserve.com/file/GUZzR5B/Strictly.Business.1991.DVDRip.XviD-DMZ.part6.rar
http://www.fileserve.com/file/SY8eERU/Strictly.Business.1991.DVDRip.XviD-DMZ.part7.rar