Strange Bedfellows (2004) 720p BluRay x264-DMZ
Matroska | 4.365 GiB | 1280x720 | AVC @ 4 993 Kbps | English | DTS @ 1 510 Kbps - 6 channels | 1h 36mn
Genre: Comedy
A struggling widower businessman finds a new tax loophole offered in Australia to same sex couples. Needing a tax break, he cajoles his best friend, also a widower, into filing papers indicating they are a gay couple living together and assuring him that the small town (population 652) they live in will never have a clue. However, their return letter from the government pops open and the town busybody soon has it spread all over town without the two men s knowledge. Meanwhile, the letter tells the men that a tax inspector will be coming to investigate their claim. The two decide they have to learn to act gay, so they get lessons from a local hair dresser and visit a gay nightclub in Sydney.
More information at:
http://www.imdb.com/title/tt0360032/
Screenshot: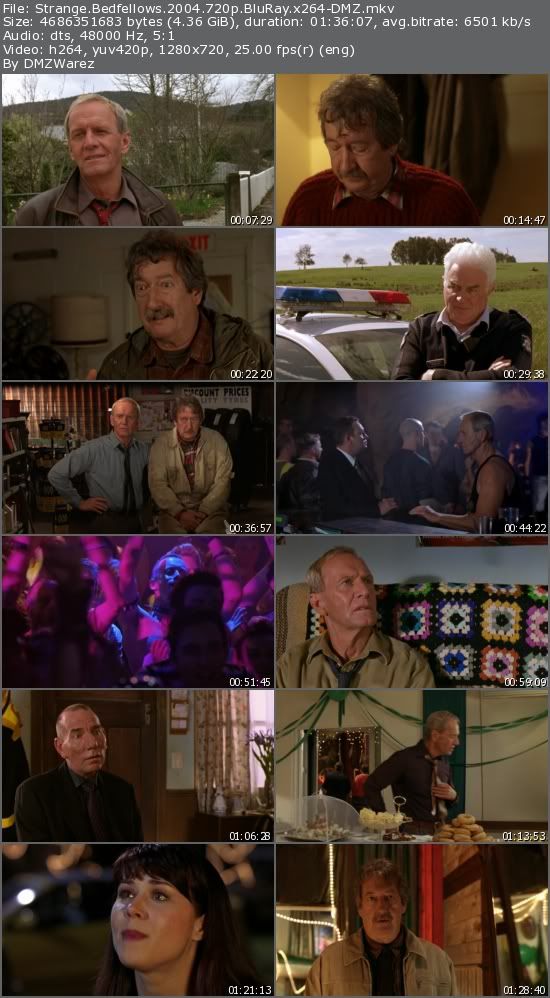 Download Links
Filesonic
http://www.filesonic.com/file/309880151/Strange.Bedfellows.2004.720p.BluRay.x264-DMZ.part01.rar
http://www.filesonic.com/file/309784264/Strange.Bedfellows.2004.720p.BluRay.x264-DMZ.part02.rar
http://www.filesonic.com/file/310005771/Strange.Bedfellows.2004.720p.BluRay.x264-DMZ.part03.rar
http://www.filesonic.com/file/309903684/Strange.Bedfellows.2004.720p.BluRay.x264-DMZ.part04.rar
http://www.filesonic.com/file/309790334/Strange.Bedfellows.2004.720p.BluRay.x264-DMZ.part04.rar
http://www.filesonic.com/file/309864911/Strange.Bedfellows.2004.720p.BluRay.x264-DMZ.part05.rar
http://www.filesonic.com/file/309878641/Strange.Bedfellows.2004.720p.BluRay.x264-DMZ.part06.rar
http://www.filesonic.com/file/309870121/Strange.Bedfellows.2004.720p.BluRay.x264-DMZ.part07.rar
http://www.filesonic.com/file/309786984/Strange.Bedfellows.2004.720p.BluRay.x264-DMZ.part08.rar
http://www.filesonic.com/file/309790464/Strange.Bedfellows.2004.720p.BluRay.x264-DMZ.part09.rar
http://www.filesonic.com/file/309880091/Strange.Bedfellows.2004.720p.BluRay.x264-DMZ.part10.rar

Fileserve
http://www.fileserve.com/file/AmtHRcW/Strange.Bedfellows.2004.720p.BluRay.x264-DMZ.part01.rar
http://www.fileserve.com/file/tzkUkyk/Strange.Bedfellows.2004.720p.BluRay.x264-DMZ.part02.rar
http://www.fileserve.com/file/9hbYyZJ/Strange.Bedfellows.2004.720p.BluRay.x264-DMZ.part03.rar
http://www.fileserve.com/file/FxF2Z7s/Strange.Bedfellows.2004.720p.BluRay.x264-DMZ.part04.rar
http://www.fileserve.com/file/e2wgv3B/Strange.Bedfellows.2004.720p.BluRay.x264-DMZ.part05.rar
http://www.fileserve.com/file/ykRK7tc/Strange.Bedfellows.2004.720p.BluRay.x264-DMZ.part06.rar
http://www.fileserve.com/file/QcGnjjt/Strange.Bedfellows.2004.720p.BluRay.x264-DMZ.part07.rar
http://www.fileserve.com/file/pJcbnQs/Strange.Bedfellows.2004.720p.BluRay.x264-DMZ.part08.rar
http://www.fileserve.com/file/ksy2Zgz/Strange.Bedfellows.2004.720p.BluRay.x264-DMZ.part09.rar
http://www.fileserve.com/file/2YbR9Hq/Strange.Bedfellows.2004.720p.BluRay.x264-DMZ.part10.rar