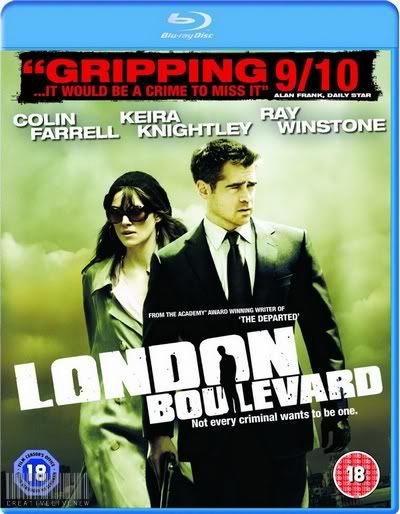 London Boulevard (2010) 720p BluRay DTS x264-DMZ
Matroska | 4.371 GiB | 1280x696 | AVC @ 4 564 Kbps | English | DTS @ 1 510 Kbps - 6 channels | 1h 43mn
Genre: Crime | Romance
GK Films presents a GK / Henceforth/ Projection Pictures production of a William Monahan films. Based on the book by Ken Bruen, London Boulevard is the story of a man newly released from prison who falls in love with a reclusive young movie star and finds himself in a duel with a vicious gangster. The feature film directorial debut of Academy Award -winning screenwriter William Monahan, the film stars Academy Award -nominated Keira Knightley and Golden Globe winner Colin Farrell.
More information at:
http://www.imdb.com/title/tt1213648/
Screenshot:
Download Links
Filesonic
http://www.filesonic.com/file/309706084/London.Boulevard.2010.720p.BluRay.DTS.x264-DMZ.part01.rar
http://www.filesonic.com/file/309700474/London.Boulevard.2010.720p.BluRay.DTS.x264-DMZ.part02.rar
http://www.filesonic.com/file/309794921/London.Boulevard.2010.720p.BluRay.DTS.x264-DMZ.part03.rar
http://www.filesonic.com/file/309765361/London.Boulevard.2010.720p.BluRay.DTS.x264-DMZ.part04.rar
http://www.filesonic.com/file/309698564/London.Boulevard.2010.720p.BluRay.DTS.x264-DMZ.part05.rar
http://www.filesonic.com/file/309713784/London.Boulevard.2010.720p.BluRay.DTS.x264-DMZ.part06.rar
http://www.filesonic.com/file/309716384/London.Boulevard.2010.720p.BluRay.DTS.x264-DMZ.part07.rar
http://www.filesonic.com/file/309811221/London.Boulevard.2010.720p.BluRay.DTS.x264-DMZ.part08.rar
http://www.filesonic.com/file/309815351/London.Boulevard.2010.720p.BluRay.DTS.x264-DMZ.part09.rar
http://www.filesonic.com/file/309717834/London.Boulevard.2010.720p.BluRay.DTS.x264-DMZ.part10.rar

Fileserve
http://www.fileserve.com/file/4nhc7Xb/London.Boulevard.2010.720p.BluRay.DTS.x264-DMZ.part01.rar
http://www.fileserve.com/file/rJ8fnv2/London.Boulevard.2010.720p.BluRay.DTS.x264-DMZ.part02.rar
http://www.fileserve.com/file/XKB5PyB/London.Boulevard.2010.720p.BluRay.DTS.x264-DMZ.part03.rar
http://www.fileserve.com/file/jjvm2EH/London.Boulevard.2010.720p.BluRay.DTS.x264-DMZ.part04.rar
http://www.fileserve.com/file/vB5G8cy/London.Boulevard.2010.720p.BluRay.DTS.x264-DMZ.part05.rar
http://www.fileserve.com/file/2hCrMVK/London.Boulevard.2010.720p.BluRay.DTS.x264-DMZ.part06.rar
http://www.fileserve.com/file/AqYaHxx/London.Boulevard.2010.720p.BluRay.DTS.x264-DMZ.part07.rar
http://www.fileserve.com/file/pX2StSp/London.Boulevard.2010.720p.BluRay.DTS.x264-DMZ.part08.rar
http://www.fileserve.com/file/bJ2q7x5/London.Boulevard.2010.720p.BluRay.DTS.x264-DMZ.part09.rar
http://www.fileserve.com/file/RadBEdZ/London.Boulevard.2010.720p.BluRay.DTS.x264-DMZ.part10.rar