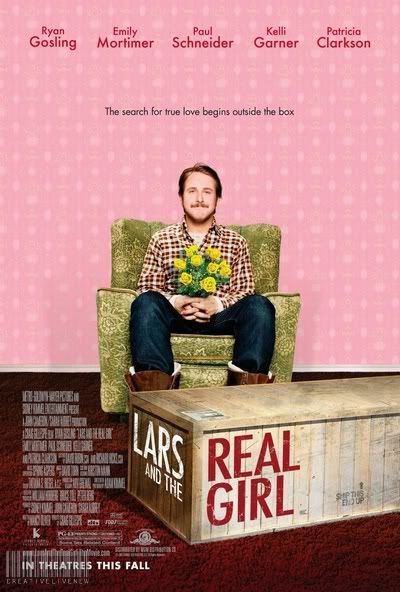 Lars and The Real Girl (2007) 1080p BluRay DTS x264-DMZ
Matroska | 11.56 GiB | 1920x1038 | AVC @ 14.0 Mbps | English | DTS @ 1 510 Kbps - 6 channels | 1h 46mn
Genre: Comedy | Drama
In this comedy, Lars Lindstrom is an awkwardly shy young man in a small northern town who finally brings home the girl of his dreams to his brother and sister-in-law s home. The only problem is that she s not real - she s a sex doll Lars ordered off the Internet. But sex is not what Lars has in mind, but rather a deep, meaningful relationship. His sister-in-law is worried for him, his brother thinks he s nuts, but eventually the entire town goes along with his delusion in support of this sweet natured boy that they ve always loved.
More information at:
http://www.imdb.com/title/tt0805564/
Screenshot:
Download Links
Filesonic
http://www.filesonic.com/file/309826834/Lars.and.The.Real.Girl.2007.1080p.BluRay.DTS.x264-DMZ.part01.rar
http://www.filesonic.com/file/310057101/Lars.and.The.Real.Girl.2007.1080p.BluRay.DTS.x264-DMZ.part02.rar
http://www.filesonic.com/file/310019791/Lars.and.The.Real.Girl.2007.1080p.BluRay.DTS.x264-DMZ.part03.rar
http://www.filesonic.com/file/310022171/Lars.and.The.Real.Girl.2007.1080p.BluRay.DTS.x264-DMZ.part04.rar
http://www.filesonic.com/file/309828354/Lars.and.The.Real.Girl.2007.1080p.BluRay.DTS.x264-DMZ.part05.rar
http://www.filesonic.com/file/309828714/Lars.and.The.Real.Girl.2007.1080p.BluRay.DTS.x264-DMZ.part06.rar
http://www.filesonic.com/file/310031961/Lars.and.The.Real.Girl.2007.1080p.BluRay.DTS.x264-DMZ.part07.rar
http://www.filesonic.com/file/310011431/Lars.and.The.Real.Girl.2007.1080p.BluRay.DTS.x264-DMZ.part08.rar
http://www.filesonic.com/file/310041511/Lars.and.The.Real.Girl.2007.1080p.BluRay.DTS.x264-DMZ.part09.rar
http://www.filesonic.com/file/310005701/Lars.and.The.Real.Girl.2007.1080p.BluRay.DTS.x264-DMZ.part10.rar
http://www.filesonic.com/file/310009061/Lars.and.The.Real.Girl.2007.1080p.BluRay.DTS.x264-DMZ.part11.rar
http://www.filesonic.com/file/310026251/Lars.and.The.Real.Girl.2007.1080p.BluRay.DTS.x264-DMZ.part12.rar
http://www.filesonic.com/file/309891161/Lars.and.The.Real.Girl.2007.1080p.BluRay.DTS.x264-DMZ.part13.rar

Fileserve
http://www.fileserve.com/file/na475mh/Lars.and.The.Real.Girl.2007.1080p.BluRay.DTS.x264-DMZ.part01.rar
http://www.fileserve.com/file/Y35rZxV/Lars.and.The.Real.Girl.2007.1080p.BluRay.DTS.x264-DMZ.part02.rar
http://www.fileserve.com/file/a8aQkpG/Lars.and.The.Real.Girl.2007.1080p.BluRay.DTS.x264-DMZ.part03.rar
http://www.fileserve.com/file/Cuu6vA2/Lars.and.The.Real.Girl.2007.1080p.BluRay.DTS.x264-DMZ.part04.rar
http://www.fileserve.com/file/p4YUykt/Lars.and.The.Real.Girl.2007.1080p.BluRay.DTS.x264-DMZ.part05.rar
http://www.fileserve.com/file/4ejwMXD/Lars.and.The.Real.Girl.2007.1080p.BluRay.DTS.x264-DMZ.part06.rar
http://www.fileserve.com/file/y8RGWKX/Lars.and.The.Real.Girl.2007.1080p.BluRay.DTS.x264-DMZ.part07.rar
http://www.fileserve.com/file/aenF4aT/Lars.and.The.Real.Girl.2007.1080p.BluRay.DTS.x264-DMZ.part08.rar
http://www.fileserve.com/file/ATyzJJz/Lars.and.The.Real.Girl.2007.1080p.BluRay.DTS.x264-DMZ.part09.rar
http://www.fileserve.com/file/Gh9enQu/Lars.and.The.Real.Girl.2007.1080p.BluRay.DTS.x264-DMZ.part10.rar
http://www.fileserve.com/file/4a7xnW4/Lars.and.The.Real.Girl.2007.1080p.BluRay.DTS.x264-DMZ.part11.rar
http://www.fileserve.com/file/UGTMV99/Lars.and.The.Real.Girl.2007.1080p.BluRay.DTS.x264-DMZ.part12.rar
http://www.fileserve.com/file/wgqqpbd/Lars.and.The.Real.Girl.2007.1080p.BluRay.DTS.x264-DMZ.part13.rar