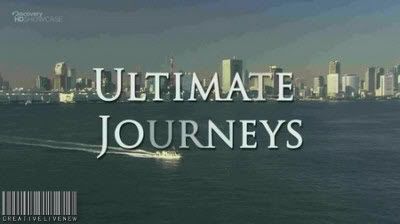 Discovery Channel - Ultimate Journeys Japan 720p HDTV x264-DMZ
Matroska | 1.092 GiB | 1280x720 | AVC @ 3 150 Kbps | English | AC3 @ 384 Kbps - 6 channels | 44mn 13s
Genre: Documentary
Ultimate Journeys brings the wonders of the world to light, as you have never seen them before. The stunning high definition footage transports you to the most extreme places on the planet on a spine tingling world of adventure. Ultimate Journeys provides the ultimate adventure guide, going off the beaten track and away from the tourist trail. Each episode goes to the heart of the destination, from its history and culture to its cuisine and wildlife.
Screenshot: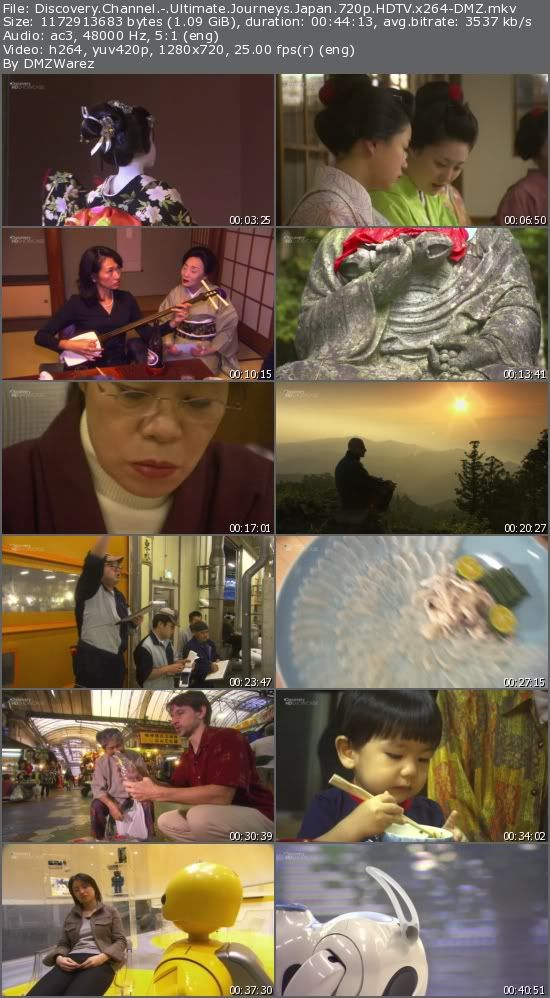 Download Links
Filesonic
http://www.filesonic.com/file/308532044/Discovery.Channel.-.Ultimate.Journeys.Japan.720p.HDTV.x264-DMZ.part1.rar
http://www.filesonic.com/file/308600921/Discovery.Channel.-.Ultimate.Journeys.Japan.720p.HDTV.x264-DMZ.part2.rar
http://www.filesonic.com/file/308535114/Discovery.Channel.-.Ultimate.Journeys.Japan.720p.HDTV.x264-DMZ.part3.rar
http://www.filesonic.com/file/308611291/Discovery.Channel.-.Ultimate.Journeys.Japan.720p.HDTV.x264-DMZ.part4.rar
http://www.filesonic.com/file/308611451/Discovery.Channel.-.Ultimate.Journeys.Japan.720p.HDTV.x264-DMZ.part5.rar
http://www.filesonic.com/file/308571941/Discovery.Channel.-.Ultimate.Journeys.Japan.720p.HDTV.x264-DMZ.part6.rar

Fileserve
http://www.fileserve.com/file/5wNDRws/Discovery.Channel.-.Ultimate.Journeys.Japan.720p.HDTV.x264-DMZ.part1.rar
http://www.fileserve.com/file/qRbNjWj/Discovery.Channel.-.Ultimate.Journeys.Japan.720p.HDTV.x264-DMZ.part2.rar
http://www.fileserve.com/file/sKkdHQC/Discovery.Channel.-.Ultimate.Journeys.Japan.720p.HDTV.x264-DMZ.part3.rar
http://www.fileserve.com/file/7gbPfKN/Discovery.Channel.-.Ultimate.Journeys.Japan.720p.HDTV.x264-DMZ.part4.rar
http://www.fileserve.com/file/NfGdaqS/Discovery.Channel.-.Ultimate.Journeys.Japan.720p.HDTV.x264-DMZ.part5.rar
http://www.fileserve.com/file/BHrYEg4/Discovery.Channel.-.Ultimate.Journeys.Japan.720p.HDTV.x264-DMZ.part6.rar

Usershare
http://www.usershare.net/exgmw8csvyqb/Discovery.Channel.-.Ultimate.Journeys.Japan.720p.HDTV.x264-DMZ.part2.rar
http://www.usershare.net/awh7hxxzmcq2/Discovery.Channel.-.Ultimate.Journeys.Japan.720p.HDTV.x264-DMZ.part3.rar
http://www.usershare.net/01w15iu4b2uy/Discovery.Channel.-.Ultimate.Journeys.Japan.720p.HDTV.x264-DMZ.part4.rar
http://www.usershare.net/p715spk1o1fg/Discovery.Channel.-.Ultimate.Journeys.Japan.720p.HDTV.x264-DMZ.part5.rar