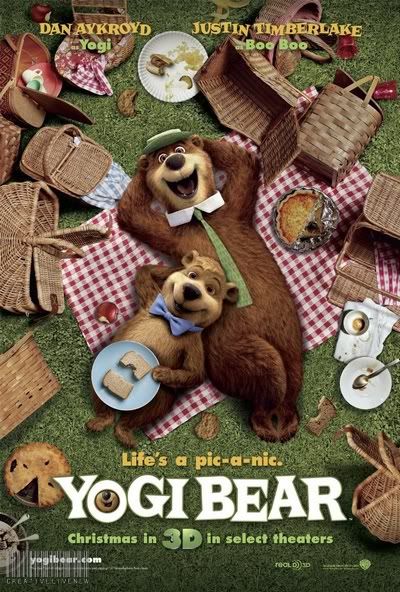 Yogi Bear (2010) 720p BluRay DTS x264-DMZ
Matroska | 4.369 GiB | 1280x720 | AVC @ 6 273 Kbps | English | DTS @ 1 510 Kbps - 6 channels | 1h 20mn
Genre: Animation | Adventure | Comedy | Family
Jellystone Park is celebrating its 100 anniversary, however it may be for the last time, because attendance is down and Mayor Brown wants to close the park and sell the land. If the park is closed, Yogi Bear and Boo Boo will lose their home. They join forces with Ranger Smith to save Jellystone from closing forever. Yogi must really prove in this endeavor that he is smarter than the average bear.
More information at:
http://www.imdb.com/title/tt1302067/
Screenshot:
Download Links
Filesonic
http://www.filesonic.com/file/170120472/Yogi.Bear.2010.720p.BluRay.DTS.x264-DMZ.part01.rar
http://www.filesonic.com/file/169657152/Yogi.Bear.2010.720p.BluRay.DTS.x264-DMZ.part02.rar
http://www.filesonic.com/file/169698651/Yogi.Bear.2010.720p.BluRay.DTS.x264-DMZ.part03.rar
http://www.filesonic.com/file/169657422/Yogi.Bear.2010.720p.BluRay.DTS.x264-DMZ.part04.rar
http://www.filesonic.com/file/169694741/Yogi.Bear.2010.720p.BluRay.DTS.x264-DMZ.part05.rar
http://www.filesonic.com/file/169690061/Yogi.Bear.2010.720p.BluRay.DTS.x264-DMZ.part06.rar
http://www.filesonic.com/file/169657322/Yogi.Bear.2010.720p.BluRay.DTS.x264-DMZ.part07.rar
http://www.filesonic.com/file/169690951/Yogi.Bear.2010.720p.BluRay.DTS.x264-DMZ.part08.rar
http://www.filesonic.com/file/169658112/Yogi.Bear.2010.720p.BluRay.DTS.x264-DMZ.part09.rar
http://www.filesonic.com/file/169660762/Yogi.Bear.2010.720p.BluRay.DTS.x264-DMZ.part10.rar

Fileserve
http://www.fileserve.com/file/qGdGKGq/Yogi.Bear.2010.720p.BluRay.DTS.x264-DMZ.part01.rar
http://www.fileserve.com/file/5Bg8fkv/Yogi.Bear.2010.720p.BluRay.DTS.x264-DMZ.part02.rar
http://www.fileserve.com/file/PyqGp8y/Yogi.Bear.2010.720p.BluRay.DTS.x264-DMZ.part03.rar
http://www.fileserve.com/file/6VJdSZG/Yogi.Bear.2010.720p.BluRay.DTS.x264-DMZ.part04.rar
http://www.fileserve.com/file/bpZbeZu/Yogi.Bear.2010.720p.BluRay.DTS.x264-DMZ.part05.rar
http://www.fileserve.com/file/NqgEWUy/Yogi.Bear.2010.720p.BluRay.DTS.x264-DMZ.part06.rar
http://www.fileserve.com/file/ktPv56k/Yogi.Bear.2010.720p.BluRay.DTS.x264-DMZ.part07.rar
http://www.fileserve.com/file/qdpzpcf/Yogi.Bear.2010.720p.BluRay.DTS.x264-DMZ.part08.rar
http://www.fileserve.com/file/DBcdzS9/Yogi.Bear.2010.720p.BluRay.DTS.x264-DMZ.part09.rar
http://www.fileserve.com/file/zVzPZgc/Yogi.Bear.2010.720p.BluRay.DTS.x264-DMZ.part10.rar

Usershare
http://www.usershare.net/5lmemo5e5pfc/Yogi.Bear.2010.720p.BluRay.DTS.x264-DMZ.part01.rar
http://www.usershare.net/6olns3gniq2k/Yogi.Bear.2010.720p.BluRay.DTS.x264-DMZ.part02.rar
http://www.usershare.net/2rwu6jho0xpp/Yogi.Bear.2010.720p.BluRay.DTS.x264-DMZ.part03.rar
http://www.usershare.net/plytw2ais88c/Yogi.Bear.2010.720p.BluRay.DTS.x264-DMZ.part04.rar
http://www.usershare.net/0txrod1acjnb/Yogi.Bear.2010.720p.BluRay.DTS.x264-DMZ.part05.rar
http://www.usershare.net/evvgo3uy01ad/Yogi.Bear.2010.720p.BluRay.DTS.x264-DMZ.part06.rar
http://www.usershare.net/ghew1k99jhr7/Yogi.Bear.2010.720p.BluRay.DTS.x264-DMZ.part07.rar
http://www.usershare.net/gtkaze2qw5j4/Yogi.Bear.2010.720p.BluRay.DTS.x264-DMZ.part08.rar
http://www.usershare.net/djrva3bpzt7f/Yogi.Bear.2010.720p.BluRay.DTS.x264-DMZ.part09.rar
http://www.usershare.net/y23yfe1s5ple/Yogi.Bear.2010.720p.BluRay.DTS.x264-DMZ.part10.rar