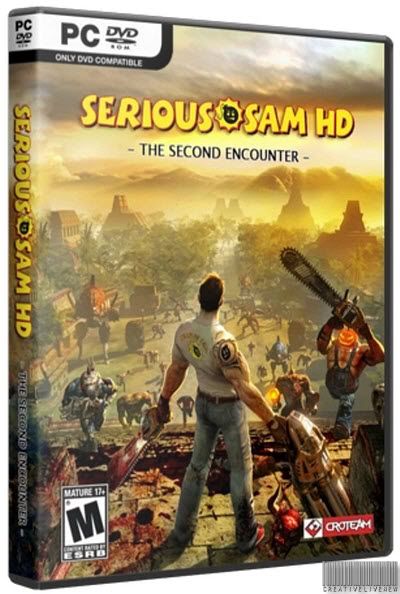 Serious Sam HD The Second Encounter Fusion v1.126138 multi8-THETA | 2.90 Gb
The glorious high-definition (HD) chaos continues in Serious Sam HD - The Second Encounter, the highly anticipated arcade action FPS sequel to the Serious Sam HD - The First Encounter.
Developed by Croteam and powered by the Serious Engine 3, Serious Sam HD:
The Second Encounter combines spectacularly enhanced visuals, including more polygons, higher resolution textures and more special effects like hippy and kids mode, with trademark frantic gameplay for a non-stop action.
Featuring single-play, survival and cooperative play and mixed with brilliantly updated visuals, the game continues your battle against Mentals army with the classic over-the-top action, crazy humor and horror from the golden age of first-person shooters.
Combined with intense versus and team modes for up to 16 players and in over 18 multiplayer maps, demo recording option, spectators and dedicated server support, Serious Sam HD - The Second Encounter is a worthy successor to the original masterpiece.
+ Various Environments and Secrets - Unleash mayhem on 3 different spectacular worlds:
South America, ancient Mesopotamia and medieval Europe. Discover over 130 secrets including over 15 brand new ones hidden in the fray.
+ Unique Enemies and Bosses - Fight with 27 nightmarish warriors in Mentals army, including old favorites from The First Encounter like Beheaded Kamikaze, Syrian Werebull and Kleer Skeleton. Go head to head against 5 new enemies and 3 new Bosses.
+ Special Weapons and Power-Ups - Wreak havoc with a huge arsenal of weapons including 3 new toys:
the Sniper Rifle, Flamethrower and Chainsaw. Use Power-Ups to additionally increase your fighting and agility skills.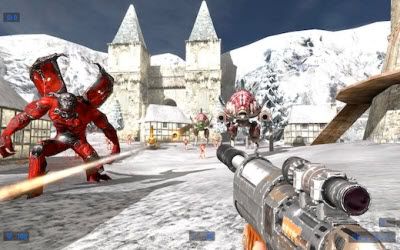 Publisher:
Devolver Digital
Developper:
Croteam
Genre:
Action, FPS
Download Links
Filesonic
http://www.filesonic.com/file/136828811/Serious.Sam.HD.The.Second.Encounter.Fusion.v1.126138.multi8-THETA.part01.rar
http://www.filesonic.com/file/138057371/Serious.Sam.HD.The.Second.Encounter.Fusion.v1.126138.multi8-THETA.part02.rar
http://www.filesonic.com/file/136847631/Serious.Sam.HD.The.Second.Encounter.Fusion.v1.126138.multi8-THETA.part03.rar
http://www.filesonic.com/file/136838951/Serious.Sam.HD.The.Second.Encounter.Fusion.v1.126138.multi8-THETA.part04.rar
http://www.filesonic.com/file/136848701/Serious.Sam.HD.The.Second.Encounter.Fusion.v1.126138.multi8-THETA.part05.rar
http://www.filesonic.com/file/136831681/Serious.Sam.HD.The.Second.Encounter.Fusion.v1.126138.multi8-THETA.part06.rar
http://www.filesonic.com/file/136823541/Serious.Sam.HD.The.Second.Encounter.Fusion.v1.126138.multi8-THETA.part07.rar
http://www.filesonic.com/file/136841191/Serious.Sam.HD.The.Second.Encounter.Fusion.v1.126138.multi8-THETA.part08.rar
http://www.filesonic.com/file/136831771/Serious.Sam.HD.The.Second.Encounter.Fusion.v1.126138.multi8-THETA.part09.rar
http://www.filesonic.com/file/136836371/Serious.Sam.HD.The.Second.Encounter.Fusion.v1.126138.multi8-THETA.part10.rar
http://www.filesonic.com/file/136837031/Serious.Sam.HD.The.Second.Encounter.Fusion.v1.126138.multi8-THETA.part11.rar
http://www.filesonic.com/file/136836661/Serious.Sam.HD.The.Second.Encounter.Fusion.v1.126138.multi8-THETA.part12.rar
http://www.filesonic.com/file/136801341/Serious.Sam.HD.The.Second.Encounter.Fusion.v1.126138.multi8-THETA.part13.rar

Fileserve
http://www.fileserve.com/file/A5xUgHV/Serious.Sam.HD.The.Second.Encounter.Fusion.v1.126138.multi8-THETA.part01.rar
http://www.fileserve.com/file/B5NdVEB/Serious.Sam.HD.The.Second.Encounter.Fusion.v1.126138.multi8-THETA.part02.rar
http://www.fileserve.com/file/r8GycNV/Serious.Sam.HD.The.Second.Encounter.Fusion.v1.126138.multi8-THETA.part03.rar
http://www.fileserve.com/file/FrvxUAV/Serious.Sam.HD.The.Second.Encounter.Fusion.v1.126138.multi8-THETA.part04.rar
http://www.fileserve.com/file/eYHdDmC/Serious.Sam.HD.The.Second.Encounter.Fusion.v1.126138.multi8-THETA.part05.rar
http://www.fileserve.com/file/U2eWeS2/Serious.Sam.HD.The.Second.Encounter.Fusion.v1.126138.multi8-THETA.part06.rar
http://www.fileserve.com/file/nJHBsVt/Serious.Sam.HD.The.Second.Encounter.Fusion.v1.126138.multi8-THETA.part07.rar
http://www.fileserve.com/file/ZDZJYuy/Serious.Sam.HD.The.Second.Encounter.Fusion.v1.126138.multi8-THETA.part08.rar
http://www.fileserve.com/file/cZse4dn/Serious.Sam.HD.The.Second.Encounter.Fusion.v1.126138.multi8-THETA.part09.rar
http://www.fileserve.com/file/CqVGWRY/Serious.Sam.HD.The.Second.Encounter.Fusion.v1.126138.multi8-THETA.part10.rar
http://www.fileserve.com/file/Kw4UdWY/Serious.Sam.HD.The.Second.Encounter.Fusion.v1.126138.multi8-THETA.part11.rar
http://www.fileserve.com/file/7MZ8qym/Serious.Sam.HD.The.Second.Encounter.Fusion.v1.126138.multi8-THETA.part12.rar
http://www.fileserve.com/file/ZFpuw59/Serious.Sam.HD.The.Second.Encounter.Fusion.v1.126138.multi8-THETA.part13.rar

Usershare
http://www.usershare.net/tfbmtotk7dv2/Serious.Sam.HD.The.Second.Encounter.Fusion.v1.126138.multi8-THETA.part01.rar
http://www.usershare.net/r6heeub3lmbh/Serious.Sam.HD.The.Second.Encounter.Fusion.v1.126138.multi8-THETA.part02.rar
http://www.usershare.net/zainc955d5g8/Serious.Sam.HD.The.Second.Encounter.Fusion.v1.126138.multi8-THETA.part03.rar
http://www.usershare.net/yojhykc29obh/Serious.Sam.HD.The.Second.Encounter.Fusion.v1.126138.multi8-THETA.part04.rar
http://www.usershare.net/qq5gkendd71u/Serious.Sam.HD.The.Second.Encounter.Fusion.v1.126138.multi8-THETA.part05.rar
http://www.usershare.net/15y39wms9dn2/Serious.Sam.HD.The.Second.Encounter.Fusion.v1.126138.multi8-THETA.part06.rar
http://www.usershare.net/glbn5glnx43y/Serious.Sam.HD.The.Second.Encounter.Fusion.v1.126138.multi8-THETA.part07.rar
http://www.usershare.net/nlizn4gbfube/Serious.Sam.HD.The.Second.Encounter.Fusion.v1.126138.multi8-THETA.part08.rar
http://www.usershare.net/rctzp0zhblxm/Serious.Sam.HD.The.Second.Encounter.Fusion.v1.126138.multi8-THETA.part09.rar
http://www.usershare.net/6zpb7ltuhnu0/Serious.Sam.HD.The.Second.Encounter.Fusion.v1.126138.multi8-THETA.part10.rar
http://www.usershare.net/8mu10fcl86xb/Serious.Sam.HD.The.Second.Encounter.Fusion.v1.126138.multi8-THETA.part11.rar
http://www.usershare.net/w98s2c47pm2n/Serious.Sam.HD.The.Second.Encounter.Fusion.v1.126138.multi8-THETA.part12.rar
http://www.usershare.net/ap69ab8u2u88/Serious.Sam.HD.The.Second.Encounter.Fusion.v1.126138.multi8-THETA.part13.rar