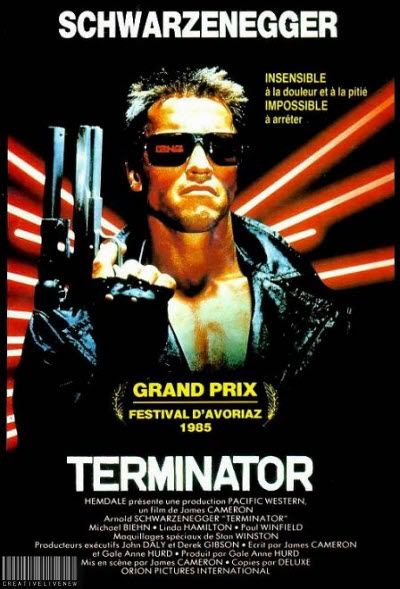 The Terminator (1984) m720p BluRay x264-DMZ
Matroska | 500.9 MiB | 1280x694 | AVC @ 615 Kbps | English | AAC LC-SBR @ 48.0 KHz / 24.0 KHz - 2 channels | 1h 47mn
Genre: Action | Sci-Fi | Thriller
A cyborg is sent from the future on a deadly mission. He has to kill Sarah Connor, a young woman whose life will have a great significance in years to come. Sarah has only one protector - Kyle Reese - also sent from the future. The Terminator uses his exceptional intelligence and strength to find Sarah, but is there any way to stop the seemingly indestructible cyborg ?
More information at:
http://www.imdb.com/title/tt0088247/
Screenshot:
Download Links
Filesonic
http://www.filesonic.com/file/138029831/The.Terminator.1984.m720p.BluRay.x264-DMZ.part1.rar
http://www.filesonic.com/file/136922491/The.Terminator.1984.m720p.BluRay.x264-DMZ.part2.rar
http://www.filesonic.com/file/136932681/The.Terminator.1984.m720p.BluRay.x264-DMZ.part3.rar
http://www.filesonic.com/file/138031811/The.Terminator.1984.m720p.BluRay.x264-DMZ.part4.rar
http://www.filesonic.com/file/136933811/The.Terminator.1984.m720p.BluRay.x264-DMZ.part5.rar

Fileserve
http://www.fileserve.com/file/AZykBts/The.Terminator.1984.m720p.BluRay.x264-DMZ.part1.rar
http://www.fileserve.com/file/a8DpU3t/The.Terminator.1984.m720p.BluRay.x264-DMZ.part2.rar
http://www.fileserve.com/file/6Uq53GT/The.Terminator.1984.m720p.BluRay.x264-DMZ.part3.rar
http://www.fileserve.com/file/C4UvYSn/The.Terminator.1984.m720p.BluRay.x264-DMZ.part4.rar
http://www.fileserve.com/file/aYP5mZB/The.Terminator.1984.m720p.BluRay.x264-DMZ.part5.rar

Usershare
http://www.usershare.net/a9cvmm7zr00c/The.Terminator.1984.m720p.BluRay.x264-DMZ.part1.rar
http://www.usershare.net/tmo6o87ug0ac/The.Terminator.1984.m720p.BluRay.x264-DMZ.part2.rar
http://www.usershare.net/zcebiwvb0b2x/The.Terminator.1984.m720p.BluRay.x264-DMZ.part3.rar
http://www.usershare.net/djmxca7lyg5d/The.Terminator.1984.m720p.BluRay.x264-DMZ.part4.rar
http://www.usershare.net/dufo1uim3hu5/The.Terminator.1984.m720p.BluRay.x264-DMZ.part5.rar