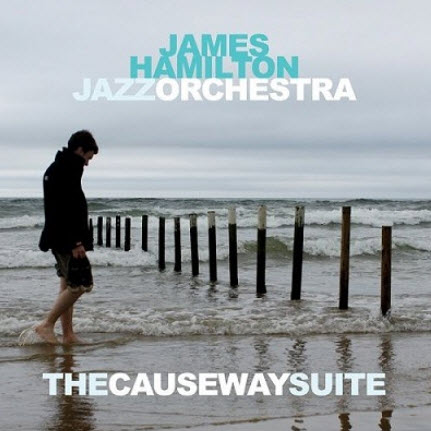 Label: Leeds College of Music
Genre: Jazz
Quality: FLAC (Tracks, Audiochecker, cover) | MP3
Bitrate: lossless | 320kbps
Size: 278 mb/107 mb (+%rec)
TRACKLIST
1. Part 1 - Arrival 08:
57
2. Part 2 - The Stones 09:
19
3. Part 3 - The Giants Boot 07:
16
4. Part 4 - Thoughts of a Glen 07:
22
5. Part 5 - The Organ Pipes 02:
16
6. Band Introductions 02:
32
7. Northern Land 08:
01
Recorded live at The Venue, Leeds College of Music, December 2009. The Causeway Suite is a large scale work for jazz orchestra in 5 parts inspired by the Giants Causeway in Northern Ireland.
Released 09 May 2010, all tracks written and arranged by James Hamilton
Performed by,
SAXES
Jim Corry
James Russell
Simon Kaylor
Ben Mallinder
Emma Frampton
TRUMPETS
Gaz Smith
Sean Hollis
Steve Parry
Reuben Fowler
Simon Nixon
TROMBONES
Stuart Garside
Matt Ball
Kyle Shiels
Rosie Nichol
FLUTE - Katie Hawcutt
ACCORDION - Phill Wilcox
FRENCH HORN - Tom Bettley
RHYTHM
Jami Sheriff (Piano)
Nick Tyson (Guitar)
Garry Jackson (Bass)
Kris Wright (Drums)
The James Hamilton Jazz Orchestra was set up to play original compositions by award winning Leeds based composer James Hamilton. It started with a one off demo recording date in June 2007, the following summer they performed at 7 Arts in support of the Sleaze Orchestra and were then featured in the Leeds College of Music Autumn concert program (3rd December 2009). In May 2010 the Orchestra released their first album "The Causeway Suite" which consequently went on to win a 2010 British Composers Award and two Jazz Yorkshire awards for composer/arranger and big band of the year. Musicians are drawn from the Yorkshire area and many are LCM alumi.
Download Links

Hotfile
http://hotfile.com/dl/104551415/bfa2798/James_Hamilton_Jazz_Orchestra_-_The_Causeway_Suite_
http://hotfile.com/dl/104551420/8a3c870/James_Hamilton_Jazz_Orchestra_-_The_Causeway_Suite_
http://hotfile.com/dl/104551432/f647289/James_Hamilton_Jazz_Orchestra_-_The_Causeway_Suite_

Fileserve
http://www.fileserve.com/file/2KZCyG7/James
http://www.fileserve.com/file/u29gQ6d/James
http://www.fileserve.com/file/HhyxMXy/James


All links are interchangable. It mean you can download any part of archive from any server and can extract it without problem! PM me if links are dead, I will try to re-upload the file if I can!