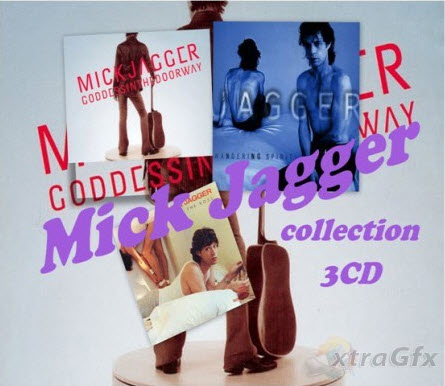 Mick Jagger - My Coleection Album 3 CD [WMA]
Genre: Rock & Roll | WMA 320Kbps 44100Hz STEREO | 3CD | 383 MB
Tracklist:
CD1 - Mick Jagger - She s The Boss (1985)
An eighties time capsule which is difficult to listen to at times, does have the excellent Just Another Night to save it from being buried forever. As an album-promotion ploy, the film Running Out of Luck was just an extended music video which runs far too long to maintain interest. I dare to say that even with the talents of Rae-Dawn Chong and Dennis Hopper, the film is more dated than the album. Though at the time both projects may have seemed like good ideas, hardly a song could translate well into any other period. Mick pulled out a gun from the seventies in the Jagger/Richards-penned opener Lonely at the Top, but it shoots like a daisy in this version. Mick called on the talents of a series of brilliant musicians [Jeff Beck, Pete Townshend, Herbie Hancock, Nile Rodgers, Bernard Fowler, Jan Hammer, and Chuck Leavell among them] but the album plays like a Hollywood star feature; a lot a face, yet little substance.
01. Lonely At The Top - 3:
47
02. Half A Loaf - 4:
59
03. Running Out Of Luck - 4:
15
04. Turn The Girl Loose - 3:
56
05. Hard Woman - 4:
26
06. Just Another Night - 5:
16
07. Lucky In Love - 6:
14
08. Secrets - 5:
03
09. She s The Boss - 5:
15
CD2 - Mick Jagger - Wandering Spirit (1993)
Wandering Spirit is Mick Jagger s finest effort in a long time. After 2 rather pop sounding 80 s albums in She s the Boss and Primitive Cool (both too slick and market driven), Wandering Spirit returns to draw from some of his best work with the Stones and also ventures into new territory. Wired all Night and Put Me in The Trash are 2 raunchy rockers with some of the catchiest riffs that either he or the Stones have come up with in years (and to imagine that these riffs don t have Keith driving them). Evening Gown and Hang On To Me Tonight take you back to some of best Stones ballads (reminiscent of the country guitars in Wild Horses, Dead Flowers). Angel in My Heart is an absolutely stunning requiem. Don t Tear Me Up is a fine mid temp rocker and Out of Focus is another brilliant gospel tinged blues rock number that could just as well belong to Exile on Main Street. Handsome Molly is a pleasant surprise. Use Me with Lenny Kravitz reminds one of Mick s early roots and even the falsetto funk driven Sweet Thing (Mick s flirtation with this genre has been his perennial downfall) works well this time around. Mother of a Man and Think are adventurous tunes with fat guitars; one never hears this on a Stones album. It is however the title track which shows a spiritual and exploratory side of Mick Jagger that best captures the energy, vitality, song writing brilliance as well as musicianship of Mick Jagger.
It s a pity that this album is not continuously raved about as one of the finest albums of the 90 s (Rolling Stone magazine though did mention it in their list of 50 most important albums of the 90 s). Mick Jagger and the Stones through the late 70 s and 80 s have often pandered to the seamy side of Rock and Roll resulting in a certain lack of respect from both critics as well as the general public. I would describe Lennon as a Bohemian, McCartney as prolific and Bob Dylan as a poet but Mick Jagger is the true Rock & Roll genius and Wandering Spirit showcases Mick s inherent versatility and ability to cross genres and remain adventurous and relevant.
Wandering Spirit is a must have for any lover of serious Rock and Rock & Roll.
by A Costumer
01 - Wired All Night.wma
02 - Sweet Thing.wma
03 - Out Of Focus.wma
04 - Don t Tear Me Up.wma
05 - Put Me In The Trash.wma
06 - Use Me (feat. Lenny Kravitz).wma
07 - Evening Gown.wma
08 - Mother Of A Man.wma
09 - Think.wma
10 - Wandering Spirit.wma
11 - Hang On To Me Tonight.wma
12 - I ve Been Lonely For So Long.wma
13 - Angel In My Heart.wma
14 - Handsome Molly.wma
CD3 - Mick Jagger - Goddess In The Doorway (2001)
My album of the year for 2002. for sure im a mick jagger fan,but i never expected this cd to be quite so wonderful. outstanding. its no wonder the walking cliche, mr.richards, speaks ever more bitterly of micks,outside (the stones)work.it has been,(keith..doth protest too much), clear to most stones fans for a very long time,where all their strongest melodies come from,and this cd just underlines the fact. great tunes,some surprisingly personal lyrics,and mick voice sounds stronger than ever,all add up to my favourite mick offering since Tattoo You.other reviewers named their favourite tracks,all superb,(except maybe-everybodys getting high-which grates on me personally,but thats just me),anyway, i think the two mid-tempo closing tracks ,are for me,two of the most beautiful songs mick ever wrote,and he sings them with great passion.stunning. 6 years down the line this cd still surprises me with its brilliance. if youre reading this because you like micks good stuff ,and are curious...buy this album. criminal that you can get it for under a quid,ha.
by Rob Slevin
01 - Visions Of Paradise.wma
02 - Joy.wma
03 - Dancing In The Starlight.wma
04 - God Gave Me Everything.wma
05 - Hide Away.wma
06 - Don t Call Me Up.wma
07 - Goddess In The Doorway.wma
08 - Lucky Day.wma
09 - Everybody Getting High.wma
10 - Gun.wma
11 - Too Far Gone.wma
12 - Brand New Set Of Rules.wma
Download Links

Hotfile
http://hotfile.com/dl/104232936/80361b6/MJ_Coleection3CD.part1.rar.html
http://hotfile.com/dl/104232961/2e895fc/MJ_Coleection3CD.part2.rar.html
http://hotfile.com/dl/104232980/c0c3c2c/MJ_Coleection3CD.part3.rar.html
http://hotfile.com/dl/104233097/48844d8/MJ_Coleection3CD.part4.rar.html

Fileserve
http://www.fileserve.com/file/Ez8xe5n/MJ_Coleection3CD.part1.rar
http://www.fileserve.com/file/yGqf5qk/MJ_Coleection3CD.part2.rar
http://www.fileserve.com/file/EzyYcZy/MJ_Coleection3CD.part3.rar
http://www.fileserve.com/file/rgQa4ej/MJ_Coleection3CD.part4.rar


All links are interchangable. It mean you can download any part of archive from any server and can extract it without problem! PM me if links are dead, I will try to re-upload the file if I can!