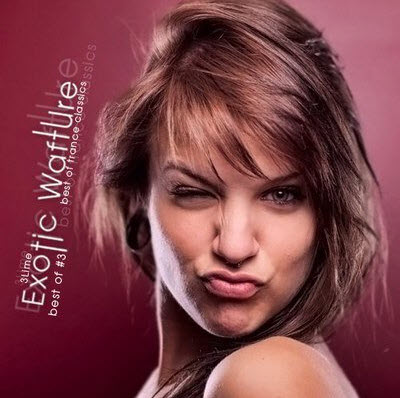 VA - Best of Exotic Wafture Vol.3 (2011)
Genre: Electro House | 1CD | Release: 2011 | MP3 320 Kbps | 325 MB
Tracklist:
001. Dash Berlin feat. Solid Sessions - Janeiro (Dash Berlin 4AM Mix)
002. Ali Wilson - Pandora
003. George Acosta feat. Fisher - True Love (Original Mix)
004. Andy Tau & Touch Enable feat. Louisa Allen - Sorry (Original Mix)
005. ATB - Could You Believe (Original Mix)
006. Way Out West - Surrender
007. Josh Gabriel pres. Winter Kills - Deep Down (Alex M.O.R.P.H. Remix)
008. Benya feat. Penny Nixon - Serendipity (Midnight mix)
009. Brian Laruso ft. Leanna Mosley - Live Love & Believe
010. Masoud feat. Laurie - Blinded (Sebastian Brandt Remix)
011. DJ Eco feat. Lira Yin - Love (Vocal mix)
012. Tritonal feat. Soto - Invincible Sun
013. Strobe - Liebe (Vocal Mix)
014. Timofey & Bartosz Brenes feat. Jerique - Hear My Call (Midnite Sleaze Remix)
015. Ciaran Mcauley & Roly feat. Oonagh - Forgotten (Marc Walsh Mix)
016. Roger Shah & Tenishia ft. Lorilee - I m Not God (Tenishia mix)
017. Myon And Shane 54 ft. Carrie Skipper - Vampire (Gareth Emerys Garuda Remix)
018. Bissen feat. Victoria Gross - Give It Away (Tech Mix)
Download Links

Hotfile
http://hotfile.com/dl/96165299/e32ad57/BestofExoticWaftureVol.3.part1.rar.html
http://hotfile.com/dl/96165368/34894d7/BestofExoticWaftureVol.3.part2.rar.html
http://hotfile.com/dl/96165402/0b82f46/BestofExoticWaftureVol.3.part3.rar.html
http://hotfile.com/dl/96165434/8b28447/BestofExoticWaftureVol.3.part4.rar.html

Fileserve
http://www.fileserve.com/file/SWA6AtC/BestofExoticWaftureVol.3.part1.rar
http://www.fileserve.com/file/HcqGY7T/BestofExoticWaftureVol.3.part2.rar
http://www.fileserve.com/file/4taF4nw/BestofExoticWaftureVol.3.part3.rar
http://www.fileserve.com/file/nMssYhF/BestofExoticWaftureVol.3.part4.rar


All links are interchangable. It mean you can download any part of archive from any server and can extract it without problem! PM me if links are dead, I will try to re-upload the file if I can!