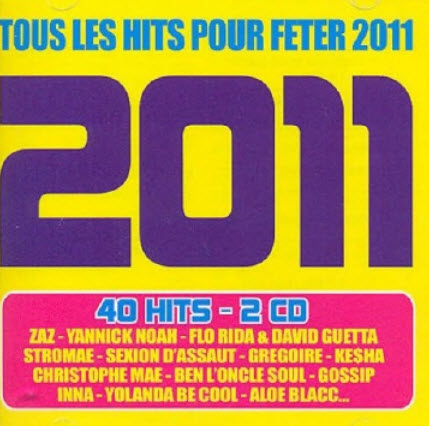 VA - Tous Les Hits Pour Feter 2011 (2010)
40 tracks | Genre: Pop, Dance | Release: 2010 | Label: Warner Music | MP3 VBR kbps | 211 MB
Tracklist:
CD1 :
1.Flo Rida - Club can t handle me
2.Grégoire - Danse
3.Yannick Noah - Angela
4.Cee-Lo Green - Fuck you
5.Ben l Oncle Soul - Soulman
6.Judith - Fait passer le mot
7.Aloe Blacc - I need a dollar
8.Christophe Maé - Je me lache
9.B.o.B. - Airplanes
10.Shy m - Je suis moi
11.Joyce Jonathan - Je ne sais pas
12.Peter Luts - The rain
13.BB Brunes - Nicoteen Love
14.Fatal Bazooka - Ce matin va être pure soirée
15.Greg Parys - Why don t we just fuck
16.Jason Derulo - Ridin solo
17.Travie McCoy - Billionaire
18.Justin Nozuka - Heartless
19.Yolanda Be Cool - We no speak americano
20.Plan B - She said
CD2 :
1.René la taupe - Mignon mignon
2.ZAZ - JE veux
3.Stromae - Alors on danse
4.Sexion D Assaut - Désolé
5.Lady Gaga - Alejandro
6.Ke$ha- Tik tok
7.Inna - Aamazing
8.David Guetta - Gettin over you
9.Edward Maya - This is my life
10.Jessy MAtador - Allez Ola Olé
11.Sean Paul - Hold my hand
12.King Kuduro - Le son qu il te faut
13.Example
14.Omar & Fred - Bleu, blanc, rouge
15.Espoir pour Haïti - Désolé JE NE LE MET PAS DÉSOLÉ
16.Mélie - Tapez 1
17.Bobby Bazini - I wonder
18.Gnars Barkley - Going on
19.Klaas - Our own way
20.Gossip - Love long distance
Download Links

Hotfile
http://hotfile.com/dl/90694387/1266c28/CD1.part1.rar.html
http://hotfile.com/dl/90694432/9bffe5f/CD1.part2.rar.html
http://hotfile.com/dl/90694433/b386f78/CD2.rar.html

Fileserve
http://www.fileserve.com/file/5vZUGsK/CD1.part1.rar
http://www.fileserve.com/file/tdcVpNz/CD1.part2.rar
http://www.fileserve.com/file/qBJ8ddb/CD2.rar


All links are interchangable. It mean you can download any part of archive from any server and can extract it without problem! PM me if links are dead, I will try to re-upload the file if I can!