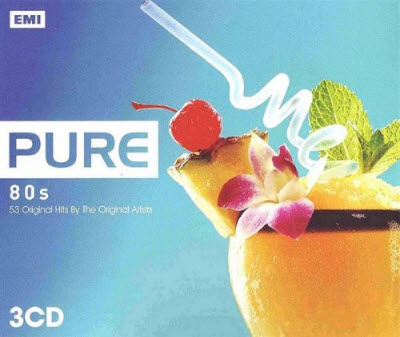 VA - PURE 80's - 3 CDs
English | Mp3 | 320Kbsp | 48000Hz | 2 Channel | 372Mb
Genre: Pop
List On Readmore
3-CD Set of the Best Hits of the Eighties by the Original Artists. Tracklists on next page.
CD1
[01] Duran Duran - The Reflex
[02] Philip Oakey & Giorgio Moroder - Together in Electric Dreams
[03] Heaven 17 - Temptation
[04] The Human League - Love Action (I Believe in Love) (Edit)
[05] Orchestral Manoeuvres in the Dark - Enola Gay
[06] Classix Nouveaux - Is it A Dream
[07] Ultravox - Vienna
[08] Simple Minds - Donít You (Forget About Me)
[09] China Crisis - Wishful Thinking
[10] Talk Talk - Itís My Life
[11] Kate Bush - Babooshka
[12] Kim Wilde - Water on Glass
[13] Part 1 - Billy Idol - White Wedding
[14] The Vapors - Turning Japanese
[15] Dexyís Midnight Runners - Geno
[16] Talking Heads - Road to Nowhere
[17] The Proclaimers - Letter form America (Band Version)
[18] The Power Station - Some Like it Hot
CD2
[01] Culture Club - Karma Chameleon
[02] Blondie - The Tide is High
[03] Ub40 - Homely Girl
[04] Madness - Uncle Sam
[05] The Specials - Ghost Town
[06] Boy George - Everything I Own
[07] Hue and Cry - Looking for Linda
[08] Johnny Hates Jazz - Shattered Dreams
[09] Brother Beyond - The Harder I Try
[10] Kajagoogoo - Too Shy
[11] Feargal Sharkey - A Good Heart
[12] Go West - We Close Our Eyes
[13] Mel & Kim - Respectable
[14] Paula Abdul - Straight Up
[15] Hazell Dean - Whoís Leaving Who
[16] Soul II Soul - Back to Life (However Do You Want Me)(Instrumental)
[17] Ashford & Simpson - Solid
[18] Hot Chocolate - No Doubt About it
CD3
[01] Belinda Carlisle - Heaven is A Place on Earth
[02] Pat Benatar - Love is A Battlefield (Edit)
[03] Cutting Crew - (I Just) Died in Your Arms
[04] Típau - China in Your Hand
[05] Deborah Harry - I Want that Man
[06] Fun Boy Three - The Tunnel of Love
[07] Huey Lewis & the News - The Power of Love
[08] Katrina & the Waves - Walking on Sunshine
[09] Robert Palmer - She Makes My Day
[10] Marc Almond & Gene Pitney - Somethingís Gotten Hold of My Heart
[11] David Grant & Jaki Graham - Could it Be Iím Falling in Love
[12] Climie Fisher - Love Changes (Everything)
[13] Roy Orbison - You Got it
[14] The Colourfield - Thinking of You
[15] Roxy Music - Jealous Guy
[16] Spandau Ballet - True
[17] Midge Ure - No Regrets
Download Links

Hotfile
http://hotfile.com/dl/90695320/8689e72/Pure___80s.part1.rar.html
http://hotfile.com/dl/90695355/0683b50/Pure___80s.part2.rar.html
http://hotfile.com/dl/90695392/3f60d80/Pure___80s.part3.rar.html
http://hotfile.com/dl/90695422/5bd2c00/Pure___80s.part4.rar.html

Fileserve
http://www.fileserve.com/file/v7UDuG8/Pure___80s.part1.rar
http://www.fileserve.com/file/skUaaz7/Pure___80s.part2.rar
http://www.fileserve.com/file/WPHQJSK/Pure___80s.part3.rar
http://www.fileserve.com/file/9bDUX6h/Pure___80s.part4.rar


All links are interchangable. It mean you can download any part of archive from any server and can extract it without problem! PM me if links are dead, I will try to re-upload the file if I can!