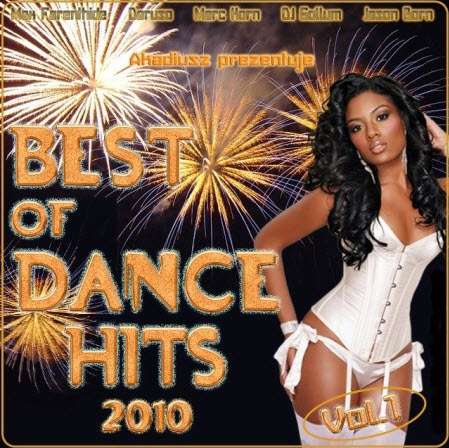 VA - Best Of Dance Hits Vol. 1 (2010)
MP3 VBR Kbps | Release: 2010 | tracks: 40 | 356Mb
Genre: Dance / Club
Tracklist:
01. Max Farenthide - Rise Up (Radio Vocal Mix)
02. Chris Deelay - Follow Me (Deedoubleyou Remix)
03. DJ Gollum - Get On The Floor (Serenity & Spyer Remix)
04. Roll Deep - Good Times (Raindropz! Bootleg Mix)
05. Vengaboys & Perez Hilton - Rocket to Uranus (Jorg Schmid Remix)
06. Matt Pokora - Finally Found Ya (2010)
07. Juan Martinez & C.C.Catch - Unborn Love (Millennium Style Edit)
08. DJ Quicksilver - Bellissima (Tomtrax Bootleg)
09. Colonia - Oduzimas Mi Dah (Peter John Remake 2010)
10. Eminem feat. Rihanna - Love The Way You Lie (Andre Dacatos Hands Up Bootleq Edit)
11. Jason Born - Hey Soul Sister (Kritikal Mass Radio Mix)
12. Paula Seling and Ovi - Playing With Fire (Fly Djs Remix)
13. Ultra feat Fearless and Dappy - Addicted To Love (Jorg Schmid Remix)
14. Bloodhound Gang - Bad Touch (Phillerz Bootleg)
15. DJ Jago Meets Like Thiz - Dance The Night Away (DJ Jago Sej Short Cut)
16. Gaetano DJ - 4 Your Love (DJ Andry vs DJ Gargy Radio Remix)
17. Stachursky - Dosko (TAITO Radio Electro Mix)
18. Rocco & Bass-T - Tell Me When (VinylRockerz Vs. DJ Basslover Remix)
19. Daruso - Since You Been Gone (Twilight Remix)
20. Jorg Schmid - I Just Died In Your Arms (T.C.X.Mix)
21. Mario Lopez - Always And Forever 2k10 (Money G Edit)
22. Zaira Feat Fil Renzi DJ - Its All Over (Extended Musette Mix)
23. Pi - 3 Words (B-Tastic Mix)
24. Jessica Folker - How Will I Know 2k10 (DJ Diego Mix)
25. DHT - Listen To Your Heart (Cueboy Tribune Bootleg Edit)
26. Jasper Forks - River Flows In You (G4bby Fab Vocal Booty)
27. Marc Korn - Feel Free (Original Radio Mix)
28. Dj Andi Ft Stela - Hapiness (Dizzy Deejays Extended Version)
29. Lauris Reiniks - Correro Da Te (Lenny Lavida Extended Remix)
30. Catalina - Joe Le Taxi 2010 (Ural Djs Radio Mix)
31. Commercial Bitches - Feeling You (Deltaforcez Loves Vulcanobabes Bootleg Mix)
32. Petros feat. Roxay - Predator (Movetown Remix)
33. Topmodelz - Love Somebody (Extended Mix)
34. Manila presents Partytrooperz - You re Disgusting (RainDropz! Remix)
35. DJ Vengerov and DJ Fisun feat Valeriya Zhidkova - Ya Veryu Tebe
36. AlexUnder Base feat. Lys - Drums (Dj Mixxmaster Remix)
37. Jasper - Superstar (F4lc0nX Bootleg Remix)
38. Dual Playaz - Lost Without You (Empyre One Remix)
39. Evian Kado - World On Fire (feat Thaya Original Mix)
40. Styles and Breeze - Youre My Angel (Hardcharger Remix)
Download Links

Hotfile
http://hotfile.com/dl/90703639/8deb192/BesDanceHits.part1.rar.html
http://hotfile.com/dl/90703690/a8c9d30/BesDanceHits.part2.rar.html
http://hotfile.com/dl/90703692/f11180a/BesDanceHits.part3.rar.html
http://hotfile.com/dl/90703770/2f493b4/BesDanceHits.part4.rar.html

Fileserve
http://www.fileserve.com/file/ggEmGr2/BesDanceHits.part1.rar
http://www.fileserve.com/file/jXSCJYt/BesDanceHits.part2.rar
http://www.fileserve.com/file/ejHQ7pk/BesDanceHits.part3.rar
http://www.fileserve.com/file/zmZHt4k/BesDanceHits.part4.rar


All links are interchangable. It mean you can download any part of archive from any server and can extract it without problem! PM me if links are dead, I will try to re-upload the file if I can!