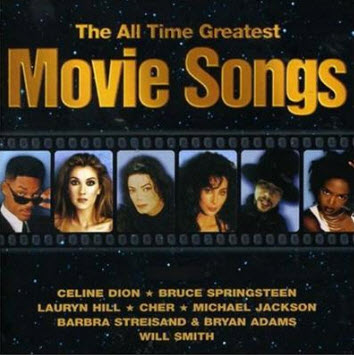 Artist: VA / Year Of Release: 2010 / Genre:Soundtrack / Pop
Title Of Album: The All Time Greatest Movie Songs /
Total Time:270 min / Total Size: 306 mb
Tracklist:
CD1
1.Celine Dion - My Heart Will Go On (Titanic)
2.Bruce Springsteen - Streets of Philadelphia (Philadelphia)
3.Tina Arena & Marc Anthony - I Want To Spend My Lifetime Loving You (The Mask Of Zorro)
4.Barbra Streisand & Bryan Adams - I Finally Found Someone (The Mirror Has Two Faces)
5.Harry Connick Jr. - It Had To Be You (When Harry Met Sally)
6.R. Kelly - I Believe I Can Fly (Space Jam)
7.Coolio feat. LV - Gangsta s Paradise (Dangerous Minds)
8.Michael Jackson - Will You Be There? (Free Willy 1)
9.Berlin - Take My Breath Away (Top Gun)
10.Maria McKee - Show Me Heaven (Days Of Thunder)
11.Louis Armstrong - What A Wonderful World (Good Morning Vietnam)
12.Simon & Garfunkel - Mrs. Robinson (The Graduate)
13.Mama Cass - Dream A Little Dream Of Me (French Kiss)
14.Scott McKenzie - San Fransisco (Be Sure To Wear Some Flowers In Your Hair) (Forrest Gump)
15.Regina Belle & Peabo Bryson - A Whole New World (Aladdin)
16.Tony Bennett - The Way You Look Tonight (My Best Friend s Wedding)
17.Eternal -Someday (The Hunchback Of Notre Dame)
18.Michael Bolton - Go The Distance (Hercules)
19.Bob Dylan - Knockin On Heaven s Door (Pat Garrett & Billy The Kid)
20.The Righteous Brothers - Unchained Melody (Ghost)
CD2
1.Will Smith - Men In Black (Men In Black)
2.Cher - The Shoop Shoop Song (It s In His Kiss) (Mermaids)
3.Jamiroquai - Deeper Underground (Godzilla)
4.Duran Duran - A View To A Kill (A View To A Kill)
5.Lauryn Hill - The Sweetest Thing (Love Jones)
6.The Cardigans - Lovefool (Romeo & Juliet)
7.Roy Orbison - Pretty Woman (Pretty Woman)
8.Van Morrison - Brown Eyed Girl (Sleeping With The Enemy)
9.Chuck Berry - You Never Can Tell (Pulp Fiction)
10.Diana King - Shy Guy (Bad Boys)
11.Jimmy Cliff - I Can See Clearly Now (Cool Runnings)
12.Billy Ocean - When The Going Gets Tough (The Tough Get Going) (Romancing The Stone)
13.Ray Parker Jr. - Ghostbusters (Ghostbusters)
14.Ini Kamoze - Here Comes The Hotstepper (Pret - A - Porter)
15.The Commitments - Mustang Sally (The Commitments)
16.Donna Summer - Hot Stuff (The Full Monty)
17.Irene Cara - What A Feeling (Flashdance)
18.Curtis Mayfield - Superfly (Superfly)
19.Underworld - Born Slippy (Trainspotting)
20.Billy Joel - Modern Woman (Ruthless People)
CD3
1.Will Smith - Wild Wild West (Wild Wild West)
2.Tina Turner - Goldeneye (Goldeneye)
3.Diana King - I Say A Little Prayer (My Best Friend s Wedding)
4.Aerosmith - I Don t Want To Miss A Thing (Armageddon)
5.Another Level - From The Heart (Notting Hill)
6.Faith Hill - This Kiss (Practical Magic)
7.Sixpence None The Richer - Kiss Me (She s All That)
8.Chris Isaak - Wicked Game (Wild At Heart)
9.Sade - No Ordinary Love (Indicent Proposal)
10.Whitney Houston - I Will Always Love You (The Bodyguard)
11.Ben E. King - Stand By Me (Stand By Me)
12.Bic Runga - Sway (American Pie)
13.Mary Chapin Carpenter - Dead Man Walking (Dead Man Walking)
14.Sophie B. Hawkins - As I Lay Me Down (Now & Then)
15.John Paul Young - Love Is In The Air (Strictly Ballroom)
16.Hall & Oates - Maneater (Runaway Bride)
17.Des ree - I m Kissing You (Romeo & Juliet)
18.Annie Lennox - Love Song For A Vampire (Bram Stocker s Dracula)
19.Whitney Houston & Mariah Carey - When You Believe (The Prince Of Egypt)
20.John Williams - Star Wars Theme (Star Wars Episode IV :
A New Hope)
CD4
1.Savage Garden - The Animal Song (The Other Sister)
2.Boyzone - Picture Of You (Bean :
The Movie)
3.Jim Carrey - Cuban Pete (The Mask)
4.Buena Vista Social Club - Candela (Buena Vista Social Club)
5.Hot Chocolate - You Sexy Thing (The Full Monty)
6.Bob Dylan - All Along The Watchtower (American Beauty)
7.Stealer s Wheel - Stuck In The Middle With You (Reservoir Dogs)
8.Presidents Of The USA - Video Killed The Radio Star (The Wedding Singer)
9.Isley Brothers - It s Your Thing (Out Of Sight)
10.Aretha Franklin - Think (The Blues Brothers)
11.The Foundations - Build Me Up Buttercup (There s Something About Mary)
12.Lightning Seeds - Change (Clueless)
13.Len - Steal My Sunshine (Go!)
14.Fatboy Slim - Praise You (Cruel Intentions)
15.Oasis - Stay Young (The Faculty)
16.Kula Shaker - Hush (I Know What You Did Last Summer)
17.Stevie Ray Vaughan - Mary Had A Little Lamb (From Dusk Till Dawn)
18.Huey Lewis & The News - The Power Of Love (Back To The Future)
19.Kenny Loggins - Footloose (Footloose)
20.Apollo 440 - Lost In Space Theme (Lost In Space)
Download Links

Hotfile
http://hotfile.com/dl/90449885/9ab8bfb/VA_Movie_Songs-The_All_Time_Greatest.2010.part1.rar.html
http://hotfile.com/dl/90449887/c18eb24/VA_Movie_Songs-The_All_Time_Greatest.2010.part2.rar.html
http://hotfile.com/dl/90449939/c06146a/VA_Movie_Songs-The_All_Time_Greatest.2010.part3.rar.html
http://hotfile.com/dl/90449943/d1416d2/VA_Movie_Songs-The_All_Time_Greatest.2010.part4.rar.html

Fileserve
http://www.fileserve.com/file/9WcCZED/VA
http://www.fileserve.com/file/xdXbzRt/VA
http://www.fileserve.com/file/4vmcnew/VA
http://www.fileserve.com/file/JatMRPs/VA


All links are interchangable. It mean you can download any part of archive from any server and can extract it without problem! PM me if links are dead, I will try to re-upload the file if I can!