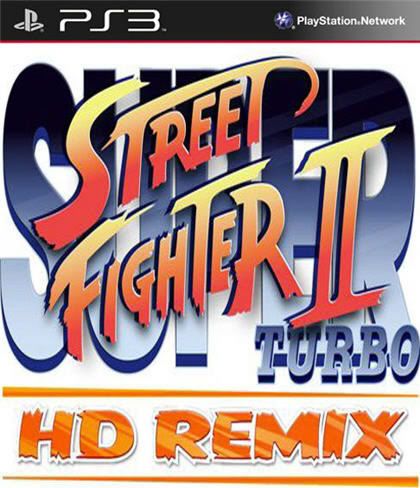 Super Street Fighter II Turbo HD Remix (PS3) PSN | 604MB
Genre: Fighting
Developer: Backbone Entertainment
Publisher: Capcom
Platform: PS3
Language: ENG
Type of translation: No
New art for all characters, support for HDTVs, along with original characters and time-tested gameplay will also appreciate how the veterans SF-motion, and those players who have not yet had time to get acquainted with one of the most respected fighting game-series in the history of video games.
Installation:
1. Copy the folder NPUB30034 on PS3: / / dev_hdd0/game
2. Copy the file UP0102-NPUB30034_00-SUPERSFIGHTER2NA-A0110-V0100.pkg on a USB drive and install it on the PS3 mode JailBreak.

No Password | Single Extraction

Download (USA, EU, Japan, Sing, Au, Ru, UAE, SA)
http://hotfile.com/dl/90200827/5656b0d/SupeFighteTurbo.part1.rar.html
http://hotfile.com/dl/90200882/79a684d/SupeFighteTurbo.part2.rar.html
http://hotfile.com/dl/90200857/6e2690c/SupeFighteTurbo.part3.rar.html
http://hotfile.com/dl/90200832/cc6cfd2/SupeFighteTurbo.part4.rar.html
http://hotfile.com/dl/90201003/5962f3d/SupeFighteTurbo.part5.rar.html
http://hotfile.com/dl/90200994/3830fa5/SupeFighteTurbo.part6.rar.html

Mirror (US, UK)
http://www.filesonic.com/file/44075686/SupeFighteTurbo.part1.rar
http://www.filesonic.com/file/44075492/SupeFighteTurbo.part2.rar
http://www.filesonic.com/file/44075500/SupeFighteTurbo.part3.rar
http://www.filesonic.com/file/44075679/SupeFighteTurbo.part4.rar
http://www.filesonic.com/file/44075494/SupeFighteTurbo.part5.rar
http://www.filesonic.com/file/44075680/SupeFighteTurbo.part6.rar

Mirror (All Countries)
http://www.fileserve.com/file/FDYMMzV/SupeFighteTurbo.part1.rar
http://www.fileserve.com/file/ErpsdA8/SupeFighteTurbo.part2.rar
http://www.fileserve.com/file/skVh2RN/SupeFighteTurbo.part3.rar
http://www.fileserve.com/file/4yYmu77/SupeFighteTurbo.part4.rar
http://www.fileserve.com/file/QJ2xRec/SupeFighteTurbo.part5.rar
http://www.fileserve.com/file/EbJKmqG/SupeFighteTurbo.part6.rar