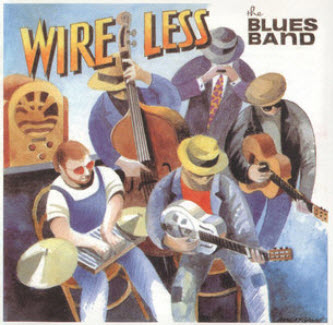 The Blues Band - Wire Less (1995)
MP3 320 kbps | Pub-Blues | Label: BGO Records | 18 Tracks
Recorded at Snape Maltings Concert Hall, Aldeburgh in Suffolk, England on August 6, 1994 / 178 MB
The Blues Band:
Genres:
Blues
Representative Albums:
The Official Bootleg Album/Ready , The Best of the Blues Band , Itchy Feet/Brand Loyalty
Representative Songs:
Fat City , Find Yourself Another Fool , Victim of Love
England s the Blues Band is led by ex-Manfred Mann vocalist Paul Jones and guitarist/vocalist Dave Kelly, who, before forming the group in 1979, had been a member of the John Dummer Blues Band and issued several solo recordings on his own (Kelly had also received praise for his playing by such blues legends as Howlin Wolf and John Lee Hooker). After hooking up with friend/bassist Gary Fletcher, the seeds for the Blues Band were sown, resulting in countless albums (including such titles as 1980 s Official Bootleg Album and Ready, 1981 s Itchy Feet, 1982 s Brand Loyalty which featured new member ex-Family drummer Rob Townsend, 1983 s Bye Bye Blues, 1986 s These Kind of Blues, 1989 s Back for More, 1991 s Fat City, 1993 s Homage, and 1995 s Wire Less, among others). In addition, Kelly formed the Dave Kelly Band in the mid- 80s (issuing four albums), penned music for commercials and such projects as BBC TV s King of the Ghetto and The Comic Strip Presents Strike!, has been voted Best Acoustic Artist by BBC polls throughout the 90s, and is an honorary patron of the London Guitar College with Hank Marvin.
~ Greg Prato, Rovi
Tracklist:
1. San Francisco Bay Blues (Fuller)
2. T.Nicey Mama (Trad/Arr The Blues Band)
3. Sittin On The Top Of The World (Carter/Jacobs)
4. Room And Board (Jones)
5. D-Day Blues (Kelly)
6. I Can t Stand The Rain (Peebles/Bryant/Miller)
7. Withering The Picks (McGuinness/Kelly)
8. Sweet Temptation (Gallagher/McGuinness)
9. Stealin Stealin (Trad/Arr Kelly)
10. Stranger Blues (Trad/Arr Jones)
11. Jitterbug Swing (White)
12. Told No Lies (Fletcher)
13. Alimony Blues (McGuinness)
14. Key To The Highway (Broonzy/Segar)
15. Frankie Jean (Lawlers)
16. I m Not Ashamed To Sing The Blues (Johnson/Mosley)
17. They re Crazy About Me (Charles)
18. Too Young To Know (Morganfield)
Download Links

Hotfile
http://hotfile.com/dl/86647096/ddf8d21/The_Blues_Band_-_Wire._Less.part1.rar.html
http://hotfile.com/dl/86647116/3e381d1/The_Blues_Band_-_Wire._Less.part2.rar.html

Fileserve
http://www.fileserve.com/file/R2MajA9/The
http://www.fileserve.com/file/bCFQzDF/The


All links are interchangable. It mean you can download any part of archive from any server and can extract it without problem! PM me if links are dead, I will try to re-upload the file if I can!