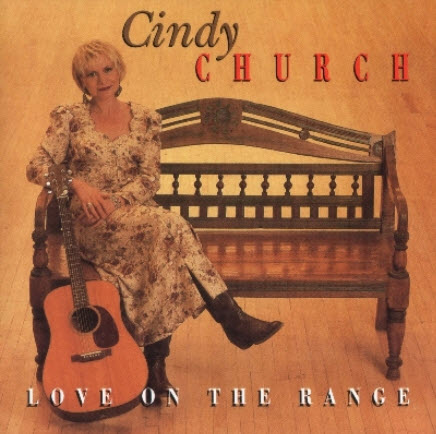 Cindy Church - Love On The Range (1994)
EAC rip | FLAC, tracks + .cue, log-file | Complete artwork | Length: 35:57 | Rar 4% rec. | 279 MB
Genre: Country / Folk | Label: Stony Plain Music
Nova Scotia native Cindy Church, a gifted singer/songwriter, began her love affair with music at an early age. Singing on special occasions with family and friends only increased that passion. Church moved to Canada and began her professional music career in 1984, when she started working with wellknown guitarist Nathan Tinkham. Together, the friends joined the Chinook Arch Riders, a country band fronted by Ian Tyson. Two years later, Tinkham and Church moved on to form a trio called the Great Western Orchestra. The third member was banjo picker and songwriter Dave Wilkie. The group released a self-titled debut album in 1989.
Music critics especially took notice of Chuch s rich voice and songwriting ability when she decided to go solo with a debut single, The Road to Home, in 1992. A year later she released a second single, A Song for Brent, part of a fundraiser she helped out with; began working with a new country act known as Quartette; and came away from the Alberta Country Music Awards as Female Artist of the Year. Other members of Quartette are vocalists Caitlin Hanford, Sylvia Tyson, and Gwen Swick. One other member, Colleen Peterson, sadly died in 1996, at which time Swick was brought in to fill the empty spot.
In 1994, Church released two singles and an album with Quartette, as well as completing three more solo singles and a her debut album, Love on the Range. Her work schedule in 1995 stayed as hectic, involving more singles with the group and on her own, and two more albums:
a solo offering titled Just a Little Rain and another one with Quartette, Work of the Heart. During those busy years, Church received nominations for many music awards, including Best Female Country Artist of the Year from both the Juno and the Canadian Country Music Awards, and also Best Female Country Vocalist of the Year.
When Church selected a title for her third solo album, she decided to simply use her name, Cindy Church. All three full length recordings were released under the Stony Plain Records label. Wichita, The Only Star I See, Trying to Rope the Wind, Sleeping Alone, Tired of Having You Gone, and The Chance You Took With Me are some of the country-folk tunes fans might enjoy from this talented singer.
Tracklist:
01 - Rockabilly Heart (2:
28) (Rob Hollis)
02 - Road To Home (2:
58) (Cindy Church)
03 - Old Fashioned Love (2:
29) (James Johnson/Cecil Mack)
04 - My Wishing Room (3:
47) (Lefty Frizzell/Sanger D. Shafer)
05 - Walking The Dog (2:
41) (Cliff Grimsley/Tex Grimsley)
06 - Cowgirl s Lullaby (3:
07) (Cindy Church)
07 - Love On The Range (2:
41) (Nathan Tinkham)
08 - This October Day (3:
10) (Nathan Tinkham)
09 - Tonight He s Mine (3:
21) (Cindy Church)
10 - Maybe We Should Stay Strangers (3:
34) (Nathan Tinkham/Cindy Church)
11 - I Thought We Were Falling In Love (2:
45) (Nathan Tinkham)
12 - Ride Cowboy Ride (2:
49) (Lee Emerson)
Download Links

Hotfile
http://hotfile.com/dl/86170888/7310703/10.Cindy.Church-Love.On.The_Range.1994.FLAC.part1.rar.html
http://hotfile.com/dl/86170901/00ae873/10.Cindy.Church-Love.On.The_Range.1994.FLAC.part2.rar.html
http://hotfile.com/dl/86171088/58dfca6/10.Cindy.Church-Love.On.The_Range.1994.FLAC.part3.rar.html

Fileserve
http://www.fileserve.com/file/uE3949y/10.Cindy.Church-Love.On.The
http://www.fileserve.com/file/jEgfThs/10.Cindy.Church-Love.On.The
http://www.fileserve.com/file/gfkTgse/10.Cindy.Church-Love.On.The


All links are interchangable. It mean you can download any part of archive from any server and can extract it without problem! PM me if links are dead, I will try to re-upload the file if I can!