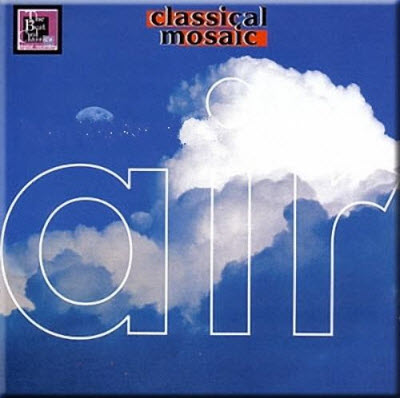 Artist:VA / Title Of Album: Classical Mosaic-Air / Year Of Release: 2002
Genre:Classical / Bitrate: CBR320 kbs
Total Size: 177 MB
Tracklist:
01. Antonio Vivaldi Spring (The Four Seasons)
02. Johann Sebastian Bah Air (Orchestral suite No. 3 in D major BWV 1068) (excerpt)
03. Ludwig van Beethoven Fur Elise (Bagatelle in A minor, WoO 59)
04. Henry Purcell Trumpet Tune and Air
05. Edvard Grieg Anitra s Dance (Peer Gynt, Op. 23)
06. Johann Sebastian Bach Keyboard Concerto No. 5 in F minor, BWV 1056 (Largo)
07. Georges Bizet L Amour est un oiseau rebelle (Carmen)
08. Louis Moreau Gottschalk Souvenirs d Andalousie
09. Wolfgang Amadeus Mozart Eine kleine Nachfmusik (I Allegro) (excerpt)
10. Dmitri Shostakovich Jazz Suite No. 2 (Waltz II)
11. Jaques Offenbach Barcarolle (Les Contes d'Hoffmann)
12. Henry Purcell Rondeau (Abdelazer)
13. Sergei Rachmaninov Prelude in C sharp minor, op. 3 no. 2
14. Frederic Chopin Waltz in C sharp minor , op. 64
15. Luigi Boccherini Menuetto from:
Quintet in E major
16. Francois Couperin Rondeau from:
'Second Livre de pieces de clavecin - 8e Ordre
17. Ludwig van Beethoven Moonlight Sonata (No. 14) 1st movement (Adagio sostenuto)
18. Johannes Brahms Hungarian Dance No. 1 in G minor
19. Georg Frederich Handel Arrival of the Queen of Sheba (Solomon)
20. Nicolo Paganini Rondo (Violin Concerto No. 2, op. 7)
21. Johann Sebastian Bach Badinerie (Suite No. 2 in B minor)
22. 22. Peter Tchaikowsky Waltz - allegro (The Sleeping Beauty, op. 66)
Download Links

Hotfile
http://hotfile.com/dl/85704880/c73cfaa/Classical.Mosaic_CD_1_.Air.part1.rar.html
http://hotfile.com/dl/85704892/13bf15b/Classical.Mosaic_CD_1_.Air.part2.rar.html

Fileserve
http://www.fileserve.com/file/atjPRqw/Classical.Mosaic
http://www.fileserve.com/file/GzaEa3e/Classical.Mosaic


All links are interchangable. It mean you can download any part of archive from any server and can extract it without problem! PM me if links are dead, I will try to re-upload the file if I can!