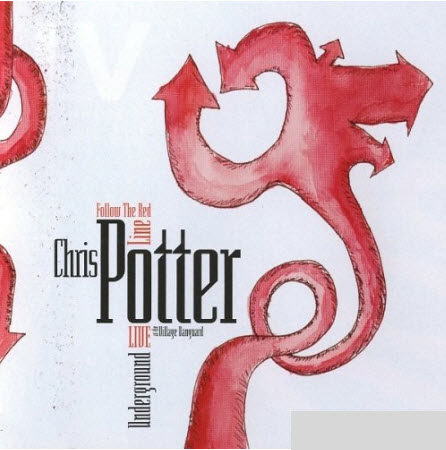 Label: Sunnyside / Genre: Jazz /
Quality: FLAC (Tracks,No Cue,No Log)|MP3
Bitrate: lossless | 320kbps
Size: 514 mb/183 mb (+5%rec)
TRACKLIST
01 - Train
02 - Arjuna
03 - Pop Tune #1
04 - Viva Las Vilnius
05 - Zea
06 - Togo
Personnel:
Chris Potter - Tenor Saxophone
Craig Taborn - Fender Rhodes
Adam Rogers - Guitar
Nate Smith - Drums
A part of the jazz tradition is the live recording, and Manhattan s fabled Village Vanguard is the brook of fire through which every improviser must pass. That said, Follow the Red Line / Live at the Village Vanguard shows that Potter has come through the burning sands of that venue s bandstand in flying colors. Backed by an intriguing, piano-less quartet composed of Detroit s Craig Taborn on Fender Rhodes electric piano, drummer Nate Smith, and guitarist Adam Rogers, Potter prances and dances on six extended-length excursions. Train leads off the set with some serious Staz-on-steroids swing, followed by the subcontinental syncopations of Arjuna, named for the Indian prince in the Indian literary classic, the Mahabharata. Pop Tune #1 is laced with some up-south downbeats in three, graced by Smith s tangy solo, while Viva Las Vilnius dances with Carib-cadences, contrasted by the hymnal hues of Zea. The disc closes on the powerful, Afrobeat anthemed Togo a propulsive ode to the delightful West African nation that Duke Ellington saluted in one of his last major suites. Here, Potter s in-the-pocket bass clarinet solo and accompaniment is an Africanized summation of that instrument s major voices from Eric Dolphy to Bennie Maupin, equaled only by Taborn s impossible keyboard solo.
Download Links

Hotfile
http://hotfile.com/dl/85698062/71eec83/Chris_Follow_Red._Line.part1.rar.html
http://hotfile.com/dl/85698141/6c7dd9c/Chris_Follow_Red._Line.part2.rar.html
http://hotfile.com/dl/85698288/7404b42/Chris_Follow_Red._Line.part3.rar.html
http://hotfile.com/dl/85698431/3bb1fb2/Chris_Follow_Red._Line.part4.rar.html
http://hotfile.com/dl/85698476/ee2b8b3/Chris_Follow_Red._Line.part5.rar.html

Fileserve
http://www.fileserve.com/file/RuqJzEM/Chris
http://www.fileserve.com/file/QCZ2VxS/Chris
http://www.fileserve.com/file/3PCzZ7X/Chris
http://www.fileserve.com/file/7haqDXy/Chris
http://www.fileserve.com/file/DuEtEEU/Chris


All links are interchangable. It mean you can download any part of archive from any server and can extract it without problem! PM me if links are dead, I will try to re-upload the file if I can!