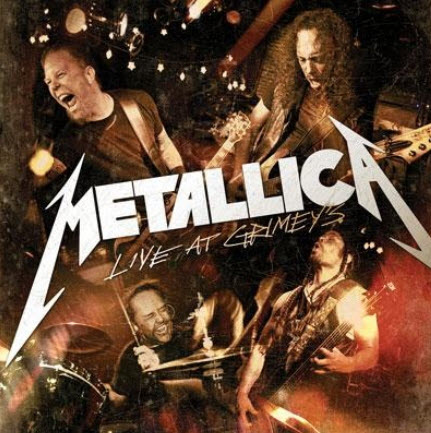 Metallica - Live at Grimey s (2010)
EAC Rip | Flac(tracks + cue + log) + Mp3 320Kbps | 413 + 134 MB | 1 CD | No Scans
Genre: Rock | Hotfile/Fileserve
The Live at Grimey's EP is now available on CD and Limited Edition Double 10 Clear Gatefold Vinyl!
Sold exclusively at the Metallica Store and at select independently owned record stores around the US,
this EP includes nine songs recorded on June 12, 2008 at Grimey s historic record store in Nashville,
TN. Only a few friends and Met Club members were present for this rare basement club performance!
Tracklisting:
1. No Remorse
2. Fuel
3. Harvester of Sorrow
4. Welcome Home (Sanitarium)
5. For Whom the Bell Tolls (Incl. The Frayed Ends of Sanity Jam)
6. Master of Puppets
7. Sad But True
8. Motorbreath
9. Seek & Destroy
Download Links

Fileserve
http://www.fileserve.com/file/aGWfKRh/1125_Meta_LiInGri.320.part1.rar
http://www.fileserve.com/file/hWMDxxR/1125_Meta_LiInGri.320.part2.rar
http://www.fileserve.com/file/PewuVd7/1125_Meta_LiInGri.flac.part1.rar
http://www.fileserve.com/file/BaJ67fm/1125_Meta_LiInGri.flac.part2.rar
http://www.fileserve.com/file/cCT43qA/1125_Meta_LiInGri.flac.part3.rar
http://www.fileserve.com/file/PZxtB35/1125_Meta_LiInGri.flac.part4.rar
http://www.fileserve.com/file/fzjq7Rf/1125_Meta_LiInGri.flac.part5.rar