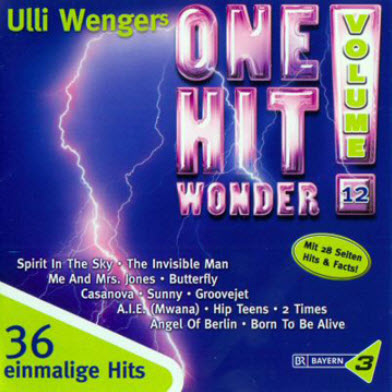 VA - Ulli Wengers One Hit Wonder Vol. 12 (2010)
36 tracks | Genre: Pop/Rock | Release: 2010 | MP3 320 kbps | 342 MB
A one-hit wonder is a person or act known mainly for only a single success. The term is most often used to describe music performers with only one hit single.
Most American music industry insiders consider a song in the top forty positions of the Billboard Hot 100 to be a hit. Thus, any performer who recorded only one song that reached the Top 40 is, technically, a one-hit wonder. However, the term is more generally applied to musicians best known for only one song.
In the United Kingdom, the term one-hit wonder is used to describe a singer or band who had only one hit reach the Top 75 on the UK Singles Chart. The term was first used by the Guinness Book of Hit Singles from the 1970s, and originally referred strictly to those artists whose first chart action was:
a number one hit, and then nothing else, ever. This is now commonly known as a true one hit wonder.
Tracklist:
CD 1:
01. The Boo Radleys - Wake Up Boo! (Album Version)
02. Vanessa Carlton - A Thousand Miles
03. Ten Sharp - You
04. Crazy Town - Butterfly
05. A.I.E. - Black Blood
06. Debelah Morgan - Dance With Me
07. Martin Kesici - Angel Of Berlin
08. Billy Paul - Me And Mrs. Jones
09. Sherbet - Howzat
10. The Flames - Everytime
11. Banderas - This Is Your Life
12. Krush - House Arrest
13. Hypnosis - Pulstar
14. Luniz Feat. Michael Marshall - I Got 5 On It
15. Frank Popp Ensemble - Hip Teens (Don t Wear Blue Jeans)
16. In-Grid - Tu Es Foutu
17. Ian Gomm - Hold On
18. Bobby Hebb - Sunny
CD 2:
01. Patrick Hernandez - Born To Be Alive
02. Spiller - Groovejet (If This Ain t Love)
03. Norman Greenbaum - Spirit In The Sky
04. Ann Lee - 2 Times
05. Ann Peebles - I Can t Stand The Rain
06. City Boy - 5-7-0-5
07. Levert - Casanova (Album Version)
08. Dance With A Stranger - The Invisible Man
09. Kate Winslet - What If
10. Beautiful World - In The Beginning
11. 4 P.M. - Sukiyaki
12. Pete Wingfield - Eighteen With A Bullet
13. Fox The Fox - Precious Little Diamond (Album Version)
14. Andreas Johnson - Glorious
15. Babylon Zoo - Spaceman
16. Rock Steady Crew - Hey You (The Rock Steady Crew)
17. MFSB Feat. The Three Degrees - TSOP (The Sound Of Philadelphia)
18. Foyer Des Arts - Wissenswertes Uber Erlangen
Download Links

Hotfile
http://hotfile.com/dl/85272384/5789725/Ulli.CD1.part1.rar.html
http://hotfile.com/dl/85272415/f52fce4/Ulli.CD1.part2.rar.html
http://hotfile.com/dl/85272526/1fe129c/Ulli.CD2.part1.rar.html
http://hotfile.com/dl/85272532/0b4c6ad/Ulli.CD2.part2.rar.html

Fileserve
http://www.fileserve.com/file/He6R8WN/Ulli.CD1.part1.rar
http://www.fileserve.com/file/vvE6m2d/Ulli.CD1.part2.rar
http://www.fileserve.com/file/syPwyuG/Ulli.CD2.part1.rar
http://www.fileserve.com/file/MtNmSd5/Ulli.CD2.part2.rar


All links are interchangable. It mean you can download any part of archive from any server and can extract it without problem! PM me if links are dead, I will try to re-upload the file if I can!