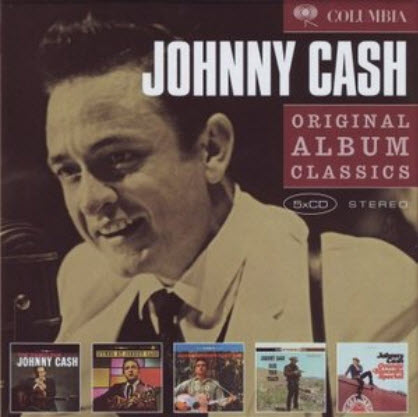 Johnny Cash - Original Album Classics (2008)
MP3 VBR kbps | Country | 5CD | ~ 345 MB
1958 - The Fabulous Johnny Cash
1959 - Hymns By Johnny Cash
1959 - Songs Of Our Soil
1960 - Ride This Train
1965 - Orange Blossom Special
All discs are 2002 extended edition reissue, packed in LP replica sleeves
Johnny Cash - The Fabulous Johnny Cash (1958)
AMG review by Stephen Thomas Erlewine:
The Fabulous Johnny Cash was Cash s first album for Columbia records and one of his best for the label. Unlike some of his latter-day albums, there wasn t much filler on the record. At the time of its recording, Cash had just been freed from his contract with Sun. Instead of recording these songs for his last Sun sessions, he wound up saving much of his best material for his Columbia album, and that s what makes The Fabulous so consistent. The album builds on his basic, spare sound, but it is slightly more polished than his Sun records. Yet what makes it so entertaining are the songs themselves. From Don t Take Your Guns to Town and Frankie s Man, Johnny, to Pickin Time and The Troubadour, the album is filled with first-rate songs, with only a handful of mediocre songs like Supper-Time, that don t distract from the overall quality of the album at all. The 2002 CD reissue on Columbia/Legacy expands the album significantly with six bonus tracks. Four of those (which do not appear in different versions on the original album) were issued on the German release The Unissued Johnny Cash. There s also a first take of Oh What a Dream that was previously unissued, while the version of I ll Remember You (recorded in July 1958, a year before the one that later appeared on a Columbia single) makes its first appearance anywhere.
01 Run Softly, Blue River (02:
26)
02 Frankie s Man, Johnny (02:
19)
03 That s All Over (01:
56)
04 The Troubadour (02:
19)
05 One More Ride (02:
04)
06 That s Enough (02:
44)
07 I Still Miss Someone (02:
38)
08 Don t Take Your Guns To Town (03:
05)
09 I d Rather Die Young (02:
33)
10 Pickin Time (02:
01)
11 Shepherd Of My Heart (02:
14)
12 Suppertime (02:
55)
13 Oh What A Dream (Take 1) (bonus track) (02:
09)
14 Mama s Baby (bonus track) (02:
22)
15 Fool s Hall Of Fame (bonus track) (02:
10)
16 I ll Remember You (bonus track) (02:
08)
17 Cold Shoulder (bonus track) (01:
55)
18 Walkin The Blues (bonus track) (02:
12)
Johnny Cash - Hymns By Johnny Cash (1959)
AMG review by Richie Unterberger:Although Sam Phillips steered Cash away from gospel and sacred music in the mid- 50s at Sun Records, in fact much of what Cash recorded in his early career still had a devout tone, often with piety and imagery that wouldn t have sounded foreign in a gospel context. So although this 1959 album was entirely devoted to religious songs, it didn t really sound that different from his prior work, and remains accessible to Cash fans whether or not they re religious or have an interest in sacred song. The arrangements remain as sparse as most from his 1950s catalog, though stately backup vocals are often present. Too, these aren t strictly traditional numbers, as Cash writes or co-writes about half the tunes. Sure, Are All the Children In skirts bathos with its spoken sections, yet songs like The Old Account and It Was Jesus have the country-rockabilly bounce characteristic of much of his secular material. In fact, despite its specialized focus, it s somewhat generic 1950s Cash at a casual listen, though even generic 1950s Cash is good. The CD reissue adds just one bonus track, and a peripheral one at that: a mono EP version of It Was Jesus, which is lacking the backup vocals found on the LP one.
01 It Was Jesus (02:
09)
02 I Saw A Man (02:
36)
03 Are All The Children In (01:
58)
04 The Old Account (02:
29)
05 Lead Me Gently Home (02:
04)
06 Swing Low, Sweet Chariot (01:
57)
07 Snow In His Hair (02:
25)
08 Lead Me Father (02:
31)
09 I Call Him (01:
51)
10 These Things Shall Pass (02:
20)
11 He ll Be A Friend (02:
00)
12 God Will (02:
25)
13 It Was Jesus (Mono EP Version) (bonus track) (02:
04)
Johnny Cash - Songs Of Our Soil (1959)
AMG review by Richie Unterberger:
One of Cash s earlier pseudo-concept albums, this doesn t exactly follow a specific theme like farming or hymns of the American land the whole way through. Rather, it s a collection of a dozen songs that generally are on the folkier and more Americana-centered side of Cash s repertoire, though, of course, such songs have always had a prominent place in his material. He bagged the songwriting credits for all but one of the songs on Songs of Our Soil, skillfully relaying tales of drinking, disastrous farm flooding ( Five Feet High and Rising ), the vicious circle of sharecropping ( The Man on the Hill ), death and burial ( The Caretaker ), Native Americana ( Old Apache Squaw ), and spiritual-like piety ( It Could Be You (Instead of Him)). The death-in-the-desert tale of Hank and Joe and Me might get unintentionally camp with its rather jaunty depiction (complete with gospel-like backup choral vocals) of the narrator dying of thirst on a quest for gold. Although J. Cash gets the songwriting credit for I Want to Go Home, in fact it s his version of the homesick-sailor folk tale more commonly known as Sloop John B, recorded elsewhere by the Weavers, the Kingston Trio, the Beach Boys, and others. It s a good set, though pretty short at 26 minutes, and lacking the hits or classics that decorate some of his other vaguely Americana concept albums. The 2002 CD reissue peps things up a bit with two bonus tracks, the singles I Got Stripes and You Dreamer You, both recorded at the same March 12, 1959, session that yielded most of the songs on the original LP.
01 Drink To Me (01:
55)
02 Five Feet High And Rising (01:
47)
03 The Man On The Hill (02:
10)
04 Hank And Joe And Me (02:
13)
05 Clementine (02:
30)
06 The Great Speckled Bird (02:
10)
07 I Want To Go Home (01:
58)
08 The Caretaker (02:
07)
09 Old Apache Squaw (01:
47)
10 Don t Step On Mother s Roses (02:
34)
11 My Grandfather s Clock (02:
46)
12 It Could Be You (Instead Of Him) (01:
51)
13 I Got Stripes (bonus track) (02:
05)
14 You Dreamer You (bonus track) (01:
50)
Johnny Cash - Ride This Train (1960)
AMG review by Stephen Thomas Erlewine:Ride This Train was the first explicit Americana concept album that Johnny Cash recorded. As the title implies, the album is about railroads, how they developed and how they changed the land. Apart from a couple of songs, Ride This Train isn t comprised of traditional folk ballads -- they are songs that tell the history of trains and rails, offering an educational lesson. Cash expounds on the songs with brief spoken narratives. Though it is hard to fault Cash s intentions, the songs aren t very good (although The Shifting Whispering Sands is a standout) and the history is a bit simplistic and silly. On the whole, Ride This Train sounds as if it is of a piece with the Walt Disney educational features produced at the same time, and like those films, it is more interesting as an historical artifact than a piece of art.The 2002 CD reissue on Columbia/Legacy adds four bonus tracks, none of them related to the album s train concept, but all recorded, like the album, in late 1959 and early 1960. Two, The Second Honeymoon and Smiling Bill McCall, came out on singles; one, The Fable of Willie Brown, was previously unissued in the U.S., though it came out on the German Bear Family box set The Man In Black: 1959-1962; and the other, The Ballad of the Harpweaver, was previously unreleased anywhere, though it was re-recorded in 1963 for the album The Christmas Spirit.
01 Loading Coal (04:
59)
02 Slow Rider (04:
10)
03 Lumberjack (03:
03)
04 Dorraine Of Ponchartrain (04:
47)
05 Going To Memphis (04:
22)
06 When Papa Played The Dobro (02:
54)
07 Boss Jack (03:
56)
08 Old Doc Brown (04:
15)
09 The Fable Of Willie Brown (bonus track) (01:
57)
10 Second Honeymoon (bonus track) (01:
57)
11 The Ballad Of The Harpweaver (bonus track) (03:
50)
12 Smiling Bill Mccall (bonus track) (02:
06)
Johnny Cash - Orange Blossom Special (1965)
AMG review by Richie Unterberger:Even if the best and most popular of the songs on this 1965 album are the ones most likely to show up on greatest-hits compilations ( The Long Black Veil, Orange Blossom Special, It Ain t Me Babe ), it certainly rates as one of Cash s finer non-greatest-hits releases. If for nothing else, it would have historical importance for the inclusion of three Bob Dylan covers, at a time when Dylan was just starting to get heavily covered by pop musicians (and not often covered by country ones). It Ain t Me Babe, with duet vocals by June Carter, was the most notable of them, although hearing it these days, some may be taken aback by the mariachi horns. Ditto for Mama, You Been on My Mind (which Dylan himself had not released when Cash recorded it), where it s startling to hear Boots Randolph s yakety sax come in for a bit. The Long Black Veil, though, is an ageless classic, and the title cut one of his best train-oriented songs. The rest of the album is respectable and diverse, if not as outstanding, including the stark Cash original You Wild Colorado ; more duet vocals from Carter on the Johnny Horton cover When It s Springtime in Alaska, a bouncy rendition of the Carter Family s Wildwood Flower ; the spiritual Amen ; and, less successfully, a sentimental reading of Danny Boy. The 2002 CD reissue adds three bonus tracks that were previously unavailable in the United States (and had been included on the Bear Family box set The Man in Black: 1963-1969), among them an acoustic cover of A.P. Carter s Engine 143 and a different version of Mama, You Been on My Mind (this time with mariachi horns!).
01 Orange Blossom Special (03:
10)
02 The Long Black Veil (03:
10)
03 It Ain t Me Babe (03:
06)
04 The Wall (02:
12)
05 Don t Think Twice, It s All Right (03:
01)
06 You Wild Colorado (01:
50)
07 Mama, You ve Been On My Mind (03:
06)
08 When It s Springtime In Alaska (It s Forty Below) (02:
41)
09 All Of God s Children Ain t Free (02:
17)
10 Danny Boy (05:
14)
11 Wildwood Flower (02:
16)
12 Amen (02:
09)
13 Engine 143 (bonus track) (03:
35)
14 (I m Proud) The Baby Is Mine (bonus track) (02:
34)
15 Mama, You ve Been On My Mind (bonus track) (02:
55)
Download Links

Hotfile
http://hotfile.com/dl/85045710/02ea061/Johnny_Cash_-_Original_Album._Classics.part1.rar.html
http://hotfile.com/dl/85045761/99baa57/Johnny_Cash_-_Original_Album._Classics.part2.rar.html
http://hotfile.com/dl/85045835/a57a8c2/Johnny_Cash_-_Original_Album._Classics.part3.rar.html
http://hotfile.com/dl/85045908/0d3e953/Johnny_Cash_-_Original_Album._Classics.part4.rar.html

Fileserve
http://www.fileserve.com/file/9SfURa5/Johnny
http://www.fileserve.com/file/wSmSM9e/Johnny
http://www.fileserve.com/file/pjNaPxH/Johnny
http://www.fileserve.com/file/FwJF8Zf/Johnny


All links are interchangable. It mean you can download any part of archive from any server and can extract it without problem! PM me if links are dead, I will try to re-upload the file if I can!