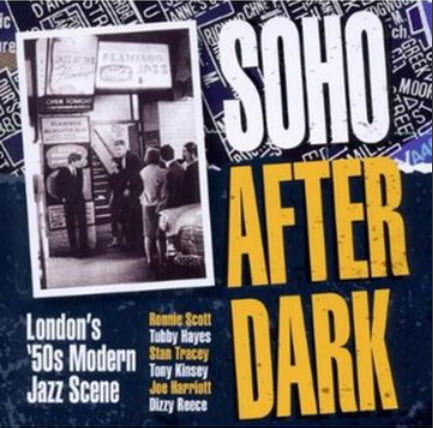 VA - Soho After Dark - Londons 50s Modern Jazz Scene (2010)
MP3 AVG 180 kbps | Lounge, Jazz & Easy Listening | Label: Giant Step | 2CD | 144 MB
Soho After Dark is a vivid snapshot of a time, now long gone, when London s vibrant Soho square mile almost rivalled New York s 52nd Street and L.A. s Central Avenue in presenting the finest modern Jazz to be enjoyed anywhere outside of the USA. 35 tracks including cuts from Johnny Dankworth, Tito Burns & His Sextet, The Ronnie Scott Jazz Group and many others.
Subtitled London s 50s Modern Jazz Scene -- a genre not too well covered even by most in-depth modern jazz histories -- this two-CD compilation has two and a half hours of British jazz from 1949-1960. That s almost as much music as a double CD can hold, and while experts on the style will no doubt be aware of much worthy material that didn t make the cut, this would seem to be a good overview or introduction to this relatively little-studied corner of 50s jazz. A few of the names might be familiar to the serious jazz fan, like Ronnie Scott, Johnny Dankworth, Ted Heath, Don Rendell, Tony Crombie (unfortunately not represented by Eastern Journey, upon which the Who based Cobwebs and Strange ), Tubby Hayes, and Tito Burns (though he s more renowned as a pop manager/promoter than a musician). But it s safe to say that even the typical well-schooled jazz listener will have encountered few if any of these tracks before. While jazz is justly thought of as a primarily American idiom, however, this is a highly respectable and diverse collection of 35 tracks in various styles, from swing and bop to cool and Latin-influenced. It might be a bit more reserved than the most renowned recordings in these areas, and not heavily colored by (as U.K. rock of the 1960s was) a particularly British character. Yet it can hold its own with the jazz music being made across the ocean during the same era, occasionally going into some odd but interesting detours like Dankworth s cinematic African Waltz (a U.K. Top Ten hit), the Stan Tracey Trio s vibe-heavy Free, and the Afro-Cuban jazz in Kenny Graham s Afro-Cubists Mango Walk. Some more in-depth detail and context in the liner notes would have been nice, but overall it s a surprisingly interesting and entertaining survey. ~ Richie Unterberger, Rovi
Tracklist:
Cd1
01.Johnny Dankworth Club X1 Quartet - Second Eleven
02.Ronnie Scott Club X1 Boptet - 52nd Street Theme
03.Kenny Grahams Afro Cubists - Mango Walk
04.Tito Burns & His Sextet - Festival Hall
05.Johnny Damkworth Seven - the Slider
06.Jack Parnell & His Orchestra - Catherine Wheel
07.The Ronnie Scott Jazz Group - the Champ
08.Tony Halls Hall Stars - Hi-Ya Mr.Jackson
09.The Kirchin Band - Mambo Macoco
10.Vic Lewis & His Orchestra - Swinghouse
11.Dizzy Reece Quartet - Bang
12.Don Rendell Quartet - Cool Sparks
13.Ted Heath & His Music - Kings Cross Climax
14.Keith Christie Quartet - Cottontail
15.Vic Ash Quartet - Early Morning
16.Tony Kinsey Trio with Joe Harriot - Fascinating Rhythm
17.Tony Kinsey Trio with Joe Harriot - it Dont Mean A Thing
18.Victor Feldman Septet - Brawl for All
19.Tommy Whittle Quintet - Ten Bar Gait
20.Tubby Hayes Quintet - Message to the Messengers
Cd2
01.Johnny Dankworth Orchestra - African Waltz
02.The Jazz Couriers - Cheek to Cheek
03.The Jazz Couriers - Some of My Best Friends Are Blues
04.The Jazz Couriers - Blues
05.Tubby Hayes & His Orchestra - the Little Giant / Orient Line
06.Victor Feldman Modern Jazz Quartet - Minore
07.Tony Crombie Jazz Inc Orchestra - L il O l Pottsville
08.Stan Tracy Trio - Little Klunk
09.Stan Tracy Trio - Free
10.Dizzy Reece - Shepherds Serenade
11.Wilton Bogey Gaynair - Wiltons Mood
12.Ken Moules Music - Messin About in Boots
13.Victor Feldman Big Band - Maenya
14.Tony Kinsey Quintet - Just Goofin
15.Johnny Dankworth Orchestra - the Colonels Tune
Download Links

Hotfile
http://hotfile.com/dl/85043965/98361d0/50s_Modern_Jazz.Scene.part1.rar.html
http://hotfile.com/dl/85044094/c505e74/50s_Modern_Jazz.Scene.part2.rar.html

Fileserve
http://www.fileserve.com/file/PbP6TWF/50s_Modern_Jazz.Scene.part1.rar
http://www.fileserve.com/file/sjUPXNg/50s_Modern_Jazz.Scene.part2.rar


All links are interchangable. It mean you can download any part of archive from any server and can extract it without problem! PM me if links are dead, I will try to re-upload the file if I can!