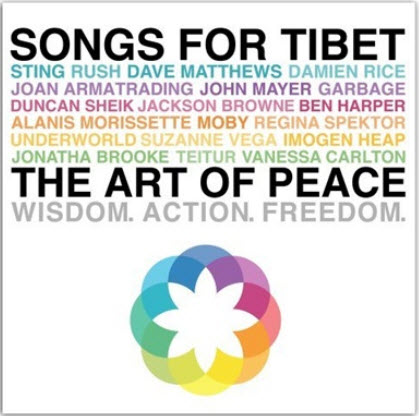 VA - Songs for Tibet - The Art of Peace (2008)
EAC Rip | Flac(tracks) + cue + log | 460 MB | 2 CD | No Scans
Genre: Alternative, Rock, VA, Acoustic Rock | Hotfile/Fileserve
Two CD set. Songs for Tibet - The Art of Peace Music Project. Proceeds that the Art Of Peace Foundation receives goes to peace related projects. As a show of solidarity with the Dalai Lama and Tibet, 20 artists have come together to release this historic double album on the eve of the Beijing Olympics. These recordings - some original for the project and some acoustically driven recordings of previously released songs - express our common vulnerabilities and experiences in pursuing happiness, peace and freedom. Collectively, these tracks represent a heartfelt message of support for the path of compassion and non-violence championed by the Dalai Lama. Begun in May of 2008 and completed in two months, the outpouring of support from all corners of the world was unparalleled. Funds raised from the album will go to support peace initiatives and Tibetan cultural preservation projects important to the Dalai Lama.
Tracklisting:
CD1
01. Imogen Heap - Hide & Seek 2 (4:17)
02. Sting - Send Your Love (Art Of Peace remix) (4:48)
03. Alanis Morissette - Versions Of Violence (recorded in dressing room in Cologne, Germany) (4:18)
04. John Mayer - Belief (3:44)
05. Regina Spektor - Better (Piano & Voice) (3:09)
06. Moby - We Are All Made Of Stars (2008) (4:05)
07. Damien Rice & The Cheshire Project - Making Noise (4:06)
08. Vanessa Carlton - More Than This (Campfire Take) (4:50)
09. Duncan Sheik - Nothing Fades (Kosen Rufu version) (4:29)
10. Dave Matthews & Tim Reynolds - Where Are You Going? (live in Barcelona) (4:06)
CD2
01. Suzanne Vega - Song Of Sand (Great City Version) (3:10)
02. Garbage - All The Good In This Life (4:20)
03. Rush - Hope (Live for The Art of Peace) (2:24)
04. Jonatha Brooke - Madonna On The Curb (Peace Mix) (3:33)
05. Joan Armatrading - In These Times (The Concord Mix) (3:10)
06. Teitur - All My Mistakes (Featuring Tarira) (3:59)
07. Jackson Browne - Alive In The World (4:11)
08. Ben Harper - Better Way (Live in Six-Fours-les-Plage) (5:01)
09. Rupert Hine - The Heart Of The Matter (Underlying Mix) (5:04)
10. Underworld - To Heal (and Restore Broken Bodies) (5:01)
Download Links

Hotfile
http://hotfile.com/dl/83954039/e46e341/1120_VA.SoFrTiBe.part1.rar.html
http://hotfile.com/dl/83954148/ac85f94/1120_VA.SoFrTiBe.part2.rar.html
http://hotfile.com/dl/83954233/54ada46/1120_VA.SoFrTiBe.part3.rar.html
http://hotfile.com/dl/83954313/2944322/1120_VA.SoFrTiBe.part4.rar.html
http://hotfile.com/dl/83954414/72754eb/1120_VA.SoFrTiBe.part5.rar.html

Fileserve
http://www.fileserve.com/file/ypMRj22/1120_VA.SoFrTiBe.part1.rar
http://www.fileserve.com/file/bWKudTN/1120_VA.SoFrTiBe.part2.rar
http://www.fileserve.com/file/ENyenM6/1120_VA.SoFrTiBe.part3.rar
http://www.fileserve.com/file/ECW2Nh2/1120_VA.SoFrTiBe.part4.rar
http://www.fileserve.com/file/RTztYje/1120_VA.SoFrTiBe.part5.rar


All links are interchangable. It mean you can download any part of archive from any server and can extract it without problem! PM me if links are dead, I will try to re-upload the file if I can!