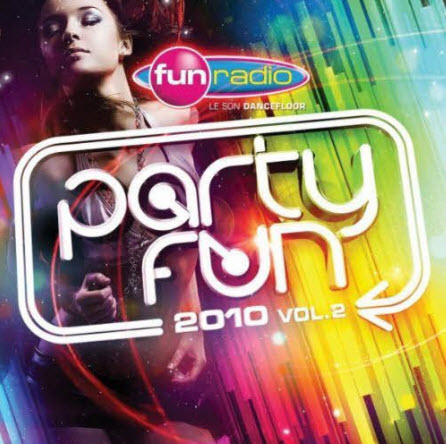 Artist: VA/Year Of Release: 2010 Label: EMI/ Genre: Dance
Title Of Album: Party Fun 2010 Vol.2/Quality: Mp3
Bitrate: VBR/ Total Time: 156:48 Min/Total Size: 285 Mb
Tracklist:
CD1
01.Kylie Minogue - Get Outta My Way
02.Flo-Rida Feat. David Guetta - Club Can T Handle Me
03.Jason Derulo - Ridin Solo
04.Bob Sinclar Feat. Ben Onono - Rainbow Of Love
05.Rihanna Feat. Jeezy - Hard (Jody Den Broeder Club Remix)
06.Timbaland Feat. Soshy - Morning After Dark (Chris Lake Remix)
07.Kylian Mash Feat Akon & Glasses Malone - Club Certified
08.Eric Carter - I Promised To The Sun
09.Tom Snare Feat. Nieggman - The Way To Lov
10.Dirty South Feat. Rudy - Phazing
11.Benny Benassi Feat. Kelis, Apl.De.Ap & Jean-Baptiste - Spaceship
12.Mathieu Bouthier Feat. Marine Mancini - New York City
13.Desaparecidos - Together & Forever
14.Fedo, Marchesini & Camuri - Babylon
15.The Nycer Feat. Deeci - Losing Control
16.Chris Kaeser & Max C Feat. Anita Kelsey & Fast Eddie - What We Gonna Do
17.Meck Feat. Dino - Feels Like A Prayer (Jean Elan Remix)
18.Adrian Lux - Teenage Crime (Axwell & Henrik B Remode)
19.Laidback Luke Feat. Jonathan Mendelsohn - Till Tonight
20.Swedish House Mafia - One
CD 2
01.Yolanda Be Cool vs Dcup - We No Speak Americano
02.Klaas - Downtown
03.Laurent Wolf Feat. Andrew Roachford - Survive
04.Remady Feat. Manu L - Give Me A Sign
05.Antoine Clamaran Feat. Soraya - Live Your Dreams
06.Peter Luts - The Rain
07.Alex De Guirior Feat. Jay Colin - The Girl That I Want
08.Inna - Amazing
09.Cascada - Pyromania
10.David Guetta & Chris Willis Feat. Fergie & Lmfao - Gettin Over You
11.Lady Gaga - Alejandro (The Sound Of Arrows Remix)
12.Roll Deep - Good Times
13.Alexis Dante & JM Sicky Feat. Eva Menson - Get Up Dance
14.Dim Chris Feat. Amanda Wilson - Sometimes
15.Starlane - Back To Paris (Jay Style Remix)
16.Jay Style - Reach Up
17.Prok & Fitch Pres. Nanchang Nancy - Walk With Me
18.Aerial Carbon Feat. Violetta - What You Want
19.Greg Parys - Why Don T We Just Fuck
20.Laurent Pautrat - Want A Gay 2010 (Tristan Garner Remix)
Download Links

Hotfile
http://hotfile.com/dl/83743017/cf57940/Fun_Party_2010._Vol2.part1.rar.html
http://hotfile.com/dl/83743051/8c5ab5b/Fun_Party_2010._Vol2.part2.rar.html
http://hotfile.com/dl/83743176/30c58e7/Fun_Party_2010._Vol2.part3.rar.html

Fileserve
http://www.fileserve.com/file/bea2t3u/Fun
http://www.fileserve.com/file/E77SFwZ/Fun
http://www.fileserve.com/file/WyMk98x/Fun


All links are interchangable. It mean you can download any part of archive from any server and can extract it without problem! PM me if links are dead, I will try to re-upload the file if I can!