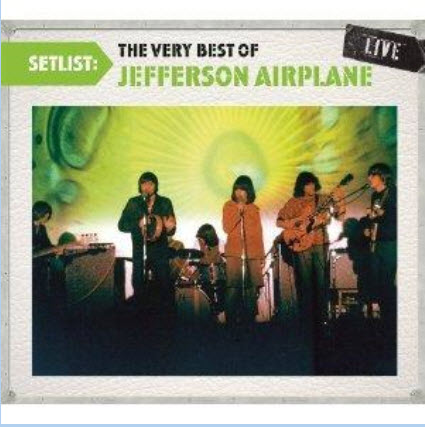 Jefferson Airplane - Setlist: The Very Best Of Jefferson Airplane Live (2010)
MP3 320 kbps | Psychedelic Rock, Blues Rock | Label: Sony | 12 Tracks | 166 MB
The Legacy division of Sony continues to explore new ways to keep the CD relevant. Their Playlist series was the first out of the gate with eco-friendly packaging that used 100% recycled cardboard, no plastic, and on-disc PDFs in place of paper booklets. Their new Setlist series follows the same path of a single disc that provides an aficionado s snapshot of an artist s catalog. In this case the anthologies turn from the studio to the stage, pulling together tracks from an artist s live repertoire, generally all previously released, but in a few cases adding previously unreleased items. As with the Playlist collections, the Setlist discs aren t greatest hits packages; instead, they forgo some obvious catalog highlights to give listeners a chance to hear great, lesser-known songs from the artist s stage act.
Jefferson Airplane was a band that truly came alive in live performance. Their studio albums remain lauded, but it was the experience of their shows, stretching the studio tracks into acid-drenched ballroom jams, that minted their San Francisco Sound legend. Their live sound has been documented on numerous official releases, four of which are sampled here (Bless its Pointed Little Head, Thirty Seconds Over Winterland, and Sweeping Up the Spotlight), highlighting performances from the group s home courts (the Fillmore Auditorium, Fillmore West and Winterland) and favorite tour cities Chicago and New York. This set also pulls in a few tracks that were included on the compilation Jefferson Airplane Loves You, as well as previously unreleased (at least officially) Fillmore performances of White Rabbit (11/26/66) and It s No Secret (2/6/67, late show).
The dozen tracks gathered here span nearly the full length of the Airplane s history, sans the group s original female lead singer, Signe Anderson. This set s timeline starts with a concise, but thrilling, November 1966 performance of White Rabbit recorded only a month after Grace Slick replace Anderson, and concludes in the Fall of 1972 with tracks from the band s last tour. By 72 Marty Balin had left the lineup, Papa John Creach had been added (along with John Barbata and David Freiberg), and Jorma Kaukonen and Jack Casady were getting deeper and deeper into their side project, Hot Tuna. The band still jammed to the end, as evidenced by the superb eleven minute rendition of Kaukonen s Feel So Good, but the unity heard on the earlier tracks seemed to be fraying. The version of Crown of Creation offered here, for example, is often more cacophonous than musical.
This isn t a bad place to get an overview of the Airplane s journey as a live band. In contrast to the earlier live albums, you get a broader timeline of material and a view of the band s evolution as writers and performers over the bulk of their existence. Fans who have already absorbed the available material will likely want to opt for the four live releases being issued in October 2010 by Collectors Choice. These sets document San Francisco dates (10/15/66, 10/16/66, 11/25,27/66, and 2/1/68) that include Anderson s last show, Slick s first two, and the emotional return of the Airplane to the Matrix. If you weren t there, and only know the Airplane from their studio hits (or, worse, the Starship s), you really owe it to yourself to hear what all the fuss was about.
Tracklist:
01.Somebody To Love (4:05)
02.She Has Funny Cars (3:41)
03.White Rabbit (2:35)
04.Plastic Fantastic Lover (3:49)
05.It s No Secret (3:29)
06.Feel So Good (11:23)
07.Comin Back To Me (7:43)
08.Have You Seen The Saucers (4:20)
09.Good Shepard (7:21)
10.Volunteers (3:36)
11.Crown Of Creation (3:26)
12.The Ballad Of You And Me And Pooneil (10:27)
Download Links

Hotfile
http://hotfile.com/dl/83515964/676bb76/The_Very_Best_Of_Jefferson_Airplane._Live.part1.rar.html
http://hotfile.com/dl/83515978/50c7485/The_Very_Best_Of_Jefferson_Airplane._Live.part2.rar.html

Fileserve
http://www.fileserve.com/file/WBcEV2s/The
http://www.fileserve.com/file/J7YC4AB/The


All links are interchangable. It mean you can download any part of archive from any server and can extract it without problem! PM me if links are dead, I will try to re-upload the file if I can!