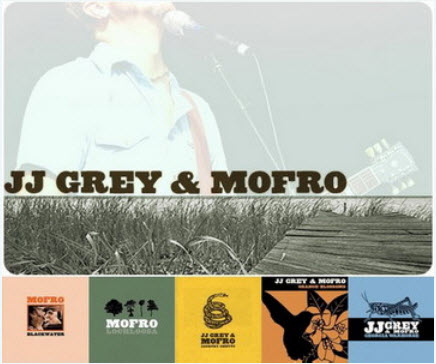 JJ Grey & Mofro - Discography (2001-2010)
MP3 320 kbps | Rock,Blues | 5CD | 592 MB
MOFRO is a Soul/Funk/R&B/Blues/southern Rock band from Jacksonville, Florida. MOFRO s debut album, Blackwater was named One Of The Best Of The Decade In Music and One of the 10 Best R&B / Soul Albums of the Year by Amazon. In 2007 MOFRO signed with Alligator Records, released the album Country Ghetto, and began performing under the name JJ Grey & MOFRO.
Mofro - Blackwater (2001)
This collection of front porch soul and jookhouse funk is very tasty, and not just because the band celebrates ham hocks and other Southern delicacies on Ho Cake. In an era when people overdub and compress the soul right out of recorded music, producer/engineer Dan Prothero has managed to capture an organic, earthy sound that perfectly suits this band s sultry swamp funk grooves. This is particularly appropriate since singer/songwriter John JJ Grey seems to be a big fan of old-timey authenticity. His lyrics decry overdevelopment and the homogenization of American culture; he romanticizes the early days of his home state before skyscrapers and superhighways [were] carved through the heart of Florida, while his band celebrates the American musical heritage of Muddy Waters, early Bootsy Collins, and other funk, blues, soul, and rock practitioners. Granted, some listeners might not share Grey s simpleminded enthusiasm for a time with no car, phone, or electric light ; after all, there weren t any funk or soul records back then, and contrary to what Grey says, there was plenty of strife in the good old days. Also, Grey s Luddite tendencies didn t prevent his band from releasing an enhanced CD-ROM with bonus audio tracks, full screen video, an interactive mixer, and a virtual reality studio tour. Nonetheless, the music is exactly what you d want from this type of project: firmly rooted in tradition but still sounding fresh and spontaneous. Grey s vocals find the right mixture of smoothness and grit, his harmonica playing on Blackwater suggests an otherworldly spirit haunting the Florida swamps, and while he doesn t have the distinctive off-center sensibility of the late Lowell George, for example, he does have a sense of humor; he even tells an amusing short story about dumb criminals on Cracka Break. Of course, Daryl Hance, Fabrice Fabgrease Quentin, Nathan Shepherd and George Sluppick are all a crucial part of Mofro s sound, and label-mate Robert Walters also contributes to the album by playing clavinet on Ho Cake and Santa Claus and an electric piano solo on Lazy Fo Acre. Some of the laid-back funk workouts may seem a little long to those who prefer tight song structures to a jam band sensibility, but Mofro delivers a solid album overall.
1. Blackwater - 7:09
2. Ho Cake - 5:53
3. Air - 3:55
4. Jookhouse - 3:19
5. Nare Sugar - 4:17
6. Free - 2:56
7. Florida - 4:11
8. Cracka Break - 1:22
9. Lazy Fo Acre (Gray, Hance) - 4 41
10. Santa Claus True Love & Freedom - 6:47
11. Frog Giggin - 1:57
12. Whitehouse - 6:08
13. Brighter Days - 11:15
Mofro - Lochloosa (2004)
One of the 10 Best Releases Of The Year: Bringing a bit of the Florida swampland to your town, MOFRO s second studio release is nothing less than a perfect groove. Down home, dirty soul. - Rolling Stone
Three years after their celebrated debut, Blackwater, north central Florida s Mofro return with another offering of steamy, greasy front-porch soul . Lochloosa is a startlingly good, perhaps even great, record by a band that revels in mystery, history, and deliriously infectious grooves.
You can almost smell the backwoods swamps of the Sunshine State when you re listening to their dusky blend of Southern rock, blues, and soul. Lochloosa is an unpretentious, moving, and inviting album that settles into a humid groove from the onset and never leaves it behind.
MOFRO, comprising Floridians JJ Gray and Daryl Hance, is a strange bird of an outfit -- an unmistakably Southern hybrid that maintains elements of funk, blues, country and Dixie rock. But the duo is also undeniably soulful and quite adept at what it does. Down-home funk track That Boy, like most of the songs here, is driven by a rock-solid bottom and more hooks than a tackle box. Grey s honeyed vocals make Fireflies a soul-drenched delight, while Hance s slide guitar work brings back-porch authenticity to the atmospheric Ten Thousand Islands and gutbucket fare like Gal Youngin and Pray for Rain. Grey s vocals are also mighty fine on the glorious The Wrong Side and bluesy Everybody s. MOFRO waxes Bo Diddley on How Junior Got His Head Put Out. But the real showpiece is the title cut, a pining, sorrowful lament about the overdevelopment of the act s home state. - Billboard
1. Y all Ready
2. That Boy
3. Lochloosa
4. Dirtfloorcracker
5. Fireflies
6. Ten Thousand Islands
7. Six Ways From Sunday
8. The Wrong Side
9. Everybody s
10. Gal Youngin
11. How Junior Got His Head Put Out
12. The Long Way Home
13. Pray For Rain
JJ Grey & Mofro - Country Ghetto (2007)
For many people, the word Florida conjures up images of sunshine, white-hot sands, and white-hot nightlife. That s not the Florida JJ Grey inhabits. Sounding forth from his ancestral home 40 miles outside of Jacksonville, Grey s Florida is inhabited by water moccasins, gators, and characters whose murky, besotted Southern Gothic pasts match the dreary, desolate landscape. On Country Ghetto, his third album and debut for Alligator Records (of course), Grey and his bandmates revisit the hallowed but largely forsaken musical environs of swamp rock. Taking their cues from early Creedence Clearwater Revival and Tony Joe White, Mofro play a slinky, sinuous brand of Louisiana soul-funk-blues, while Grey himself alternates between the good ol boy debauchery of Ronnie Van Zant and Lynyrd Skynyrd and the classic soul entreaties of Otis Redding and Clarence Carter. There are highlights everywhere. Footsteps quotes from Link Wray s incomparable surf stomp Rumble before morphing into the dirty swamp boogie of Turpentine. A Woman finds Grey in pleading Redding mode, complete with spot-on Stax/Volt horns and swirling Wurlitzer, while the funkfest of Mississippi and the gorgeous, hymnlike gospel of The Sun Is Shining Down showcase both the band s undeniable chops and Grey s raw vocal prowess. There are a few missteps. The dirge-like On Palestine, another of Grey s back-porch family stories, drones on a little too long, and the closer, Goodbye, limps toward the finish line. But those are minor quibbles. Country Ghetto is a down-and-dirty delight, and a fine addition to the swamp rock canon.
01. War
02. Circles
03. Country Ghetto
04. Tragic
05. By My Side
06. On Palastine
07. Footsteps
08. Turpentine
09. A Woman
10. Mississippi
11. The Sun Is Shining Down
12. Goodbye
JJ Grey & Mofro - Orange Blossoms (2008)
It s difficult to find a review of JJ Grey s music that doesn t use the word swamp to describe his blend of deep Southern soul and murky funk. So that s taken care of in the first sentence here, which leaves plenty of room to focus on his fourth album s low-key yet surging backwoods R&B. The disc s title and title track refer to Grey s home state of Florida s official flower, but there is little that is floral or sunshiny about his music. Rather, the Jacksonville-based Grey prefers to hover in the gloaming, layering horns and backing vocals over grinding, midtempo blue-eyed soul. This is the most elaborately produced of his albums, but like the chitlin circuit blues in his blood, there is nothing slick about it. Similar to the illicit affair at the heart of Everything Good Is Bad, the disc s only cover (the original was done by the obscure act 100 Proof [Aged in Soul]), Grey s music generally stays in the shadows. The funeral piano that opens She Don t Know is jazzy yet ominous and sounds as humid and muggy as his hometown on an August night. Ditto for the strings that appear at the song s end and pop up like wild weeds throughout this dozen-song set. Grey has matured into a compelling vocalist and it is his emotional yet subtle singing that elevates this already powerful material. His sluggish Southern drawl on the funky WYLF (short for what you re looking for ) infuses a laconic, easygoing, almost lazy feel, a distinguishing characteristic of his style. That s brought into sharp relief on the sticky, sweaty sex of Move It On, a sly, nearly seven-minute deliberate groover that sounds like something the Temptations might have recorded if they had been bred in the South. Although Grey deserves the bulk of the credit for this disc s unassuming success, longtime co-producer Dan Prothero (who has worked on every Grey/Mofro project) and in-the-pocket drummer Anthony Cole are crucial elements of the stealthy vibe. It s an album that grows on you slowly like moss at the base of a withered old tree and transports you to the dank, mosquito-infested bayou at the heart of Grey s evocative sound.
01. Orange Blossoms
02. The Devil You Know
03. Everything Good Is Bad
04. She Don t Know
05. The Truth
06. Wylf
07. On Fire
08. Move It On
09. Higher You Climb
010. Dew Drops
011. Ybor City
012. I Believe (In Everything)
JJ Grey & Mofro - Georgia Warhorse (2010)
Maybe number five is the charm? Not that JJ Grey and his ever evolving backing band Mofro care. But it s possible that Georgia Warhorse may be the record that pulls them from the glorified cult status they ve enjoyed for a decade into the lights on the mainstream s fringes -- but don t count on it. Grey s music is far too real; too poetically, sonically, and atmospherically rooted in vintage Southern soul, rock and blues traditions to translate readily into radio fodder. Georgia Warhorse (named for a tenacious and resilient species of grasshopper) contains 11 new originals, recorded at Jim DeVito s Retrophonics Studio in St. Augustine -- as were all four previous albums. The music is steeped in funky, greasy, slippery Southern R&B, blues and rock. The backbone slipping slow-grind funk of Diya Dayo opens the set with a wailing harmonica, a chunky single string vamp and a Howlin Wolf meets Stax chorused refrain. Grey changes it up immediately with two ballads, the first of which, the seven-minute King Hummingbird, is one of the most beautiful things here. It drips with raw, laidback swamp soul. (Chris Robinson would give his eye teeth to have written, let alone sung, it.) The Sweetest Thing features the signature voice of Toots Hibbert, Grey s greatest influence after Otis Redding. With a Muscle Shoals-styled horn chart, the pair take a midtempo ballad and mold it into a sensual, simmering love song. The title track is a gritty blues eco-manifesto from the grasshopper s point of view. Slow, Hot & Sweaty, introduced by a Rhodes piano, is representative of its title and scorches with its brazenly sexual heat. The Hottest Spot in Hell, is the most uptempo thing here, an overtly bluesly rocker. But Grey s deep ringing baritone pulls from Memphis soul rather than Southern Rock. The B3 twsts in your gut and the snare breaks pop in your spine. The set closes with Lullaby, featuring guest Derek Trucks. It commences slowly, a shimmering soul number; but it morphs into a crescendo of blues, trancelike drums, wide-open horns and chanted vocals that bring the album down around the listener. Georgia Warhorse, like each of its its predecessors, is another giant step forward in terms of its craft and quality. It will no doubt find the space in our culture that yet remains for music that s as authentic as the ground under your feet, because that s where it comes from -- just before it moves, simply and directly, through the body of the listener, into the human heart. -- AMG
01. Diyo Dayo
02. King Hummingbird
03. The Sweetest Thing
04. All
05. Georgia Warhorse
06. Gotta Know
07. Hide and Seek
08. Beautiful World
09. Slow, Hot and Sweaty
10. The Hottest Spot in Hell
11. Lullaby
Download Links

Hotfile
http://hotfile.com/dl/82483911/57692f7/JJ_Grey_Mofro_Blackwater.2001.part1.rar.html
http://hotfile.com/dl/82484144/eac7554/JJ_Grey_Mofro_Country_Ghetto.2007.part1.rar.html
http://hotfile.com/dl/82484354/46af6a2/JJ_Grey_Mofro_Orange_Blossoms.2008.part1.rar.html
http://hotfile.com/dl/82484181/223cec1/JJ_Grey_Mofro_Georgia_Warhorse.2010.part1.rar.html
http://hotfile.com/dl/82484340/e03622a/JJ_Grey_Mofro_Lochloosa.2004.part1.rar.html
http://hotfile.com/dl/82484325/0f9048e/JJ_Grey_Mofro_Georgia_Warhorse.2010.part2.rar.html
http://hotfile.com/dl/82484100/7634d4c/JJ_Grey_Mofro_Blackwater.2001.part2.rar.html
http://hotfile.com/dl/82484171/945b05f/JJ_Grey_Mofro_Country_Ghetto.2007.part2.rar.html
http://hotfile.com/dl/82484343/80cdb42/JJ_Grey_Mofro_Lochloosa.2004.part2.rar.html
http://hotfile.com/dl/82484603/efd5e7b/JJ_Grey_Mofro_Orange_Blossoms.2008.part2.rar.html

Fileserve
http://www.fileserve.com/file/Bc6UkBp/JJ
http://www.fileserve.com/file/Rp37z84/JJ
http://www.fileserve.com/file/8qcj36U/JJ
http://www.fileserve.com/file/zsQEZJr/JJ
http://www.fileserve.com/file/bpeYBTJ/JJ
http://www.fileserve.com/file/7dhAdeY/JJ
http://www.fileserve.com/file/puKfqYF/JJ
http://www.fileserve.com/file/5QhZQXf/JJ
http://www.fileserve.com/file/C4uKPjU/JJ
http://www.fileserve.com/file/JG6kEdy/JJ


All links are interchangable. It mean you can download any part of archive from any server and can extract it without problem! PM me if links are dead, I will try to re-upload the file if I can!