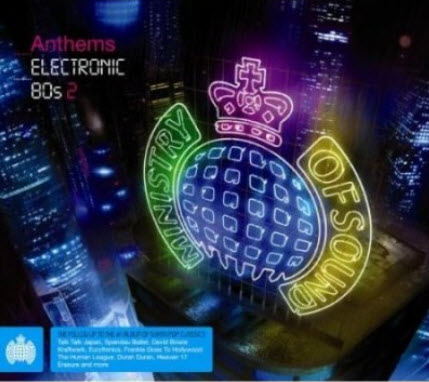 VA - Ministry Of Sound: Anthems Electronic 80s 2 (2010)
60 tracks | Release: 15.11.2010 | MP3 VBR kbps | CBR 44,1kHz | 337 MB
Genre: House, Electronic | Label: Ministry Of Sound
Tracklist:
CD1
01.the human league-dont you want me [03:59]
02.eurythmics-sweet dreams (are made of this) [03:35]
03.kraftwerk-the model [03:40]
04.orchestral manoeuvres in the dark-souvenir [03:32]
05.yazoo-only you [03:10]
06.talk talk-its my life [03:52]
07.duran duran-girls on film [03:27]
08.spandau ballet-instinction [03:38]
09.japan-ghosts [04:30]
10.scritti politti-the word girl [04:24]
11.heaven 17-let me go [04:18]
12.the stranglers-golden brown [03:28]
13.simple minds-glittering prize [03:58]
14.midge ure-no regrets [04:02]
15.propaganda-dr mabuse [04:56]
16.john foxx-europe after the rain [03:37]
17.david sylvian-forbidden colours [04:38]
18.gary numan-we are glass [04:46]
19.tangerine dream-love on a real train [03:52]
20.frankie goes to hollywood-welcome to the pleasuredome [03:42]
CD2
01.frankie goes to hollywood-relax [03:58]
02.spandau ballet-gold [03:53]
03.howard jones-pearl in the shell [04:00]
04.erasure-a little respect [03:28]
05.altered images-i could be happy [03:31]
06.the communards-dont leave me this way [04:49]
07.living in a box-living in a box [03:03]
08.go west-call me [04:10]
09.re flex-the politics of dancing [03:46]
10.thompson twins-hold me now [04:45]
11.thomas dolby-she blinded me with science [03:42]
12.the human league-open your heart [03:56]
13.china crisis-king in a catholic style (wake up) [04:18]
14.new music-living by numbers [03:26]
15.scritti polliti-wood beez (pray like aretha franklin) [03:35]
16.heaven 17-sunset now [03:40]
17.sparks-no1 song in heaven [03:30]
18.ultravox-dancing with tears in my eys [04:05]
19.art of noise-beatbox [03:58]
20.yazoo-nobodys diary [04:31]
CD3
01.david bowie-lets dance [04:08]
02.simple minds-dont you (forget about me) [04:20]
03.duran duran-hungry like the wolf [03:25]
04.wham-everything she wants [05:04]
05.talking heads-and she was [03:39]
06.orchestral manoeuvres in the dark-locomotion [03:44]
07.dead or alive-you spin me round (like a record) [03:15]
08.freez-i o u [03:49]
09.blondie-atomic [03:47]
10.billy idol-white wedding [04:12]
11.devo-jerkin back n forth [03:04]
12.a flock of seaguls-i ran [03:41]
13.new order-true faith [05:53]
14.electronic-getting away with it [04:13]
15.laid back-white horse [03:55]
16.prefab sprout-when love breaks down [03:47]
17.japan-i second that emotion [03:44]
18.kim carnes-bette davis eyes [03:44]
19.david bowie and the pat metheny group-this is not america [03:49]
20.roxy music-avalon [04:16]
Download Links

Hotfile
http://hotfile.com/dl/82487698/588aeb0/VAMOSAnthems80s2010.part1.rar.html
http://hotfile.com/dl/82487866/a00095b/VAMOSAnthems80s2010.part2.rar.html
http://hotfile.com/dl/82487949/03b779b/VAMOSAnthems80s2010.part3.rar.html
http://hotfile.com/dl/82488103/60f449f/VAMOSAnthems80s2010.part4.rar.html

Fileserve
http://www.fileserve.com/file/EEwQBH7/VAMOSAnthems80s2010.part1.rar
http://www.fileserve.com/file/cvXv3Dw/VAMOSAnthems80s2010.part2.rar
http://www.fileserve.com/file/KXYd4m2/VAMOSAnthems80s2010.part3.rar
http://www.fileserve.com/file/kMMMaKd/VAMOSAnthems80s2010.part4.rar


All links are interchangable. It mean you can download any part of archive from any server and can extract it without problem! PM me if links are dead, I will try to re-upload the file if I can!