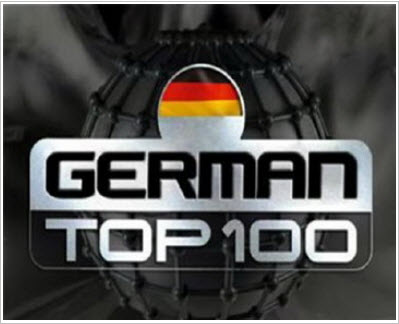 VA - German TOP100 Single Charts (15.11.2010)
MP3 VBR 192 kbps | Pop,R&B | 100 Tracks | 513 MB
Tracklist:
001-israel kamakawiwoole - over the rainbow
002-rihanna - only girl (in the world)
003-duck sauce - barbra streisand
004-aloe blacc - i need a dollar
005-usher feat. pitbull - dj got us fallin in love
006-hurts - wonderful life
007-leona lewis - run
008-eminem feat. rihanna - love the way you lie
009-james blunt - stay the night
010-taio cruz - dynamite
011-cee lo green - fuck you
012-b.o.b. feat. hayley williams - airplanes
013-culcha candela - move it
014-laserkraft 3d - nein mann
015-flo rida feat. david guetta - club cant handle me
016-katy perry - teenage dream
017-alphaville - i die for you today
018-madcon - glow
019-yolanda be cool and dcup - we no speak americano
020-sexion dassaut - desole
021-unheilig - unter deiner flagge
022-empire of the sun - we are the people
023-juli - elektrisches gefuehl
024-robbie williams and gary barlow - shame
025-unheilig - geboren um zu leben
026-shakira feat. freshlyground - waka waka (this time for africa)
027-ich und ich - universum
028-mike posner - cooler than me
029-edward maya and vika jigulina - stereo love
030-plan b - she said
031-enrique iglesias feat. pitbull - i like it
032-ne-yo - beautiful monster
033-sarah connor - cold as ice
034-kid rock - born free
035-lady gaga - alejandro
036-adam lambert - if i had you
037-taio cruz feat. ludacris - break your heart
038-gossip - heavy cross
039-bon jovi - what do you got
040-avicii and sebastien drums - my feelings for you
041-matthias reim - du bist mein glueck
042-david guetta and chris willis feat. fergie and lmfao - gettin over you
043-dj oetzi - ich will mit dir fliegen
044-martin solveig and dragonette - hello
045-katy perry feat. snoop dogg - california gurls
046-swedish house mafia vs. tinie tempah - miami 2 ibiza
047-xavier naidoo - bitte hoer nicht auf zu traeumen
048-eliza doolittle - skinny genes
049-linkin park - the catalyst
050-amy macdonald - this pretty face
051-velile and safri duo - helele
052-brandon flowers - crossfire
053-valentine - black sheep
054-timbaland feat. onerepublic - marchin on
055-inna - amazing
056-alicia keys - empire state of mind (part ii)
057-taylor swift - mine
058-gossip - men in love
059-30 seconds to mars - closer to the edge
060-the wanted - all time low
061-medina - lonely
062-eminem - not afraid
063-jason derulo - in my head
064-kings of leon - radioactive
065-kylie minogue - all the lovers
066-christina stuermer - wir leben den moment
067-maroon 5 - misery
068-swedish house mafia - one
069-jamiroquai - white knuckle ride
070-david guetta feat. kid cudi - memories
071-paul and fritz kalkbrenner - sky and sand
072-stromae - alors on danse
073-die fantastischen vier - danke
074-mando diao - down in the past (unplugged)
075-alex max band - tonight
076-jason derulo - ridin solo
077-travie mccoy feat. bruno mars - billionaire
078-cheryl cole - parachute
079-rihanna - te amo
080-xavier naidoo feat. naturally 7 - wild vor wut
081-kings of leon - sex on fire
082-monrose - this is me
083-silly - alles rot
084-lonkle ben soul - seven nation army
085-jay-z feat. alicia keys - empire state of mind
086-the hoosiers - choices
087-christian durstewitz - stalker
088-knaan - wavin flag
089-caro emerald - back it up
090-aura dione - something for nothing
091-dj oetzi feat. nik p. - ein stern (der deinen namen traegt)
092-kelly rowland feat. david guetta - commander
093-kylie - get outta my way
094-the black eyed peas - i gotta feeling
095-emily osment - lets be friends
096-kesha - tik tok
097-groove coverage - innocent
098-lena meyer-landrut - satellite
099-adam lambert - whataya want from me
100-culcha candela - monsta
Download Links

Hotfile
http://hotfile.com/dl/82256594/3fc12c0/German_TOP100_15.11.part1.rar.html
http://hotfile.com/dl/82256646/01a56e0/German_TOP100_15.11.part2.rar.html
http://hotfile.com/dl/82256714/7be7f00/German_TOP100_15.11.part3.rar.html
http://hotfile.com/dl/82256799/87b8884/German_TOP100_15.11.part4.rar.html
http://hotfile.com/dl/82256852/8567ce9/German_TOP100_15.11.part5.rar.html
http://hotfile.com/dl/82256923/8c55c02/German_TOP100_15.11.part6.rar.html

Fileserve
http://www.fileserve.com/file/f8Bb5tW/German_TOP100_15.11.part1.rar
http://www.fileserve.com/file/uNzETjq/German_TOP100_15.11.part2.rar
http://www.fileserve.com/file/mGn5488/German_TOP100_15.11.part3.rar
http://www.fileserve.com/file/KQ5Zbhy/German_TOP100_15.11.part4.rar
http://www.fileserve.com/file/G9jDzgc/German_TOP100_15.11.part5.rar
http://www.fileserve.com/file/XbNQpkm/German_TOP100_15.11.part6.rar


All links are interchangable. It mean you can download any part of archive from any server and can extract it without problem! PM me if links are dead, I will try to re-upload the file if I can!